For Platinum member Members Only (Member Login)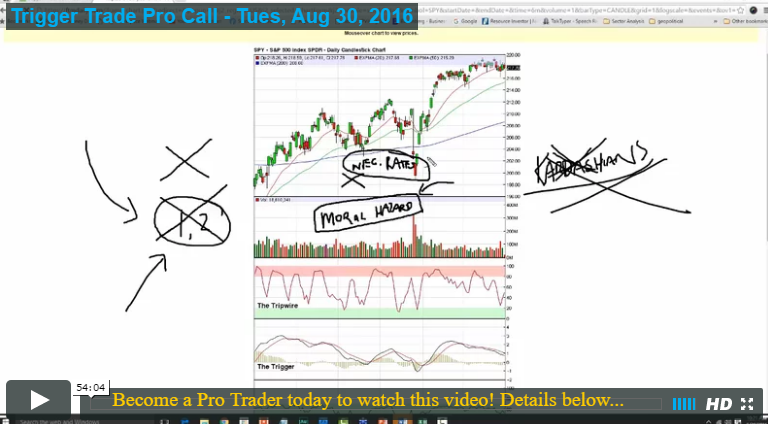 Topics Covered on this video conference call (in order)
Is the Fed Hoping to Surprise the Markets? Jerry opens the video with his analysis of potential negative interest rates from the Federal Reserve. Is Janet Yellen hoping to surprise the markets if (and when) the next major pullback happens? Get Jerry's signature fierce commentary on this topic.
U.S. Stock Market Action. What traders should be doing with their open positions in this market environment.
Segment Within 'Basic Materials' Breaking Out Today. Stocks within this industry, which are breaking out on big volume today, may be worth a second look. Jerry offers his analysis on three specific stocks he is watching.
Other Stocks on Jerry's Watchlist. Two other stocks on the verge of an entry point are:

A biopharma company that has paid consistent and increasing dividends for over 25 years
A Latin American beverage manufacturer who also bottles major U.S. drink brands
Wisdom for New Stock Traders. Jerry provides sage counsel to new traders with less than $25,000 in trading capital.
Member Questions Answered on Today's Video
Can you provide your chart analysis on: HealthEquity Inc. (HQY), Oclaro Inc. (OCLR), Applied Optoelectronics Inc. (AAOI), and Viavi Solutions Inc. (VIAV)?
Is China going to release the data on their gold holdings anytime soon?
Can you provide your chart analysis on Becton, Dickinson, and Company (BDX)?
Can you explain the difference between the Simple Moving Average (SMA), Exponential Moving Average (EMA), and the Moving Average Convergence/Divergence (MACD)? And how traders should use these in trading analysis?
I own shares of the VelocityShares Daily 2x VIX ST ETN (TVIX) and am down 7-8% currently. Is it time to cut my losses or hold on?
Become a Platinum member to See the Full Video Instantly
And get access to our LIVE conference call videos every Tuesday and Friday with Jerry Robinson

Choose your plan:
(Get 2 months free when you pay for the whole year!)
Limited Time Discount – Get $50 Off Your First Year!
Use Coupon Code: PRO50 (Offer expires August 31 at midnight; valid only on the $599 option)

DISCLAIMER: The services provided in the Platinum member membership are intended only to provide information. Trading involves risk. Decisions to buy, sell, hold or trade in stocks, futures, securities, and other investments involve risk and are best made based on the advice of qualified financial professionals.