"Daily Economic/Investment Trends for the Savvy Investor"
THE 'BARRON'S EFFECT'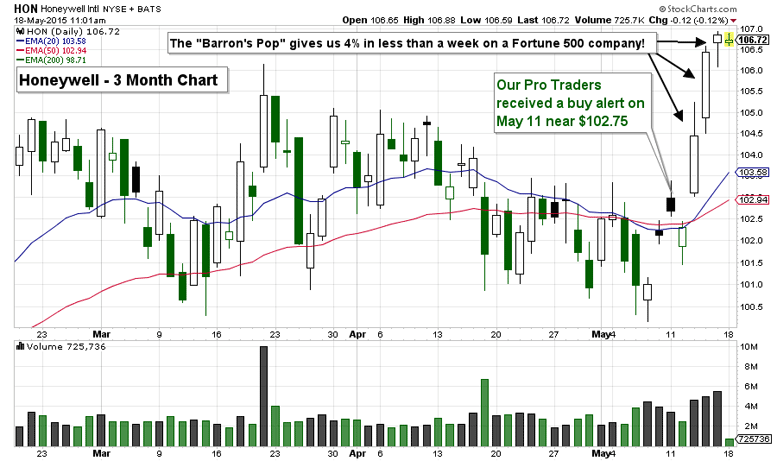 The Barron's Effect: Honeywell Pops 4% in a Week
One of the trading strategies I use to carve out profits from the markets is something I call the "
Barron's Effect
." You can read more about it in detail
here
.
In a nutshell, I began reading Barron's weekly magazine about 12-15 years ago and noticed that some of the stocks that were profiled in each issue would immediately rise in price the week after the magazine's release.

Why? Because Barron's boasts an influential readership of hedge fund gurus, money managers, and financial advisors from across the country. Some of them will invest based on Barron's stock analysis causing a sudden demand for the profiled stocks the following week.
But not every stock profiled in Barron's will rise. Over the years I have learned how to spot the most likely candidates and just recently, I decided to share this strategy with our Pro Traders. Now, every Sunday evening, our Pro Traders get the details on one stock featured in Barron's that I think could rise during the coming week.
As you can see from the above chart, I shared Barron's recommendation to buy Honeywell stock with our Platinum member subscribers last Sunday evening, May 11. Since then, the stock has risen by 4%, which is an excellent return in just six trading days, especially on a Fortune 500 blue-chip stock!
Until tomorrow,
Jerry Robinson
P.S. Do you want to receive our Barron's Stock Pick each Sunday evening? Sign up to become one of our Pro Traders now!
Get Instant Access to Jerry Robinson's Position Trades
Do you want to be alerted when we add our next stock position trade? If so, you can learn more here.
---
— Paid subscriber access only —
View our Plans and Pricing here
---
Real-Time Market Update

(Courtesy of Finviz.com)
---