Podcast: Play in new window | Download (Duration: 5:27 — 3.2MB) | Embed
In this week's Precious Metals Market Update, veteran precious metals advisor Tom Cloud says that gold and silver are breaking out.
Many timing services are indicating that the tide has turned and that both metals are heading much higher by the end of the year.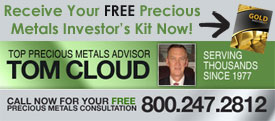 Cloud issued a strong buy signal for silver on today's program and expects the price to reach $32-$33 by the end of the year. The consolidation period is likely over and Tom expects the metal to move higher beginning this month.
September has historically been a good month for precious metals… especially in an election year.
Meanwhile, 10 year Treasury bond yields are up 15%, moving up from 1.4% to 1.6%. This is not good news for bond investors. But it is good news for precious metals investors.
Tom's advice: Avoid going long on the U.S. dollar and U.S. government bonds.
Platinum and palladium, however, have not triggered a buy signal on a technical basis.
Finally, China has reportedly been buying large amounts of yellow diamonds. White diamonds have dipped over the last two to three months. Expect a double digit move upwards in diamonds by the end of the year.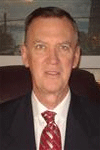 About Tom Cloud
Thomas Cloud is the Chairman of the Board of Turamali, Inc. and has a long and successful advisory track record in both financial planning and tangible assets. His expertise as an financial counselor and thorough knowledge of the products he recommends has attracted an impressive list of individuals and major institutions from across the United States. Since 1977, Mr. Cloud has devoted his attention to all areas of tangible asset investing offering a "hands on" approach to each and every Turamali, Inc. client. For more information about Precious Metals Investing, click here.