Bad News Weighs on the Financial Markets…

Bad economic reports from China, Spain, and the U.S., sent stocks tumbling on Thursday to their biggest one day point drop since in five months. First, U.S. investors did not quite know how to respond to a surprise Chinese trade deficit from the month of February — the country's largest deficit in seven years. Then, there was more trouble brewing in the Euro-zone as Moody's issued a downgrade for Spain. The news sent the U.S. Dollar up against the Euro. In Europe, the financial markets closed down. Britain's FTSE 100 lost 1.6%, the DAX in Germany fell 1% and France's CAC 40 declined 0.8%.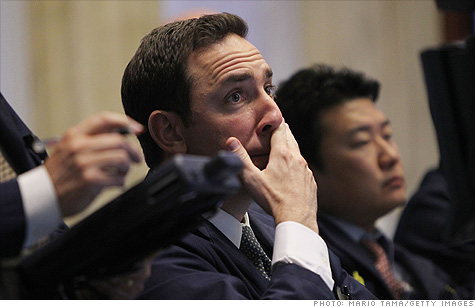 The strengthening dollar had a negative impact on oil prices which led oil stocks downwards. Exxon Mobil and Chevron were both hit particularly hard, as both were down over 2.5% in intraday trading.
Also weighing on U.S. equities, a new report showing that new jobless claims rose more than expected last week to 397,000. Adding to investor's concerns, the U.S. trade deficit increased 15.1% to $46.3 billion in January.
The Saudi 'Day of Rage'…
Tomorrow, all eyes will be on Saudi Arabia, their people, and their government as protesters in that country prepare for their "Day of Rage" in which they will demand government reforms. On Thursday, there were reports of violence in the country as Saudi police opened fire on demonstrators. Expect oil prices to reverse and surge higher if this story is able to dominate the news cycle tomorrow.
Also in the news…
1) TRUMPS PLAYS THE MEDIA: Is Donald Trump using a potential "Presidential campaign" to play the media for free publicity? Now, why would he do that?
2) BOND KING DUMPS HOLDINGS : PIMCO's Bill Gross, one of the most astute bond traders in the world, removed all of his positions in U.S. Treasury bonds this week from his $237 billion Total Return fund.
3) GASOLINE PRICES SOAR: A new report finds that gasoline prices have risen 67% since President Barack Obama has taken office.
4) WISCONSIN STANDOFF ENDS… ALMOST: Wisconsin passed the hotly debated law ending collective bargaining rights for government workers causing protesters to storm the State capitol.
5) FED'S WEALTH EFFECT IS WORKING: U.S. household net worth rose towards the end of 2010 as stocks continued to stage their rally. Feeling richer lately?
Finally… The United Nations is expressing alarm over the dramatic decline in the global bee population, down 85% in some areas. Why worry? Over 70% of the world's crops used for food are pollinated by bees.
Cartoon of the Day…
Until tomorrow,
Jerry Robinson – FTMDaily.com
____________________________________________________
____________________________________________________
Jerry Robinson is an economist, published author, columnist, international conference speaker, and the editor of the financial website, FTMDaily.com. In addition, Robinson hosts a weekly radio program entitled Follow the Money Weekly, an hour long radio show dedicated to deciphering the week's economic news.
Related articles