Global Uncertainty Spreads…

The global financial markets continue their tailspin today in the wake of the devastating quake and tsunami which struck the world's third largest economy last week.
On Tuesday, Japan's Nikkei average closed the session down 10.6% marking its third worst one-day plunge in its  history. Over the last two trading sessions, the Japanese index has dropped over 16%, which is the index's worst back-to-back performance since 1987.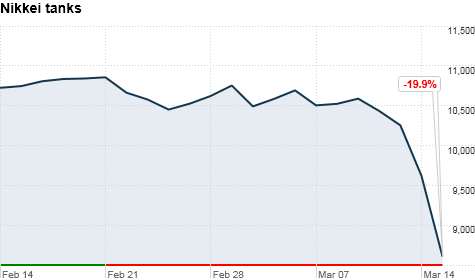 Although the reports are difficult to gauge, Japan's latest death toll has risen to nearly 3,000. But experts are warning that the final number could rise into the "tens of thousands."
In the U.S., Tuesday morning began with a massive sell-off of stocks and commodities. Long-term bond yields also dropped as investors flocked to the perceived safety of bonds. In mid-day trading, stocks and commodities began slowly climbing out of their early lows, yet they are still down on the session.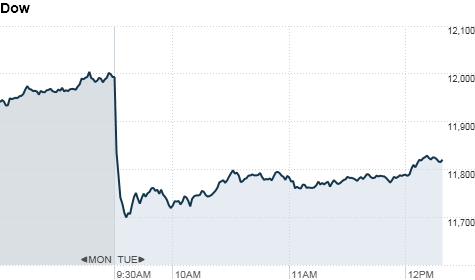 Investor fear and uncertainty was seen in the the CBOE Volatility Index, also known as the "fear index," which shot up 15% during intra-day trading.
The European financial markets fared no better, also closing lower on Tuesday. Germany's DAX closed down 3.4%, France's CAC-40 dropped 2.3%, and Britain's FT-100 fell 1.3%.
Commodity Sell-Off…
Oil prices suffered on Tuesday on investor worries that energy demand from Japan, the world's third largest importer, would slow. During mid-day trading, West Texas Intermediate crude for April delivery had dropped 2.7%, to $98.49 per barrel, after falling below $97 earlier in the trading session.
Brent crude prices fell 2.5%, to $110.83 per barrel on the ICE Futures exchange in mid-day trading.
Gold prices fell below the $1400 level, silver dropped well below the $35 level, and palladium hovered above $700. It appears that silver is range-bound between $34 and $36. Watch for a close below or above those levels to provide a short-term trend signal. Gold and silver mining stocks were also crushed today.
Those who have been looking for a good entry point, or re-entry point into gold, silver, and palladium, may find it this week.
FORECAST: My forecast since 2007 has not changed and remains intact. Gold, silver, palladium are going higher (albeit, not in a straight line.)  The dollar will continue its downward trend. And interest rates are going much higher.
Regarding equities, it's a bit more tricky. Their overall risk will be muted as long as the Fed continues the pump. Barring a miracle, QE3 is a certainty. But expect the Fed to act like its a "choice." They will labor hard and long in their "difficult" decision on whether to extend. This Fed uncertainty about whether or not to pump in more money through a QE3 will create a potential short-term buying opportunity and will also provide the Fed with their "justification."
Finally…
Consider making a donation to those who have been devastated in Japan.
Click here to donate to Red Cross.
Until tomorrow,
Jerry Robinson – FTMDaily.com
____________________________________________________
____________________________________________________
Jerry Robinson is an economist, published author, columnist, international conference speaker, and the editor of the financial website, FTMDaily.com. In addition, Robinson hosts a weekly radio program entitled Follow the Money Weekly, an hour long radio show dedicated to deciphering the week's economic news.
Related articles