Today's chart is free and open to the public.
GLOBAL SHIPPING SLOWDOWN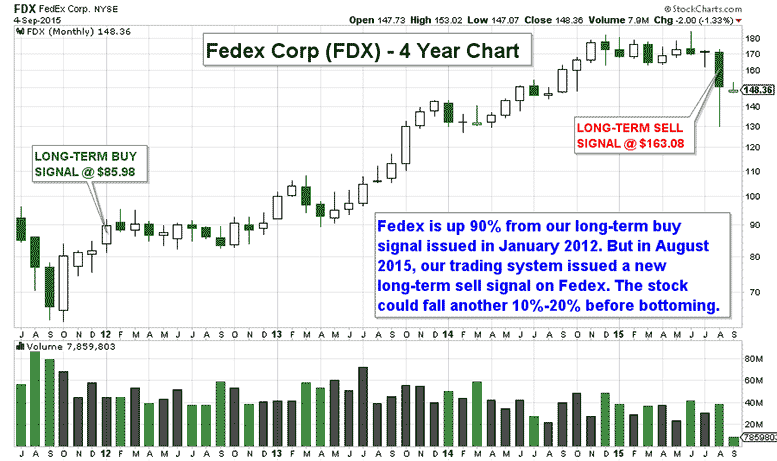 CHART: Fedex Sell Signal Spells Trouble For Global Shipping Market
Over the extended holiday weekend, I spent a little extra time going through some of the 100+ stocks that our trading system has issued new long-term sell signals within the last 30 days. One stock that stood out in the list was
Fedex Corp (NYSE:FDX)
. Fedex has long served as a reliable barometer of the current state of the global shipping market. When global business sales are up, Fedex benefits in delivering goods around the world. But when global sales slow, Fedex's bottom line gets hit.
From the above chart you can see that our trading system issued a long-term buy signal on Fedex back in January 2012. The stock soared 90% before finally giving us a new long-term sell signal last month. Our sell signal coincided with Deutsche Bank slashing its price target on the company.
In addition, Zacks.com has issued a sell rating on Fedex.
The company's slowdown is largely due to weakness in its international shipping division, which confirms all other indicators that point to a growing global economic slowdown.
By itself, a long-term sell signal on Fedex would not be so concerning. But when it is coupled with all of the other poor economic data coming in from around the globe, it serves to validate our greater concerns regarding global economic weakness.
In short, we expect more pain ahead. Be prepared.
Until tomorrow,
Jerry Robinson
P.S. Get instant access to our entire list of new long-term buy signals and sell signals, updated every evening with our powerful Profit Trakker system. Learn more here.
Get Instant Access to FTMDaily's Monthly ETF Trend Alerts!
Wise traders and investors know that U.S. stocks are not the only game in town. Each month, our FTM Insiders get access to our powerful trend analysis on 40 global ETFs.
Whether you want to invest in Europe, Asia, or Latin America, our ETF Cheat Sheet will keep you on the right side of the market, no matter which global market you want to trade.
---
Bankruptcy of our Nation: Now in Audiobook Format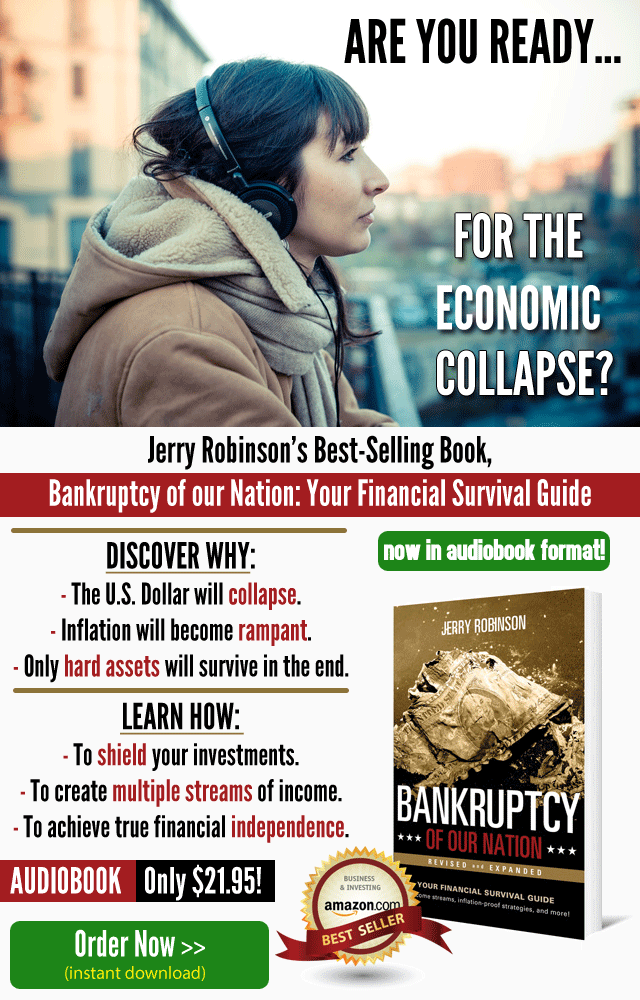 ---
— Paid subscriber access only —
View our Plans and Pricing here
---
Featured image courtesy of: Northfoto / Shutterstock