The paper-driven sell off in the gold market seen in January has been trumped by continuing robust physical demand in January and February. This has resulted in gold rising nearly 6% in February and silver's strong industrial and investment demand leading to a 19% rise to new nominal 30-year highs.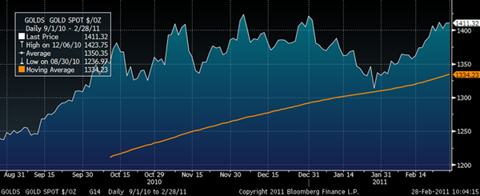 Gold in USD – 6-Month (Daily) and 150-Day Moving Average

click to enlarge
Political, and more importantly socioeconomic, revolutions in the Middle East and North Africa are leading to a degree of geopolitical instability and risk not seen in many years. This is leading to concerns about oil supplies from the region and hence the 14% jump in US crude oil just last week and deepening inflation concerns.