According to a new report, the Chinese military is rapidly building one of the world's largest fleets of unmanned aerial vehicles, also known as Drones. While China has been expanding its drone capabilities for the last several years, it has reportedly begun intensifying its efforts in the wake of rising regional tensions.
The report, entitled The Chinese People's Liberation Army's Unmanned Aerial Vehicle Project: Organizational Capacities and Operational Capabilities, was released this month by the Washington-based thinktank, the Project 2049 Institute.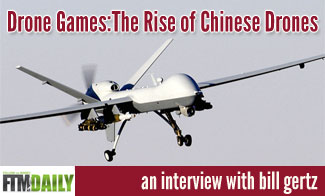 This week, FTMDaily spoke with Washington Times reporter, Bill Gertz, who had written a lengthy story on the details of the report in the Washington Free Beacon. According to Gertz, China's plans to expand its drone program to aid their efforts in several territorial disputes within the region is concerning.
"New unarmed drone deployments include the recent stationing of reconnaissance and ocean surveillance drones in Northeast Asia near Japan and the Senkaku islands and along China's southern coast. Drones also are planned for the South China Sea where China has been encroaching on international waters and bullying nations of that region in asserting control over international waters, said officials familiar with intelligence reports."
The territorial dispute over the Senkaku Islands intensified last year after China boldly nationalized some of the islands. To counter Chinese aggression in the region, Japan has been modernizing its military and working to further develop its own drone capabilities with cooperation from the United States.
China currently owns more than 280 drones but is intent on rapidly growing this number to maintain its regional dominance and to deter the U.S. military, which is currently deploying additional troops and firepower within the Pacific.
Gertz adds that the Pentagon is alarmed by the obvious similarities in design between some of China's new drones and existing U.S. drones.
According to Gertz:
"China's drone program is believed to have benefitted from its aggressive economic and cyber espionage operations against the United States. Those efforts have included breaking into both government and defense industry networks and stealing valuable drone technology."
Chinese cyber attacks and espionage operations within the U.S. have provided them with access to a vast amount of American technology.
Gertz adds:
"Of particular concern to U.S. intelligence agencies are two new missile-equipped drones known as the CH-4 and Yi Long. The aircraft were shown off along with six other military drones at a major Chinese arms show last November in Zhuhai.

Photos of the drones reveal the designs appear to be copied from the U.S. Predator armed drone that has been leading the Obama administration's war on al Qaeda in Pakistan and elsewhere. Photos of the CH-4 show it armed with Blue Arrow-7 anti-tank missiles that appear similar in size to the U.S. Hellfire fired from Predators.

Even more of a concern, according to the officials, are intelligence reports from Asia indicating that China is well along in building a large stealth unmanned combat aerial vehicle (UCAV)—an upiloted jet—that was revealed recently in an online Chinese military video.

The drone combat jet is nearly identical in shape to the experimental batwing-shaped U.S. Air Force X-47B currently under development. The X-47B was tested on an aircraft carrier in December.

The Chinese UCAV is expected to have enough range to reach the U.S. island of Guam, some 1,800 miles from the Chinese coast and the hub of the Pentagon's shift to Asia, officials said."
More info:
The Chinese People's Liberation Army's Unmanned Aerial Vehicle Project: Organizational Capacities and Operational Capabilities (Project 2049 Institute – PDF)
The Game of Drones: China Stepping Up Drone Deployment (Bill Gertz, Washington Free Beacon)