Welcome !
You are viewing subscriber-only content. To return to your subscriber homepage,
click here
.

"Daily Economic/Investment Trends for the Savvy Investor"
SILVER HITS 6-YEAR LOW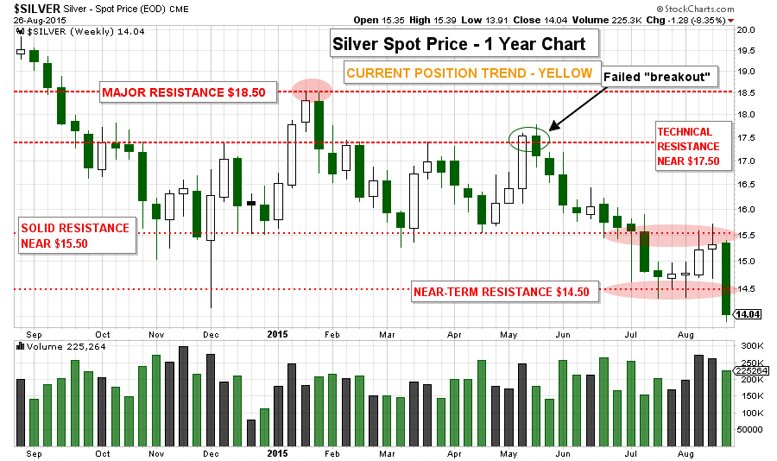 CHART: Silver Price Analysis – August 26, 2015
As most of you know, I am a
fan of precious metals
. I have owned physical gold and silver for many years and strongly believe that they represent some of the best crisis insurance available to the common man in our crazed age of paper money run amok.
However, my appreciation for the protective qualities of precious metals does not blind me to the trends that drive them. At heart, I am a trend investor and trader. Charts don't have opinions and don't tell lies. Instead, price and volume on a chart represent stubborn facts that only the most foolish investor would ignore.
With that in mind, consider today's chart of silver. Silver, which has technically been locked in a downtrend since peaking out in April 2011, continues to face fierce headwinds and may have more downside ahead. Currently, the major price level on silver to watch is $14.50. Since July, silver has been finding support at that level. But amid the recent global market selloff, silver dove well below that support level and now sits at six-year lows near $14 per ounce.
The bullish fundamentals undergirding silver make the current price compelling. However, I will wait to add to my current holdings until I can see silver attempting to a new uptrend. For now, silver (and gold for that matter) are trying to find their way amid the current market mayhem.
When the price of silver begins to move higher on stronger volume, I will jump aboard.
Until tomorrow,
Jerry Robinson
P.S. Subscribers can view all of our latest Market Barometer chart analysis here. We have the best customer satisfaction guarantee on the web, so you can feel free to try any of our services risk-free!
Get Instant Access to FTMDaily's Monthly ETF Trend Alerts!
Wise traders and investors know that U.S. stocks are not the only game in town. Each month, our FTM Insiders get access to our powerful trend analysis on 40 global ETFs.
Whether you want to invest in Europe, Asia, or Latin America, our ETF Cheat Sheet will keep you on the right side of the market, no matter which global market you want to trade.
---
Bankruptcy of our Nation: Now in Audiobook Format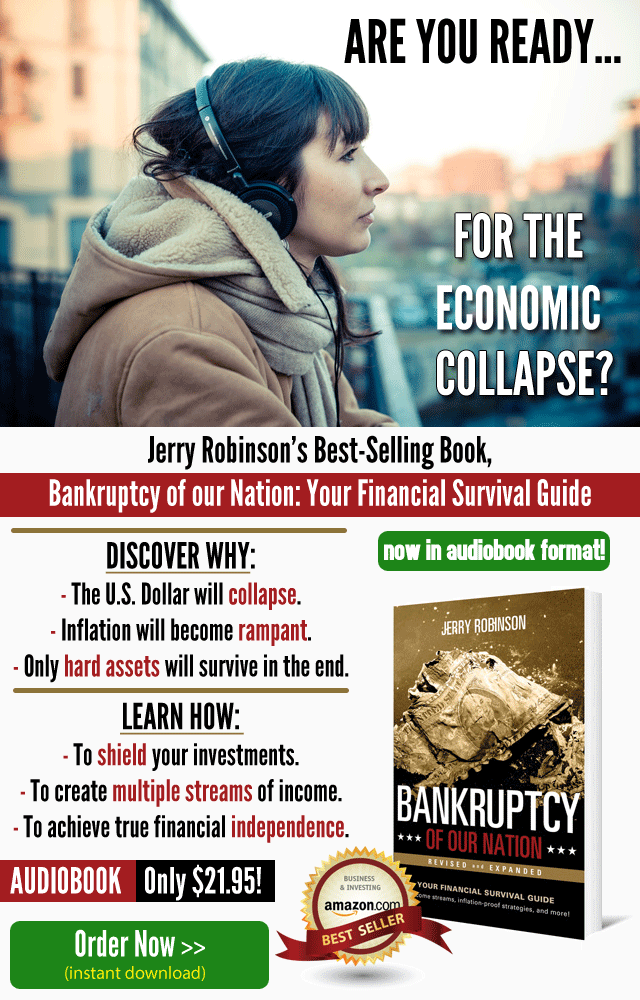 ---
— Paid subscriber access only —
View our Plans and Pricing here
---
Real-Time Market Update

(Courtesy of Finviz.com)
---

Featured image courtesy of: rozdesign / Shutterstock