Today's chart is free and open to the public!

"Daily Economic/Investment Trends for the Savvy Investor"
PETRODOLLAR POWER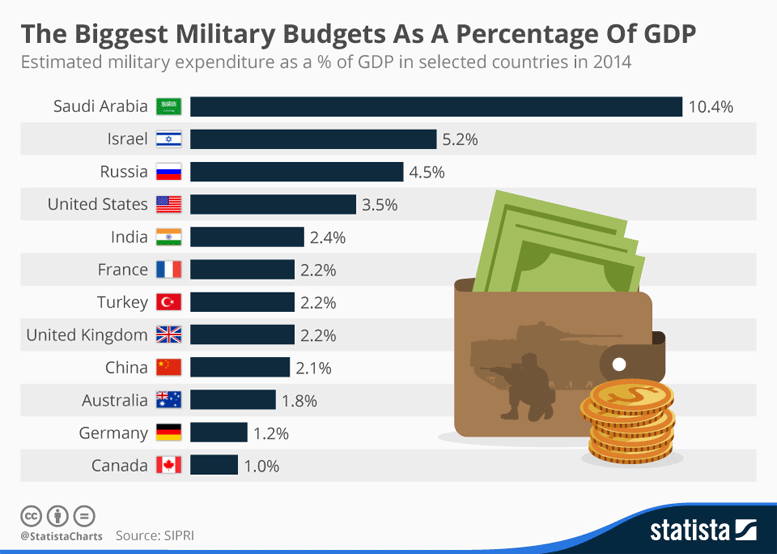 CHART: Saudi Arabia Quietly Amasses Enormous Military Arsenal; Western Media Ignores
As the corrupt corporate-controlled mainstream media beats the war drums over Iran's military "plans", another
terrorist-supporting
and Israel-hating regime is rushing to build a massive military arsenal with U.S support and mainstream media silence.
According to a new estimate released by SIPRI (Stockholm International Peace Research Institute), Saudi Arabia's total military spending now amounts to at least 10.4% of its annual GDP. Compare that to Iran's total military spending, which amounts to 2.76% of its annual GDP. (Even Washington's massive annual military budget amounts to 3.5% of its GDP.)
It is clear that Saudi Arabia is using the Iran "threat" as an excuse to beef up its military arsenal more than ever before.
Last year, Saudi Arabia's defense expenditures jumped 54%. Today, Saudi Arabia is officially the world's largest arms importer. $1 out of every $7 that will be spent on global armaments in 2015 will come from Saudi Arabia.
Earlier this month, it was reported that Saudi Arabia had signed at least six new nuclear deals with Russia, under which Moscow will begin building at least 16 nuclear reactors across the kingdom in the coming months and years.
Meanwhile, the corporate-controlled media has convinced most Americans that Iran is the "real" threat to the region.
Until tomorrow,
Jerry Robinson
Get Instant Access to FTMDaily's Monthly ETF Trend Alerts!
Wise traders and investors know that U.S. stocks are not the only game in town. Each month, our FTM Insiders get access to our powerful trend analysis on 40 global ETFs.
Whether you want to invest in Europe, Asia, or Latin America, our ETF Cheat Sheet will keep you on the right side of the market, no matter which global market you want to trade.
---
— Paid subscriber access only —
View our Plans and Pricing here
---
Real-Time Market Update

(Courtesy of Finviz.com)
---