Today's chart is free and open to the public.

"Daily Economic/Investment Trends for the Savvy Investor"
INCOME INEQUALITY GROWS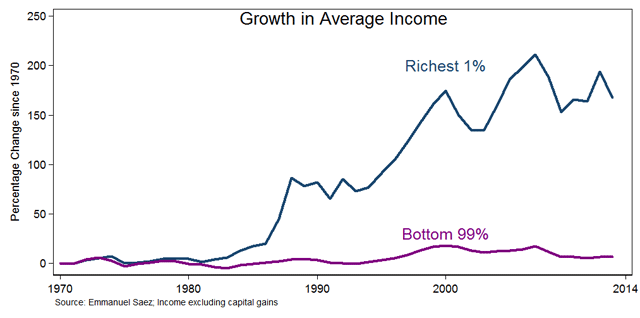 CHART: America's Income Inequality is Spiraling Out of Control
Prior to the 2008 economic crisis, few Americans were fully aware of the growing wealth gap in America.
Today, however, it seems everyone is waking up to America's income inequality. Perhaps it had something to do with the trillions of dollars Washington doled out to the nation's banksters in the wake of the 2008 economic crash. So far, the top 1% of income earners have been the primary beneficiaries of the last several years of bailouts, quantitative easing, etc.
Meanwhile, the bottom 99% have seen their fortunes change little.
The anger is growing among America's working poor. Mass movements like Occupy Wall Street were just the beginning…
If America's income inequality continues to grow in the coming years, populist politicians will be swept into the highest seats of power by promising wealth redistribution schemes.
Unfortunately, the inequalities that pervade our economic system could be greatly reduced through some basic reforms, including closing corporate tax loopholes.
But, don't hold your breath on those kinds of reforms as the corporations practically make the rules in Washington.
Until tomorrow,
Jerry Robinson
Get Instant Access to Jerry Robinson's Position Trades
The FTMDaily Position Trade portfolio is up nicely so far this year. We currently have 10 stocks in play, including the Chinese ETF, ASHR, which is up over 80% in just 5 months.
Do you want to be alerted when we add our next stock position trade? If so, you can learn more here.
---
— Paid subscriber access only —
View our Plans and Pricing here
---
Real-Time Market Update

(Courtesy of Finviz.com)
---