"Daily Investment Trends for the Savvy Investor"
BITCOIN PAIN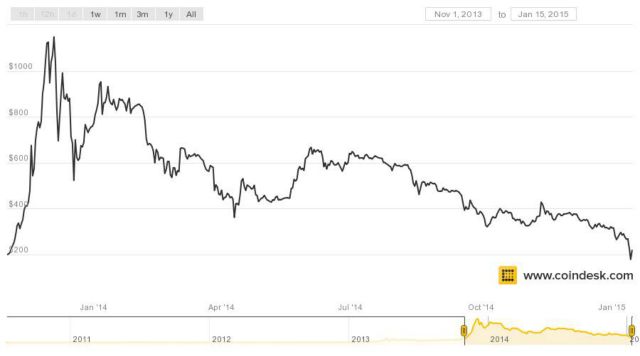 Bitcoin Falls Below $200 As Major Sell Off Intensifies
The downward spiral in Bitcoin prices continues after hitting a new recent low of $179.37 this week…
The world's first digital currency is down 44% since the beginning of 2015 and 85% from its peak of $1,165 in December 2013.
Many Bitcoin investors and miners who have not practiced wise investment diversification are getting hammered as prices collapse. While reading yesterday morning's WSJ, I read of a 22-year old software developer in Austin, TX who had placed most of his savings ($30,000) into Bitcoin at its 2014 summer highs. Of course, his savings have now been annihilated. Stories like these remind us all of why wise diversification is absolutely vital for those who desire to be good financial stewards.
Bitcoin is not appropriate for liquid savings but is a highly speculative long-term investment. While I am invested in Bitcoin, my exposure is very limited to just 5% of my total investable assets. I expect the extreme volatility to continue in cryptocurrencies as we are still in the infancy stage, and I will continue to add to my Bitcoin holdings on this recent sell-off. I view Bitcoin as a speculative investment in a new burgeoning form of payment method. We are bullish.

Regardless, if you have never taken the plunge to buy some Bitcoin for speculative investment purposes, you should know that it is now "on sale." You can read more of our thoughts on Bitcoin here and here.
---

Gold rallied to the highest since September as the dollar weakened after Switzerland decoupled its currency to the euro. Additionally, gold mining stocks shot up by 5% in Thursday's trading action. (Bloomberg)
Swiss stocks fell 8.7% on Thursday after it was announced that the Swiss National Bank would no longer peg its currency to the Euro. This was the steepest one-day sell-off of Swiss stocks in decades. Contrarian investors take note.
The ECB just received legal approval from the European Court of Justice to buy sovereign bonds. This is one less hurdle to their massive monetary stimulus plan.
Global market update: India (+5.7% YTD), Hong Kong (+3.2%), China Big Cap (+2.0%), S&P 500 (-3.2%), Canada (-7.3%)