Today's chart is free and open to the public.

"Daily Economic/Investment Trends for the Savvy Investor"
CLINTON VS BIG PHARMA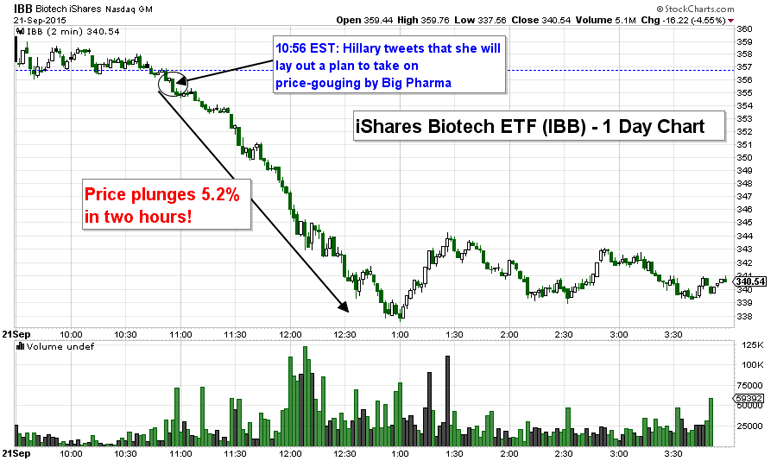 CHART: Biotech Stocks Plunge After Clinton Threatens Big Pharma
If you needed more proof that this overinflated stock market is filled with nervous Nellie investors, just take a look at today's chart. It is a chart of today's trading session of the
iShares Biotech ETF (Ticker: IBB)
.
While we have been bearish on this ETF, and the entire biotech industry for several weeks, we didn't expect this type of sell-off on a rather calm trading day. So what exactly caused today's wipeout in biotech shares?
The answer is found in the following tweet released by Hillary Clinton's official twitter feed:
Price gouging like this in the specialty drug market is outrageous. Tomorrow I'll lay out a plan to take it on. -H https://t.co/9Z0Aw7aI6h

— Hillary Clinton (@HillaryClinton) September 21, 2015
Put simply, Clinton has upped the ante against "Big Pharma" companies who have been price-gouging consumers for years… and she was no doubt playing up the anger caused by this morning's news story about a hedge fund manager who jacked up the price on a critical drug by more than 5,000% after taking control of the company.
That investors sold out of biotech stocks so quickly tells us at least one of two things:
1) They really believe Hillary could become President in order to make good on her threat to place a cap on drug prices
2) Or, they are overly sensitive to any negative news and are looking for reasons to sell
I believe both statements are somewhat correct. Despite her disastrous campaign, Clinton remains the clear frontrunner for 2016 and investors know it. But they also sense that the path of least resistance for this market is down and will sell on bad news… even if that bad news is a threat that couldn't possibly materialize for over a year.
Until tomorrow,
Jerry Robinson
P.S. A couple of weeks ago I was joined on our FTMWeekly podcast by top global money manager and fellow trend trader, Puru Saxena. Listen as Puru explains why biotech stocks are due for a sharp decline here.
Get Instant Access to FTMDaily's Monthly ETF Trend Alerts!
Wise traders and investors know that U.S. stocks are not the only game in town. Each month, our FTM Insiders get access to our powerful trend analysis on 40 global ETFs.
Whether you want to invest in Europe, Asia, or Latin America, our ETF Cheat Sheet will keep you on the right side of the market, no matter which global market you want to trade.
---
Bankruptcy of our Nation: Now in Audiobook Format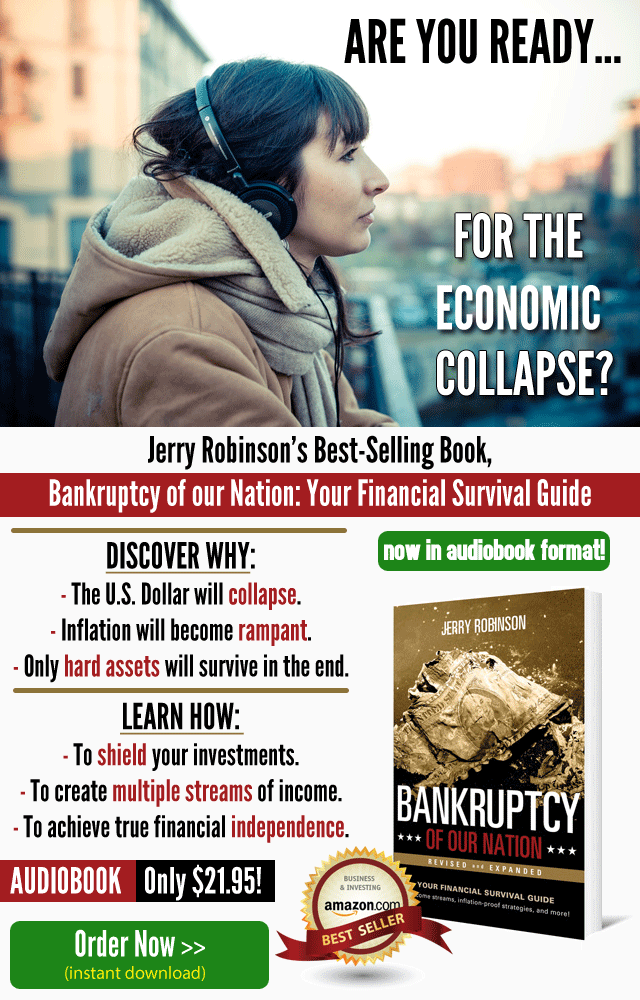 ---
— Paid subscriber access only —
View our Plans and Pricing here
---
Featured image courtesy of: a katz / Shutterstock.com