BIOTECH BLOODBATH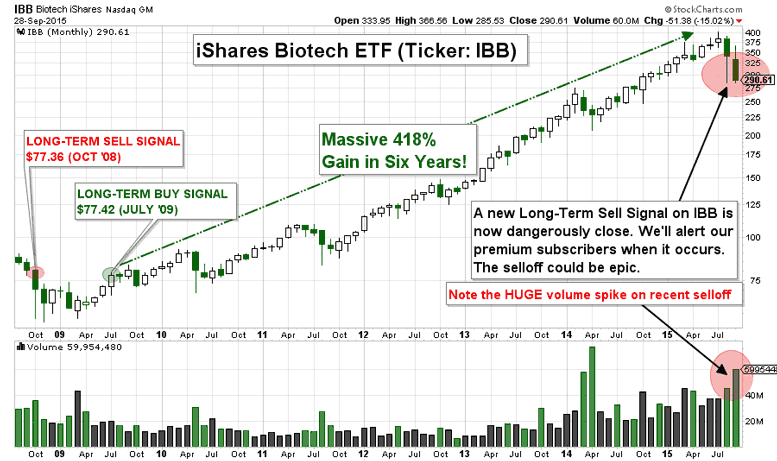 CHART: The Bloodbath in Biotechs Could Spell Major Trouble Ahead
It all began last week with a single tweet.
In response to a controversial report released last week in which former hedge fund manager-turned-pharma CEO, Martin Shkreli, raised the price of a life-saving drug from $13.50 to $750 a tablet (or 5,500%) overnight (and in the process raised the cost of treatment for some patients to hundreds of thousands of dollars), Democratic Presidential candidate Hillary Clinton tweeted her plans to take on the growing problem of price-gouging by Big Pharma.
Almost immediately, drug company stocks began to tank. And the selloff continued for several days.
Last week, our trading community was alerted to numerous biotech stocks flashing new sell signals in our Nightly Trading Report (which is updated with new buy and sell signals each evening.)
On Friday alone, four stocks that we had issued sell signals on dropped approximately 10%.
BioDelivery Sciences International, Inc. (BDSI) dropped 10.9%
Lion Biotechnologies, Inc. (LBIO) fell 10.2%
Rigel Parmaceuticals, Inc. (RIGL) fell 9.9%
Synta Pharmaceuticals Corp. (SNTA) dropped 9.8%
Those traders who purchased put options on these stocks made even more on Friday.
Fast forward to this week and the selloff in biotech stocks has turned into an absolute bloodbath.
Yesterday, we locked in a 136% profit on our put options against Biogen (Ticker: BIIB). Those massive profits came in less than 30 days! (Our subscribers just received our latest biotech trading idea this morning. Learn more
here
.)
While some are viewing the selloff in pharma and biotech stocks as a golden opportunity, I am not so sure. Since the Fed-fueled rally in U.S. stocks commenced in 2009, healthcare-related stocks, like biotech, have been one of the leading sectors. As you can see in today's chart above, the iShares Biotech ETF has soared more than 400% since our trading system first issued a long-term buy signal on biotech stocks back in July 2009.

Learn more about Jerry Robinson's Daily Trade Setups
Now, at the end of September 2015, our system shows that this same biotech ETF is nearing its first long-term sell signal in more than six years.
One thing I have learned over the years as a trader is to watch the sectors and industry groups that lead the market's primary trend. When the leaders begin to fail, the overall market can lose steam in a hurry.
We have already seen major weakness in the energy, basic materials, and industrial sectors. And until now, the healthcare sector has held up well.
But that may be about to change. And if it does, we could be at the beginning of a major bear market.
The price collapse that still lay ahead in biotechs — and the overall stock market — could be epic.
Be advised.
Until next time,
Jerry Robinson
P.S.
I recently created a video training for all of our Pro Traders that explains 14 ETFs that could soar if the market continues to decline. If you are already a Pro Trader, you can view the video
here
. If you are not yet a Pro Trader, learn how you can get instant access to this video and much more, completely risk-free. Learn more
here
.
VIDEO: Learn 14 ETFs That Will Soar During The Next Stock Market Crash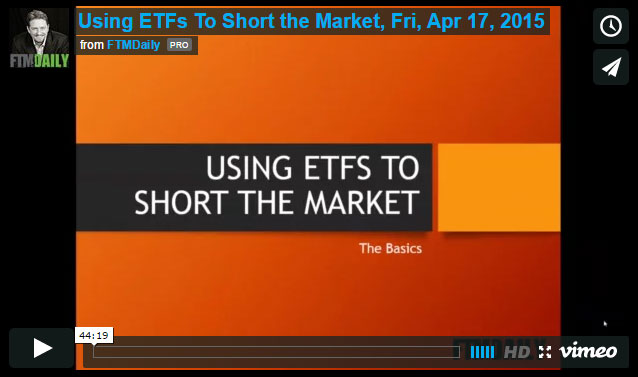 Become a Student of the Market and Learn to Profit!
Subscribe now and unlock all of our best trading ideas in real-time! Plus, get instant access to hundreds of hours of video trading education!
GET OUR DAILY TRADING IDEA
— Premium subscriber access only —
— Not a premium subscriber? —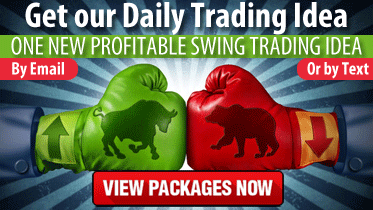 (All of our Premium services include our daily trading idea)
FTMDaily News Feed on Twitter
Tweets by @FTMDaily
Featured image courtesy of: Risto Viita / Shutterstock