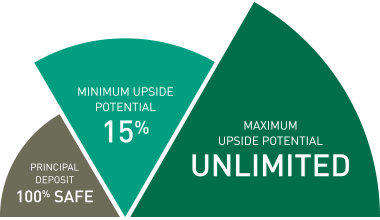 Foreign currencies have historically carried a high degree of uncertainty, volatility and risk. Are you wanting to gain exposure to emerging market currencies without the risk of loss?
EverBank has created the 5-year MarketSafe Evolving Economies CD for those seeking safer exposure to four emerging market currencies. They are the Colombian peso (COP), the Indian rupee (INR), the Mexican peso (MXN), and the Turkish lira (TRY).
On the MarketSafe Evolving Economies CD, payments will be denominated in U.S. dollars, but upside payment at maturity will be based on the equally weighted value of the indices reflecting the performance of the four currencies against the value of the U.S. dollar.
If the performance exceeds 0%, the CD will deliver an upside payment of at least 15% of your deposited principal. However, if there is a negative performance, your deposited principal will be 100% protected and returned in full upon CD maturity. In other words, according to Everbank, the worst case scenario is that you get your principle back, and you do not lose any upside gain with a 100% performance participation rate on the upside.
If the market performance is greater than 0%, the market upside payment is the greater of 15% or the CD performance. The final CD payment amount will equal 100% of your deposited principal plus the Market Upside Payment, or 100% of your deposited principal if there is no gain in market performance.
September 11, 2013 is the deadline for funding the MarketSafe Evolving Economies CD with Everbank.
No periodic rate of interest or annual percentage yield is paid on the CD, and there are no account fees for the CD. The minimum deposit is $1,500, and early withdrawal is not permitted on this CD, so you should not deposit your money in this CD if you do not have the intent or ability to keep your deposit in this CD for the full term.
Lastly, be sure to perform your own due diligence and consult a trusted financial advisor before making any financial decisions. You can visit Everbank's website here.