For Platinum member Members Only (Member Login)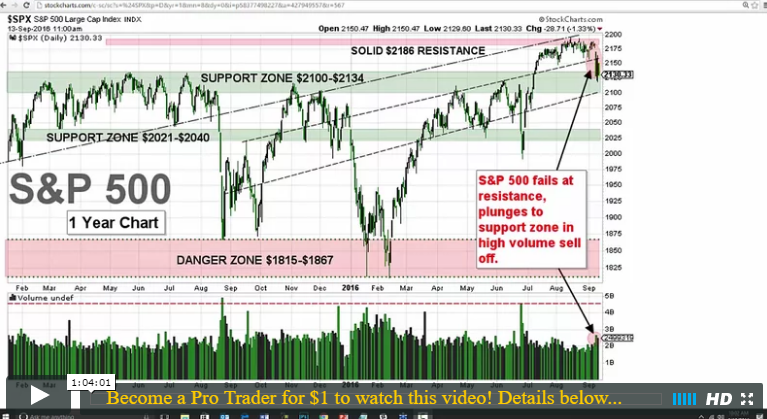 Topics Covered on this video conference call (in order)
Dissecting the Market Selloff. Five key facts about last Friday's stock selloff that traders need to know.
A Study on Bonds and Corporate Debt. Bonds are not the safe haven asset that they used to be in today's debt-laden world. In fact, U.S. corporate debt is at all-time highs.
Federal Reserve Inclined to Keep Rates Low. Jerry Robinson explains what this means for traders.
Are Stocks Still in a Bull Market? Jerry analyzes the S&P 500 chart and shows the key trends you should know.
Don't Listen to Mainstream Media. Jerry helps you cut through the noise of the media to reveal the important stories. He gives traders two stories with potential big impacts on global economies.
Fiscal Policy vs Monetary Policy. A brief discussion on how the Federal Reserve is controlling the U.S. economy via monetary policy (and how the Congress is getting nothing done on fiscal policy to help the economy).
BONUS: What You Should Know About Privacy on Windows 10. If you haven't checked your Privacy settings on your Windows 10 device, you don't want to miss this tip!
Member Questions Answered on Today's Video
Why do the markets keep jumping every time the Fed speaks?
Is it possible to save the charts I make in Trigger Trade Pro?
Do you think a short-term put on Apple (AAPL) would be a good idea based on its one-year daily chart?
Are there any farmland REITs that you like to trade?
Become a Platinum member to See the Full Video Instantly
And get access to our LIVE conference call videos every Tuesday and Friday with Jerry Robinson

Choose your plan:
(Get 2 months free when you pay for the whole year!)
Limited Time Discount – Get Your First Month for Only $1!
Use Coupon Code: PROTRADE1 (Offer expires September 30 at midnight; valid only on the $59 option)

DISCLAIMER: The services provided in the Platinum member membership are intended only to provide information. Trading involves risk. Decisions to buy, sell, hold or trade in stocks, futures, securities, and other investments involve risk and are best made based on the advice of qualified financial professionals.