Apple Inc. (Ticker: AAPL) made history on Monday by becoming the most valuable company in history, surpassing an old record held by Microsoft.
In trading on Monday, AAPL rose to an all-time high of $665 per share leading the company's overall market value to surge to a record $624 billion. Apple's enormous market value broke the record previously held by Microsoft (Ticker: MSFT) which soared to a value of $620.58 billion back in 1999 during the dot-com bubble craze.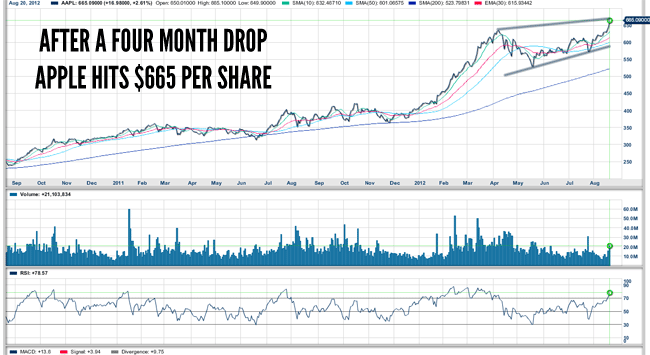 Year to date, Apple shares are up 64%. Much of the recent rise in Apple's share price is based on investor anticipation of the release of the new iPhone 5 on September 12. Piper Jaffray analyst, Gene Muster, who follows Apple's stock, has stated that the imminent release of the iPhone 5 is anticipated to be "the largest consumer electronics product upgrade in history." A few details about the new iPhone 5 model have been conveniently "leaked", likely to whip up a buying frenzy.
You have to hand it to Apple. They have excelled at deciphering the "consumer mindset."
Muster also forecasts that if the iPhone 5 release occurs when expected, Apple could sell over 10 million new iPhones in last few weeks of September alone, and 26-28 million new iPhones in the quarter.
There are additional reports that Apple has a smaller, and more affordable, iPad in the works. If so, this would be a welcome development to many consumers who are unable, or unwilling, to cough up the $399 that it costs for an iPad. As the demand for tablets has grown worldwide, the demand for cheaper tablets has become voracious. For this reason, Apple's dominance in the tablet market has been challenged as of late by Google's Nexus 7  and Amazon's Kindle Fire. Rumors are swirling amongst investors and consumers that the release of a cheaper "mini iPad" could be set for release by the fall, just in time for the holiday shopping season.
A cheaper "mini" iPad would obviously allow Apple to compete much more directly with Google and Amazon and will open up a new source of revenue for Apple through access to an entirely new segment of the marketplace. I expect Apple stock to continue moving higher in the coming months. My current price target, which is admittedly conservative, is $725 by December 2012.
Amazon – Up 39% YTD
I have always admired Amazon's (Ticker: AMZN) overall business model. (I even used their marketplace to pay much of my way through college. But that's another story for another day.) As the years go by, their founder and CEO, Jeff Bezos, continues to quietly innovate. A quick look at a chart of their stock price below shows the growth story in 2012 alone.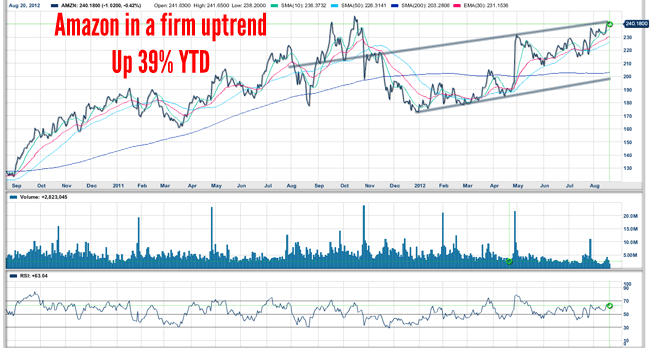 For those who find Apple's $665 price tag is a bit too steep, Amazon provides a more affordable investment solution in this highly competitive sector. While I do not expect Amazon to perform as well as Apple over the next five years, I still expect it to continue building a lot of value for its shareholders. I have no specific price target on AMZN currently.
Disclaimer: Jerry Robinson, and FTMDaily.com, do not currently own shares in AAPL or AMZN. Investing is risky. Always speak with a trusted financial professional before making any financial decisions. And always do your own due diligence.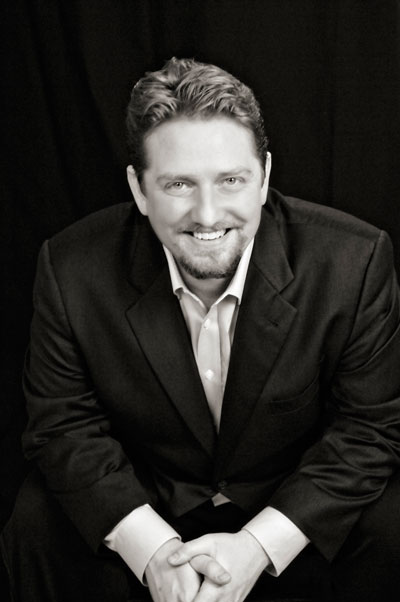 About Jerry Robinson
(Author, Radio Show Host, Investor)
Listen to Jerry Robinson's Radio Show | Get Jerry's Book | Email Jerry
Jerry Robinson is the founder of FTMDaily.com and is the author of "Bankruptcy of Our Nation: 21 Income Streams, P.A.C.E. Investing, and More." Robinson is an Austrian economist, a serial entrepreneur, and an investor. You can get more of Jerry Robinson's investment insights and income ideas by subscribing to our Gold member community. Learn more here.