Today's chart is free and open to the public.

"Daily Investment Trends for the Savvy Investor"
$1320 PROFIT IN TWO WEEKS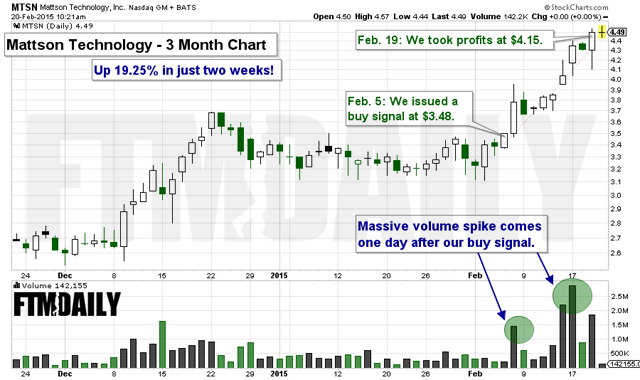 CHART: The Anatomy of a Stock Trade
One of our subscribers named Arnold from Hawaii wrote in to thank us for a recent trading idea and added:
"FTMDaily is like an idea factory for investors, traders, and income seekers."
Well said Arnold! I think Arnold really hit the nail on the head. Here at FTMDaily, we are admittedly obsessed with presenting smart "ideas" to our subscribers — especially profitable ideas! After all, part of our mission is to provide the best financial education to all of our readers.
For example, consider the above chart showing one of the latest daily trading ideas that we provided to our paid subscribers.
As you can see, this trading idea netted FTMDaily a cool 19%+ in just two weeks.
Let me briefly explain how we earned this quick profit…
On January 28, our proprietary trading system alerted me to the fact that momentum was building within a small semiconductor company called Mattson Technology (Ticker: MTSN). According to our system, the best time to enter the stock was around $3.48 per share.
The next day, I informed our paid subscribers of this development.
Here's what I wrote:
"Mattson Technology is a low-priced semiconductor stock that has been in a strong uptrend. The stock has recently pulled back and appears poised to resume its uptrend with a new trigger (entry) price appearing near $3.48. Our profit potential is 12%-18% on this trade."
At FTMDaily, we refer to the entry price as the "trigger" price. Put simply, I told our subscribers that I planned to buy the stock if, and only if, it could reach its trigger price of $3.48.
(Please note: All of our trading services are "look over the shoulder" services, meaning that I never tell our subscribers what to buy. I only tell them what I am buying… and when. As our subscribers know, this is a huge advantage because they get to learn directly from a veteran trader. My goal is to teach people "how" to trade so that they can become financially independent on their own. There's a big difference between giving a man a fish and teaching him how to fish.)
Now, back to the trade…
At the time that I alerted our subscribers, the stock was trading near the $3.30 level.
So, for nearly a week I patiently waited for the stock to rise to its trigger price.
On Feb. 5, MTSN "triggered" and I immediately bought 2000 shares at $3.48 each for a total of $6970, including a $10 trading fee.
The next day, the stock jumped to almost $4.00 a share. In the days following, the stock pulled back and then resumed even higher.
Just yesterday (Feb. 19) I finally sold my 2000 shares at $4.15 each.
All told, after $20 in total trading costs, I pocketed $1320 on the trade.
If you are eager to trade, or are just curious if trading might be a good income stream for you, I encourage you to become a part of our growing trading community. We have subscribers all around the world — and for good reason. Our trading system works…
Come see for yourself. View our plans and pricing here.
Until tomorrow,
Jerry Robinson
Join Our Online Trading Community
Want to receive one new profitable trading idea each day by email or text? Unlock our Daily Trading Idea for only $99/year (or just $9.95/month). No-risk, cancel anytime. LEARN MORE
---
— Paid subscriber access only —
View our Plans and Pricing here
---
Real-Time Market Update

(Courtesy of Finviz.com)
---