10 Alarming Statistics About Credit Card Debt in America
… and a New Debt Service to Get Out of Credit Card Debt
by Jennifer Robinson
Credit card debt is on the rise again, which is a dangerous trend for U.S. consumers. In 2011, Americans totaled $48 billion in new credit card debt, which is a 424 percent increase from 2010 and a 577 percent increase from 2009. This $48 billion includes consumer defaults, which reached $44.2 billion during 2011. The magnitude of consumer defaults indicates that U.S. consumers are having trouble managing their money and debt effectively.
Although this increase is alarming, it is slightly relieved by new information that the average household debt in February 2012 was $6,105, which is a decrease from the December 2011 average of $6,576.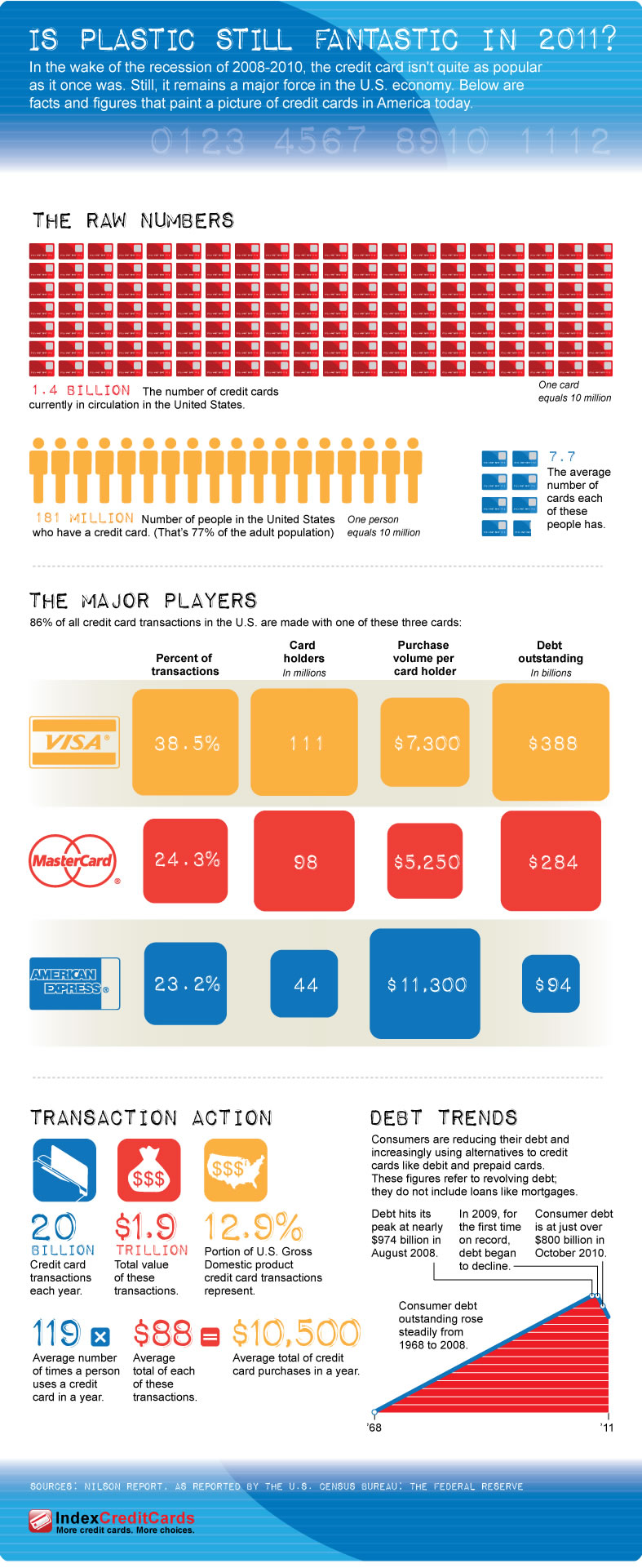 Below are 10 alarming statistics about consumer debt in the United States.
1. Total U.S. revolving debt as of December 2011 was $801 billion (98 percent of revolving debt is credit card debt)
2. The average APR on credit cards is 12.78 percent
3. 1 in 50 households carry more than $20,000 in credit card debt
4. Credit card delinquency rates are 3.27 percent as of the 4th quarter 2011
5. The average household in America carries $6,105 in credit card debt
6. The total U.S. consumer debt as of December 2011 is $2.5 trillion
7. The average consumer carries 4 credit cards; 1 in 10 consumers has more than 10 credit cards
8. In 2010, 1 in every 160 Americans filed for bankruptcy
9. The average age at which a consumer under the age of 35 gets his first credit card is 20, whereas those individuals 65 and over got their first credit cards at age 40.
10. In 2008, half of all college undergraduates owned four or more credit cards
These statistics are shocking, especially in light of other economic statistics in the United States. Federal deficit spending again reached over $1 trillion in 2011, the national debt is over $15 trillion, and according to the government's "official" numbers, the national unemployment rate remain high at 8.3 percent. (The "real" unemployment rate is much higher.)
The good news is that many individuals keep their debt in check and pay off credit cards every month. However, for individuals who have found themselves drowning in credit card debt, with fears of unemployment and inflation, the topic of debt is uncomfortable and scary.
Here at FTMDaily, we have partnered with the Christian Debt Coach, who provides a debt service that can help you find peace of mind by through money management and debt reduction.
***Find out more about the Christian Debt Coach***