For Platinum member Members Only (Member Login)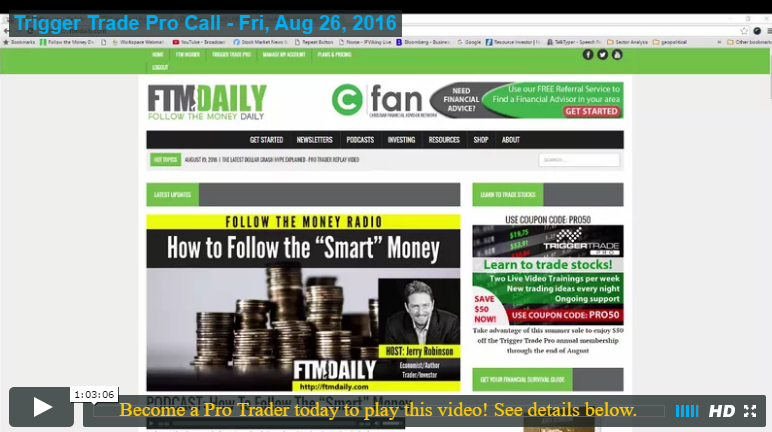 Topics Covered on this video conference call (in order)
Rate-Hike Possibility from the Federal Reserve (Again). It's completely absurd and almost impossible to translate what Janet Yellen says, but Jerry Robinson breaks down the latest Fed press release.
Are Penny Stocks Right for New Traders? Jerry provokes new traders with two vital questions to ask themselves before trading penny stocks.
The Trade of Trading. Success in trading is based on continued learning and practice, practice, practice! Jerry discusses his favorite ways to learn from your trading successes and failures.
16 Stocks and ETFs We are Watching. Jerry breaks down the charts on several stocks he is watching for potential buy signals, including:

A hot commodities ETF that is up 140% since we called the Uptrend in Feb. 2016 (and may be providing late-comers with a new entry point)
Five global markets that are poised for upside gain (along with ETFs you can use to invest)
A real estate investment trust (REIT) that lets investors profit from the boom in healthcare
A food company with familiar brands that may be entering a major uptrend
Member Questions Answered on Today's Video
Are the three daily trading ideas that are in negative territory still good buys?
Does it appear that Continental Building Products (CBPX) is poised to break out to the upside?
Do you think now is a good time to enter commodities in general, and if so, what is the best way to play commodities right now?
I bought Jan. 2017 $15 calls of the VIX. Do you think buying options on the VIX or on VXX is the best way to gain exposure to volatility?
I use the Position Calculator on FTMDaily. What percentage should I use for my stop loss in the calculator?
Would you provide your analysis on Sealed Air Corp (SEE) and Paychex Inc. (PAYX)?
I attended the Financial Liberty Summit in Estes Park in May. At the next summit in June 2017, are you going to provide continuing trading education and strategies, or will the content be geared more towards new members and traders?
How do we use the "CCI" portion of the Swing Trade View? What does it mean and how do I use it in trade decisions?
Do you have any updated analysis on oil prices, considering recent geopolitical events and supply issues?
I own Jan. 2017 call options on Direxion Daily Gold Miners Bull 3X ETF (NUGT). I have suffered big losses recently on this trade. Is it time to cut my losses, or should I hold on?
Is McEwen Mining Inc. (MUX) in "hold" mode, or should I take my gains?
Can you give us any sneak peeks at what may be coming out in the Weekend Briefing on Sunday? Are there any new uptrends or stocks in buy mode that you can share with us now? (Members can find the latest Weekend Briefing here.)
Become a Platinum member to See the Full Video Instantly
And get access to our LIVE conference call videos every Tuesday and Friday with Jerry Robinson

Choose your plan:
(Get 2 months free when you pay for the whole year!)
Limited Time Discount – Get $50 Off Your First Year!
Use Coupon Code: PRO50 (Offer expires August 31; valid only on the $599 option)

DISCLAIMER: The services provided in the Platinum member membership are intended only to provide information. Trading involves risk. Decisions to buy, sell, hold or trade in stocks, futures, securities, and other investments involve risk and are best made based on the advice of qualified financial professionals.