The Fall of Detroit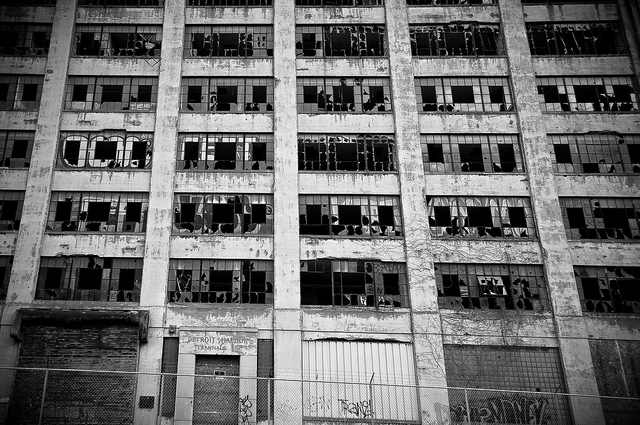 Federal judge lets Detroit move forward with largest bankruptcy in U.S. history
(FTMDaily.com) A Federal judge has formally declared that Detroit is bankrupt.
U.S. bankruptcy judge Steven Rhodes:
"It is indeed a momentous day… We have here a judicial finding that this once-proud city cannot pay its debts. At the same time, it has an opportunity for a fresh start. I hope that everybody associated with the city will recognize that opportunity."
"An opportunity for a fresh start?" Translation: State pensioners will receive less than 18 cents on the dollar.
After years of fiscal mismanagement and government waste, Detroit is faced with $18.5 billion in debt.
The city:
– has 9,700 workers while 21,000 current retirees are drawing benefits.
– has 78,000 abandoned buildings.
– reports an average police response time of 58 minutes (Compared to 11 minute national avg.)
– is burdened with of $3.5 billion in unfunded pension liabilities and has unfunded health care liabilities totaling $5.7 billion.
And 40 percent of the city's streetlights do not work.
Other municipalities across the country are studying the Detroit case closely. If the deep cuts to pension benefits stick, get ready for a wave of copycats.
---
Create Your Own Online Store. Try Shopify free for 14 days. No credit card required!
---
Inside this Issue
---

"Profiting From the Coming Paper Money Collapse"
Lingering Fed taper fears drive the U.S. dollar higher…
Indebted governments may soon consider a big one-time levy on capital assets.
A record 10,982,920 Americans collected disability benefits in November, which was the 202nd straight monthly increase of total beneficiaries.
View the Investor Wire Archive >>
U.S. Financial Markets
Real-time Gold and Silver Prices
Precious Metals Market Update with Tom Cloud
View Our Precious Metals Investing Resources Here >>
---
---

"World News Headlines That We Are Tracking"
For the first time in nearly 40 years, a majority of Americans believe the United States is less important around the world and that it should mind its own business.
Thieves in Mexico have stolen a truck containing potentially "extremely dangerous" radioactive material used in medical treatment, according to the UN.
Iran is extending an open invitation to Saudi Arabia to "work together in order to promote peace and stability in the region."
Can't afford that great (but expensive) pair of jeans? Why not rent them?
---


"Archiving the Rise of Big Brother and the Fall of the Republic"
Guardian editor Alan Rusbridger on Tuesday vigorously defended his decision to publish a series of articles based on the secret files leaked by former National Security Agency contractor Edward Snowden, telling a parliamentary committee that the right to continue pursuing the story goes to the heart of press freedoms and democracy in Britain.
New wearable Smart Locator and Phone for kids designed to keep parents and their young children in touch through GPS tracking.
View the Liberty Wire Archive >>
---

Broadcast Every Saturday Morning – Hosted by Jerry Robinson
Topic: On this week's program, Jerry and his guest, (Trace Mayer, JD), discuss how to buy Bitcoin, what Bitcoin is, and why it is becoming so popular.
Read Show Notes >>
Download Now >>
(Right click link above and 'save as' to your device)
Other Listening Options
---

"Daily Investment Trends for the Savvy Investor"
You are attempting to view premium content for subscribers only. If you are a subscriber, log in here. If you are not currently subscribed, you can learn more here.
View the Daily Chart Archive >>
---

"A Daily Stock Trading Idea for Short-Term Traders"
You are attempting to view premium content for subscribers only. If you are a subscriber, log in here. If you are not currently subscribed, you can learn more here.
Enter the Trading Room to View all Trading Activity >>
Not a subscriber? Learn more here >>
---


"A Daily Dose of Financial Wisdom from God's Word"

"Render to all what is due them: tax to whom tax is due; custom to whom custom; fear to whom fear; honor to whom honor."
Romans 13:7
---
---