---
Inside this Issue
---
BOOM: Tehran Stock Exchange Up Over 120% Since March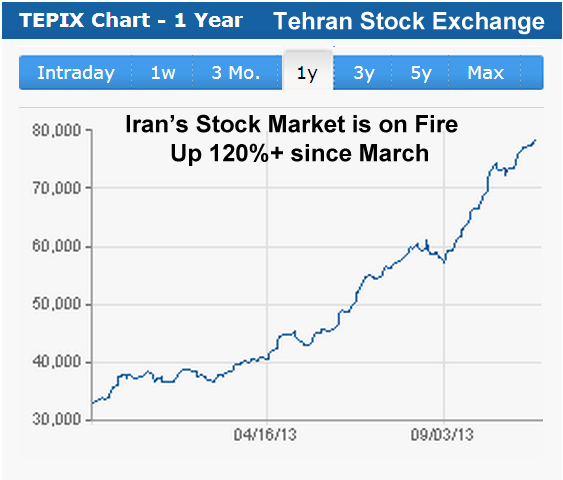 (FTMDaily.com) Iranian investors have long preferred gold and real estate to paper assets, like stocks. However, the long boom in Iranian stocks have driven many of the country's investors into the stock market for the first time. Since the beginning of the current Iranian calendar year – March 21, 2013 – the Tehran Stock Exchange main index (TEPIX) has gained more than 120 percent, recently closing above 82,000.
MEANWHILE…
Report: Obama Planning Official Visit to Iran in Mid-2014
A Kuwaiti news source, Al-Jarida, has reported that President Obama is seeking to arrange an official state visit to Iran in mid-2014.
The headline and snippet of the story…
"Al-Jarida has learned from a U.S. diplomat that President Barack Obama is seeking to visit Tehran in the middle of next year… The source said that the desire to visit is shared, and that Tehran and Washington are waiting for the conclusion of the arrangements prior to Iranian President Hassan Rohani issuing an official invitation to his American counterpart to visit Tehran… He wants to be the first U.S. president to visit Iran since the Khomeini revolution in order to show that he is an advocate of peace and dialogue even with those who chant death to America."
The White House has officially denied the Al-Jarida report.
---

"Profiting From the Coming Paper Money Collapse"
The yuan's use in international trade is set to continue growing in the coming years, say market watchers.
Allows Bitcoin holders to melt and sell the metal if the exchange value of the currency collapses.
Strikers to demand a minimum wage of $15 per hour!
View the Investor Wire Archive >>
U.S. Financial Markets
Real-time Gold and Silver Prices
Precious Metals Market Update with Tom Cloud
---
---

"World News Headlines That We Are Tracking"
The treatment, which shows potential to prevent degenerative disorders like Parkinson's and Huntington's, has so far only been tested on worms.
The "comet of the century" fizzles… maybe?
Recent poll shows Americans support the peace deal with Iran by a margin of two-to-one.
---


"Archiving the Rise of Big Brother and the Fall of the Republic"
Top W.H. Reporter: Obama Admin. 'most hostile to the media… in U.S. history'
Reporter Bob Franken: "Let's use the 'P' word here: it's propaganda. Every administration tries to manipulate the press, but this is the most hostile to the media that has been in United States history… The reason I say most hostile is because of the Justice Department moves that they've made against the press. Obviously, they have a contempt for the journalistic process."
Report: Chinese Conducted Unannounced 'Inspections' of BLOOMBERG NEWS Bureaus
The unusual visits follow a controversy about an investigative article involving a Chinese billionaire.
View the Liberty Wire Archive >>
---

Broadcast Every Saturday Morning – Hosted by Jerry Robinson
Topic: On this week's program, Jerry and his guest, (Trace Mayer, JD), discuss how to buy Bitcoin, what Bitcoin is, and why it is becoming so popular.
Read Show Notes >>
Download Now >>
(Right click link above and 'save as' to your device)
Other Listening Options
---

"Daily Investment Trends for the Savvy Investor"
You are attempting to view premium content for subscribers only. If you are a subscriber, log in here. If you are not currently subscribed, you can learn more here.
View the Daily Chart Archive >>
---

"A Daily Stock Trading Idea for Short-Term Traders"
You are attempting to view premium content for subscribers only. If you are a subscriber, log in here. If you are not currently subscribed, you can learn more here.
Enter the Trading Room to View all Trading Activity >>
Not a subscriber? Learn more here >>
---


"A Daily Dose of Financial Wisdom from God's Word"

"There is precious treasure and oil in the dwelling of the wise, but a foolish man swallows it up."
Proverbs 21:20
---
---