'IT'S TIME TO TAKE ACTION'

A Simple Way to Find a Christian Financial Advisor
FTMDaily.com – In my many travels around the country to speak and lecture at conferences and churches, I am always amazed at how many people are looking for faith-based financial advice. Whether it's a question about preparing for retirement, rolling over an old 401(k) from a former employer, or improving investment returns, many Americans are in search of wise financial counsel.
Several years ago, I was a practicing financial advisor. But in 2009, I left the financial planning industry to devote myself full-time to building my own businesses. But soon after I stepped away from financial planning, I found myself bombarded with questions from readers and podcast listeners. I knew that I had to find a solution.
So, in late-2009, I decided to launch the Christian Advisor Referral. The concept was simple. I put together a team of solid financial advisors from around the country who could provide excellent financial advice to our many readers and listeners. Today, the Christian Advisor Referral has a growing number of experienced financial professionals in many different specialities including: investment planning, retirement planning, estate planning, and insurance planning. We even have a team of attorneys around the country!
And unlike many other similar services out there, all of our advisors approach their practice from a faith-based perspective and they all adhere to the FTM Financial Philosophy. That is important to me, and I know that it is important to many of our readers and listeners.
And the best part? It's all absolutely FREE! None of our financial advisors charge a fee to meet with you and to help you create a solid financial plan.
Now that's a great deal, wouldn't you agree?
If you are looking for a Christian financial advisor, I would urge you to take advantage of the Christian Advisor Referral.
To get started, simply click here and complete the secure online form. Once our office receives your information, we will put a Christian financial advisor in touch with you within three business days.
Let's make 2014 the year that you put together a solid financial plan.
It's time to take action.
Until tomorrow,
Jerry Robinson
---
BONUS REPORT FOR FTM INSIDERS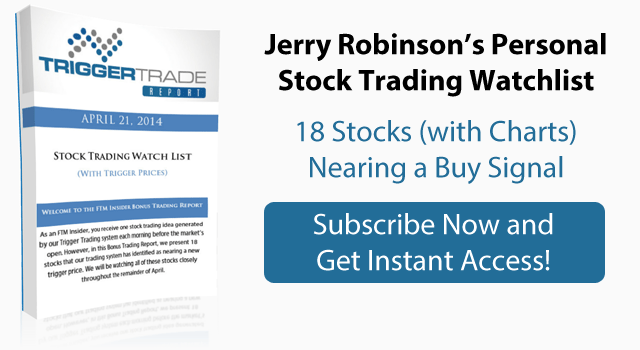 Already an FTM Insider? Download this new bonus report here.
---
Inside this Issue
---

"Preparing — and Profiting — From the Coming Collapse"
The S&P 500 has jumped 3.5% in the past six days…
Despite a big rally, small investors remain skeptical of Wall Street.
From Agricultural Drones to Brain Mapping, technological advances in 2014 are cruising ahead at warp speed.
Facebook's first-quarter profit nearly tripled from a year ago and revenue exceeded expectations as the company's mobile advertising continued to increase.
The century-old Dow Theory is nearing an important "buy" signal.
Going cashless in a world of Big Data means all your purchases — and therefore your privacy — is up for grabs.
View the Investor Wire Archive >>
---
---

"A Daily Stock Trading Idea for Short-Term Traders"
— Subscribers Only —
You are attempting to view premium content for subscribers only. If you are a subscriber, log in here. If you are not currently subscribed, you can learn more here.
Trade Alert – April 24
Sold FTK yesterday for a 2.89% return!
Four stocks now in play…
Enter the Trading Room to View all Trading Activity >>
View our Trading Performance >>
Not a subscriber? Learn more here >>
---
U.S. Financial Markets
Real-time Gold and Silver Prices
---

"Daily Investment Trends for the Savvy Investor"
You are attempting to view premium content for subscribers only. If you are a subscriber, log in here. If you are not currently subscribed, you can learn more here.
View the Daily Chart Archive >>
---

"World News Headlines That We Are Tracking"
As the U.S. moves 600 airborne troops into the Baltics, Russia responds with naval exercises in the Caspian.
About 150 soldiers from the 173rd Airborne Brigade Combat Team have arrived in Poland for military exercises across Eastern Europe amid Ukraine crisis.
Two Russian planes are turned back as they approach Scotland, with jets from the Netherlands and Denmark also scrambled.
German companies were directly supporting and training Russia's military even during the attacks against Ukraine.
The 'Soviet' Spring is here…
Even as China's economic growth slows, the military expansion is likely to continue.
A camp on the Libyan coastline meant to train terror-hunters has instead become a haven for terrorists and al Qaeda.
Mahmoud Abbas's Palestine Liberation Organisation and Hamas agreed to implement a unity pact, with the aim of forming a government within five weeks.
---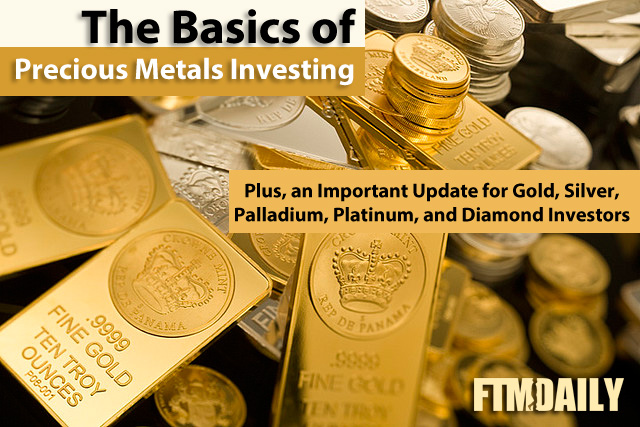 The Basics of Precious Metals Investing
Broadcast Every Weekend – Hosted by Jerry Robinson


Topic: In this week's episode, we pause our "Stock Trading Bootcamp" series in order to bring you important information about precious metals investing. You don't want to miss this episode!
Download Now >>
(Right click link above and 'save as' to your device)
Read This Week's Show Notes >>
Other Listening Options
---


"A Daily Dose of Financial Wisdom from God's Word"

"Delight yourself in the Lord; And He will give you the desires of your heart."
Psalm 37:4