TRIGGER TRADING 101

How to Trigger Trade: 3 Steps to Stock Trading Profits
FTMDaily.com – Last week, I told you that our Trigger Trading system showed that Mastercard's stock price was nearing a new buy signal. Mastercard is currently within $1 of reaching its entry price of $75.48. Once it reaches this price, which we call the "Trigger" price, I will buy.
Our Trigger Trading system is a very simple trading system that I have been personally using to identify buy and sell signals for years. But this trading system identifies potential entry and exit points on more than just stocks. It also works perfectly for trading currencies, bonds, commodities, options, and even penny stocks!
Currently, I alert our FTM Insiders with one new stock idea from our Trigger Trading system every weekday. But for the past several months I have been working long and hard to place this powerful trading system in your hands. Now, it appears that our trading system will be available on our website for purchase sometime in late May! (As in next month!) I will keep you posted on the details.
Below is a simple graphic that explains how our Trigger Trading system simplifies the stock trading process in three simple steps.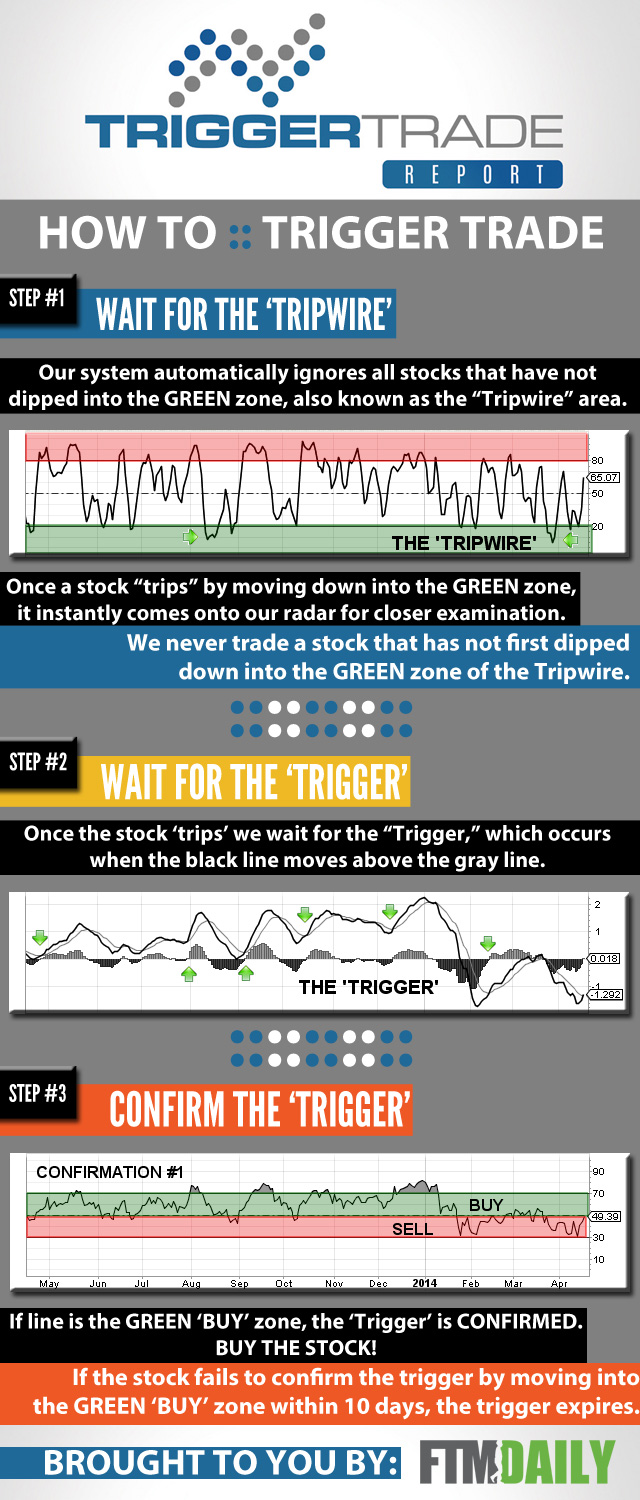 Once our Trigger Trade software is released next month, you will be able to purchase the trading system, and we will show you how to use it to begin earning profits in the financial markets.
Stay tuned,
Jerry Robinson
---
BONUS REPORT FOR FTM INSIDERS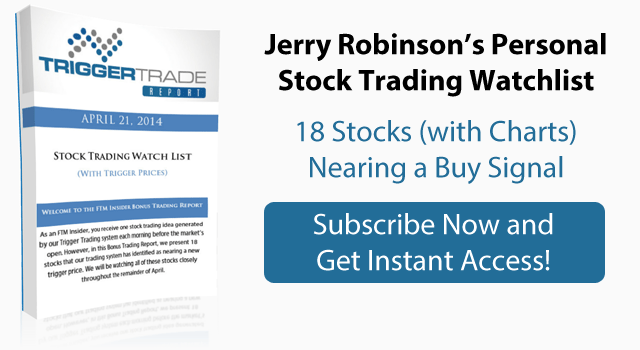 Already an FTM Insider? Download this new bonus report here.
---
Inside this Issue
---

"Preparing — and Profiting — From the Coming Collapse"
U.S. stocks keep rising…
Surprise, surprise!
Property-tax collections nationally rose to $182.8 billion during the last three months of 2013.
Globally, hedge funds now manage $2.7 trillion, nearly double their total from 2008.
Our Market Barometer is flashing an important alert. Investors, here's what to do now…
As of the close of business on April 15, according to the Daily Treasury Statement, the Treasury had taken in a record $1,428,710,000,000.00 in total taxes so far this fiscal year.
View the Investor Wire Archive >>
---
---

"A Daily Stock Trading Idea for Short-Term Traders"
— Subscribers Only —
You are attempting to view premium content for subscribers only. If you are a subscriber, log in here. If you are not currently subscribed, you can learn more here.
Trade Alert – April 22
BHI up another 2.8% Tuesday!
Enter the Trading Room to View all Trading Activity >>
View our Trading Performance >>
Not a subscriber? Learn more here >>
---
U.S. Financial Markets
Real-time Gold and Silver Prices
---

"Daily Investment Trends for the Savvy Investor"
You are attempting to view premium content for subscribers only. If you are a subscriber, log in here. If you are not currently subscribed, you can learn more here.
View the Daily Chart Archive >>
---

"World News Headlines That We Are Tracking"
Russia's parliament has agreed to write off almost $10 billion of North Korea's Soviet-era debt, in a deal expected to facilitate the building of a gas pipeline from North to South Korea.
U.S. says it is actively preparing new sanctions…
Intelligence agency employees who violate the policy could suffer career-ending losses of their security clearances or out-right termination, and those who disclose classified information could face criminal prosecution.
New data from the U.S. Census Bureau suggests the number of minority farmers working American soil is expanding rapidly. The data also suggests U.S. farms are getting smaller.
The Congressional EMP Commission estimates that the whole country could be protected for about $2 billion, which is what we give away in foreign aid to Pakistan every year.
Saudi Arabia, Qatar, Oman, Bahrain, and others are stockpiling military equipment like never before…
---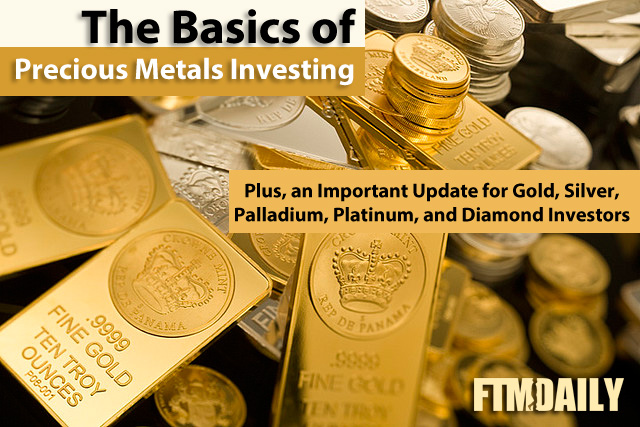 The Basics of Precious Metals Investing
Broadcast Every Weekend – Hosted by Jerry Robinson


Topic: In this week's episode, we pause our "Stock Trading Bootcamp" series in order to bring you important information about precious metals investing. You don't want to miss this episode!
Download Now >>
(Right click link above and 'save as' to your device)
Read This Week's Show Notes >>
Other Listening Options
---


"A Daily Dose of Financial Wisdom from God's Word"

"A faithful man will abound with blessings, but he who makes haste to be rich will not go unpunished."
Proverbs 28:20