UP 1600% SINCE 2007…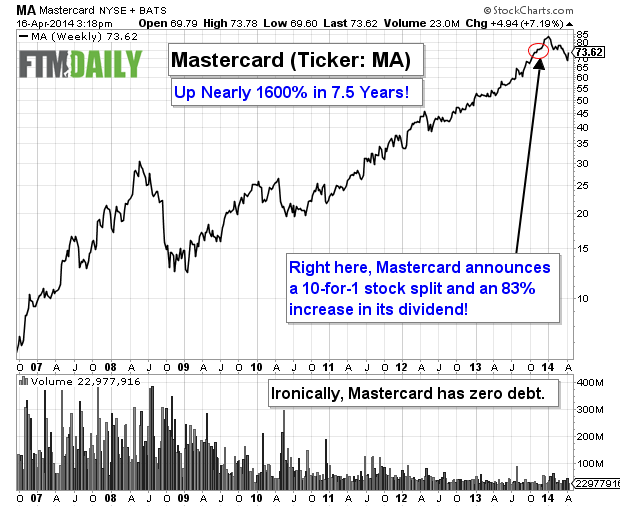 Mastercard Stock Price Nearing New Buy Signal
FTMDaily.com – As a trader, I am always looking for opportunities in the financial markets. This morning, while preparing today's briefing, I noticed that our Trigger Trading system was flashing a new potential buy signal for Mastercard stock. I have been eagerly awaiting another buy signal on Mastercard. Investors who first bought Mastercard stock after it went public back in 2006 are sitting on some massive gains. (Nearly 1600%!)
However, Mastercard has been pulling back since the beginning of 2014 and appears to have found support near the $70 level.
The last buy signal that our Trigger Trading system identified on Mastercard was back in September 2013 when the stock was trading at a split-adjusted price of $62. Four months after our September buy signal, the stock rose more than 30%!
Now, our trading system shows that Mastercard is nearing yet another buy signal.
Check out the chart below…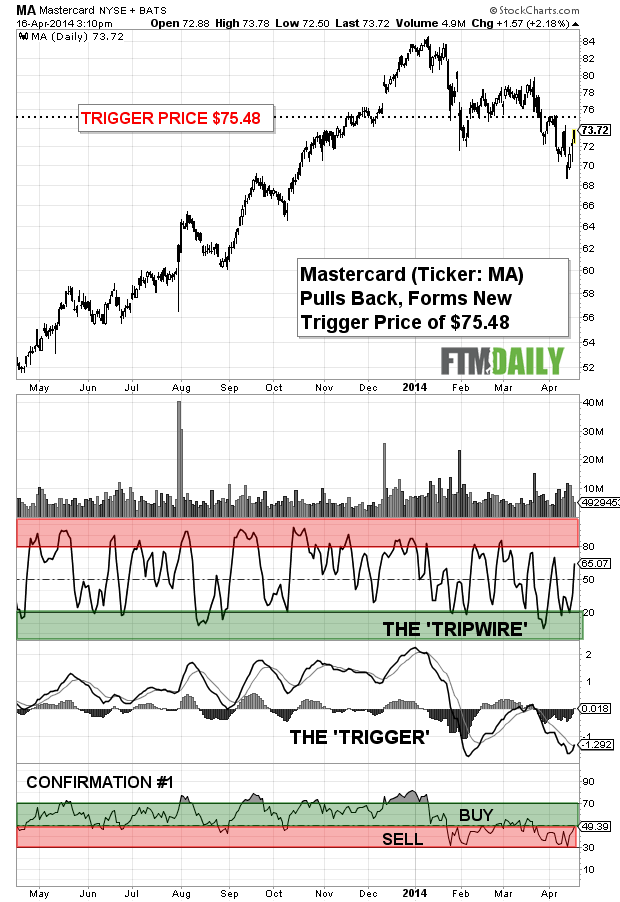 As you can see from the above chart, our trading system is fairly simple. We have a Tripwire, a Trigger, and a Confirmation. When it all lines up, we buy!
First, we ignore all stocks until they "TRIP." This happens when they dip into the GREEN zone in the TRIPWIRE area.
Once the stock "trips" we wait for the TRIGGER to occur. The Trigger happens when the black line crosses ABOVE the gray line.
Finally, the "Trigger" is only considered valid if the stock confirms. This happens when the stock is in the GREEN zone of Confirmation #1.
According to our Trigger Trade system, all of these events will occur when the stock price reaches $75.48. Put simply, when Mastercard stock reaches $75.48, I will buy shares with a profit potential of 7%-10% over the next few weeks.
However, if Mastercard doesn't reach its trigger price of $75.48 within the next 10 trading sessions, this trading idea will expire.
This is just one of the many trading ideas that are available to our FTM Insiders. In fact, our Insiders receive a new trading idea generated by our Trigger Trading system every morning before the market opens.
You can learn more about our trading system here.
Until Monday,
Jerry Robinson
Note: FTMDaily's offices will be closed for Good Friday. There will be no Daily Briefing or Trigger Trade on Friday, April 18 and no FTMWeekly podcast on Resurrection Sunday. Our offices will re-open on Monday, April 21. Have a wonderful weekend!
---
Inside this Issue
---
---

"Preparing — and Profiting — From the Coming Collapse"
Federal Reserve: April Beige Book Word Cloud
Fed says economy is thawing out, but that pockets of weakness remain.
Stock surge on rising volume…
Google earnings and revenue fell below analyst expectations as shares plummet in after-hours trading.
China's gross domestic product growth slipped in the first quarter to its slowest level in 18 months as the world's second-largest economy continued to downshift.
This is completely unsustainable…
Its all part of the American energy revolution.
Johnson & Johnson, Exxon-Mobil and Microsoft…
Europe is gearing up for a major monetary stimulus push.
The United Nations' World Meteorological Organization issues warning.
But 90% of Swiss workers already earn more than that…
View the Investor Wire Archive >>
---
---

"A Daily Stock Trading Idea for Short-Term Traders"
— Subscribers Only —
You are attempting to view premium content for subscribers only. If you are a subscriber, log in here. If you are not currently subscribed, you can learn more here.
Trade Alert – April 17
We sold two stocks on Wednesday. Here are the results:
PTEN – 3.32% Profit
TESO – 2.89% Profit
Enter the Trading Room to View all Trading Activity >>
View our Trading Performance >>
Not a subscriber? Learn more here >>
---
U.S. Financial Markets
Real-time Gold and Silver Prices
---

"Daily Investment Trends for the Savvy Investor"
You are attempting to view premium content for subscribers only. If you are a subscriber, log in here. If you are not currently subscribed, you can learn more here.
View the Daily Chart Archive >>
---

"World News Headlines That We Are Tracking"
Report by researchers from Princeton and Northwestern universities suggests that U.S. political system serves special interest organisations, instead of voters.
There is worry it signals a new round of plotting.
Washington issues dire warning that Russia is vastly increasing its nuclear arsenal under policies similar to those Moscow followed during the Soviet era.
"If they shoot, we will shoot back."
Idaho sits at the center of a seismic belt in the intermountain West that runs from northwestern Montana to southern Nevada and contains thousands of faults in the Earth's crust.
Prevention includes walking 30 minutes a day at a brisk pace and trying to lose 5%-7% of your body weight.
In Congress, the vulnerability of the power grid has emerged as among the most pressing domestic security concerns.
"What we're really looking for are people talking about being sovereign such as sovereign citizens or people talking about big government."
The phenomenon comes a day after a "blood moon," caused by a lunar eclipse, prompted people to gaze skyward.
The moon will glow red three more times in the next 18 months, scientists say.
"The sun shall be turned into darkness, and the moon into blood, before the great and notable day of the Lord."
---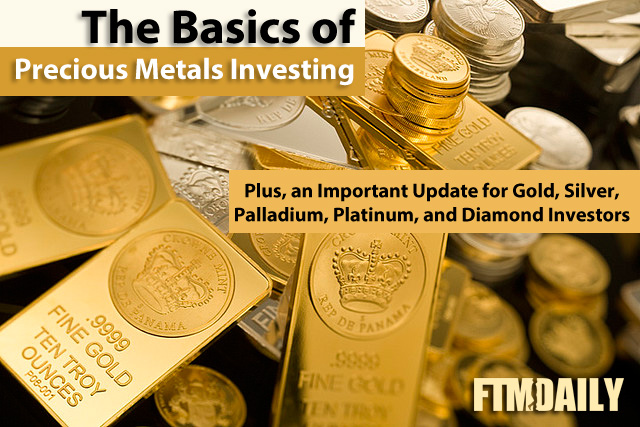 The Basics of Precious Metals Investing
Broadcast Every Weekend – Hosted by Jerry Robinson


Topic: In this week's episode, we pause our "Stock Trading Bootcamp" series in order to bring you important information about precious metals investing. You don't want to miss this episode!
Download Now >>
(Right click link above and 'save as' to your device)
Read This Week's Show Notes >>
Other Listening Options
---


"A Daily Dose of Financial Wisdom from God's Word"

"If you lend money to My people, to the poor among you, you are not to act as a creditor to him; you shall not charge him interest."
Exodus 22:25