PALLADIUM +12.57% YTD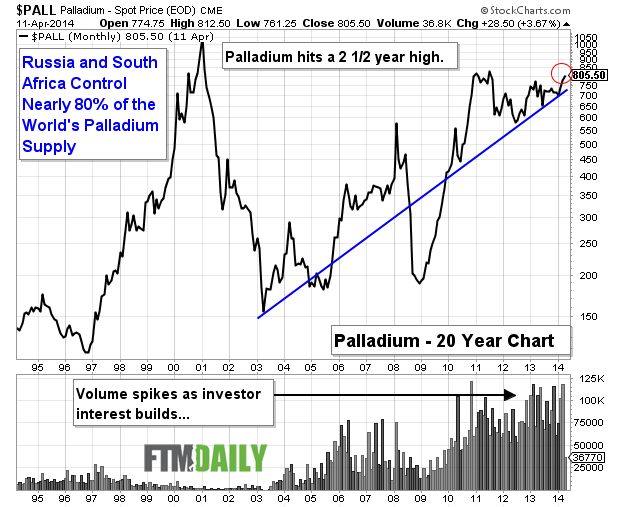 Palladium Soars to 32-Month High On Supply Fears
FTMDaily.com – Palladium prices are on fire.
The price of the industrial metal has recently soared to its highest level since 2011 amid escalating tensions in Ukraine.
Why is the Ukraine crisis driving up palladium prices?
Because, the world's biggest producer of palladium just so happens to be: Russia. As Moscow and the West face off in the sharpest war of words since the Cold War, investors are increasingly concerned that palladium supplies could become endangered amid growing threats of more economic sanctions.
Meanwhile in South Africa, the world's second largest palladium producer, labor strikes by palladium miners continue to cause supply concerns.
Together, Russia and South Africa make up nearly 80% of the world's palladium supplies. Given the current instability, investor concerns are primarily on the supply side.
However, one of palladium's primary industrial uses is in automobiles, where it is widely used in catalytic converters. According to the latest forecast, global automakers will manufacture a record 72 million cars in 2014. Therefore, concerns over growing palladium demand also have investors buying the metal.
Put simply, growing geopolitical tensions with Russia, ongoing mining labor strikes in South Africa, and record global production of automobiles mean that palladium prices will possibly soar even higher in the days and weeks ahead.
So far in 2014, palladium is roaring higher.
Currently:
Palladium is up 12.57% YTD.
Gold is up 10.14% YTD.
Platinum is up 6.43% YTD.
Silver is up 2.89% YTD.
Until tomorrow,
Jerry Robinson
ACTION POINT: In today's trading idea, I offer a unique way to profit from the rising price of palladium. If prices continue higher, this stock could explode higher. See today's trading idea here. Not a subscriber? Join today for less than $20!
---
Inside this Issue
---
---

"Preparing — and Profiting — From the Coming Collapse"
The Justice Department has successfully convicted dozens of bankers for insider trading. But the big banks did something much worse and got away with it.
Among the biggest sellers, Jeff Bezos, chief executive of Amazon, raised $351 million in February, taking his total sales to more than $1 billion in just six months – more than three times the amount he had raised in the previous year.
Hyperinflationary episodes have appeared several times over the past century — 55, to be exact — as the world's nations have experimented with fiat currencies backed by the full faith and credit of the governments that issue them.
A sign that China/Russia are moving to commodity-backed currencies?
Gazprom, the world's biggest natural-gas producer, is considering issuing yuan-denominated debt.
If housing demand has softened, someone forgot to tell home sellers.
View the Investor Wire Archive >>
---
---

"A Daily Stock Trading Idea for Short-Term Traders"
— Subscribers Only —
You are attempting to view premium content for subscribers only. If you are a subscriber, log in here. If you are not currently subscribed, you can learn more here.
Trade Alert – April 15
Five stocks currently in play in the markets.
Three positions gaining 1%+ on Monday!
Enter the Trading Room to View all Trading Activity >>
View our Trading Performance >>
Not a subscriber? Learn more here >>
---
U.S. Financial Markets
Real-time Gold and Silver Prices
---

"Daily Investment Trends for the Savvy Investor"
You are attempting to view premium content for subscribers only. If you are a subscriber, log in here. If you are not currently subscribed, you can learn more here.
View the Daily Chart Archive >>
---

"World News Headlines That We Are Tracking"
Here we go again…
A Russian fighter jet made multiple, close-range passes near an American warship in the Black Sea for more than 90 minutes Saturday amid escalating tensions in the region.
The 442 total proposed tax increases does not include the 20 tax increases Obama signed into law as part of Obamacare.
IRS Commissioner John Koskinen says the IRS is prepared to rewrite a proposed rule regulating the political activities of non-profit groups.
For each woman who worked full-time, year-round in 2012, there was slightly more than 1 other person collecting food stamps.
Google has patented a smart contact lens that could see its Glass wearable computer fit inside a smart lens.
It is already known as the eternal city, and if new archaeological findings prove correct Rome may turn out to be even more ancient than believed until now.
---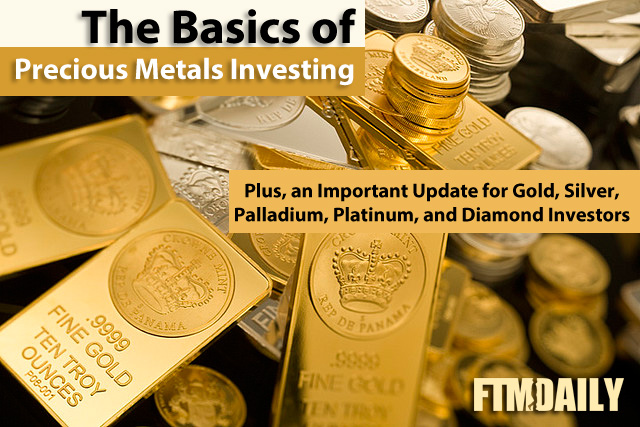 The Basics of Precious Metals Investing
Broadcast Every Weekend – Hosted by Jerry Robinson


Topic: In this week's episode, we pause our "Stock Trading Bootcamp" series in order to bring you important information about precious metals investing. You don't want to miss this episode!
Download Now >>
(Right click link above and 'save as' to your device)
Read This Week's Show Notes >>
Other Listening Options
---


"A Daily Dose of Financial Wisdom from God's Word"

"Whoever loves money never has money enough; whoever loves wealth is never satisfied with his income. This too is meaningless."
Ecclesiastes 5:10