STOCK TRADING BOOTCAMP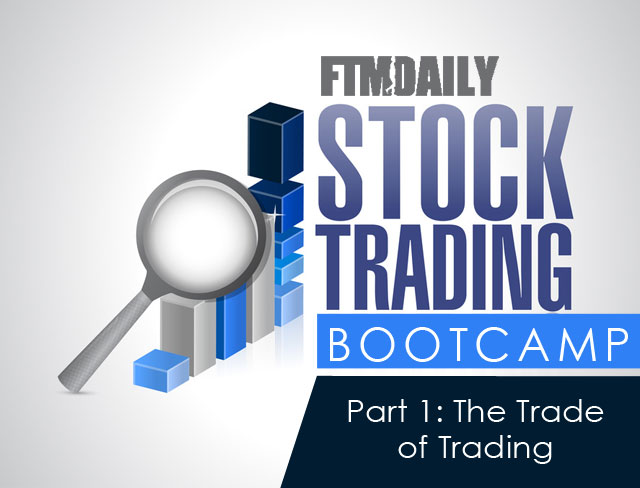 Learn the Basics of Online Stock Trading
FTMDaily.com – This weekend, we kicked off the first part of our brand new podcast series entitled: Stock Trading Bootcamp. I am very excited to begin this new series as there are many things that I want to share with our readers and listeners regarding stock investing, and in particular, trading stocks. I was personally introduced to stock trading back in 1997 and have had a passion for it ever since. It has taken me many years of trial and error to develop my own trading system. I have read more books on the subject than perhaps any other topic. And despite my 16 years of trading experience, I am still constantly learning something new. Some "buy and hold" investors frown on trading, considering it to be too speculative. While this can often be true, it all depends on your trading system. For example, the stock trading system that I have developed is very conservative and seeks to earn 1%-5% returns within a period of five days to five weeks. I refer to my trading system as "Trigger Trading." You can learn more about it here.
In this first episode of our Stock Trading Bootcamp podcast series, I explain some of the reasons why I enjoy stock trading along with a few rules for newcomers. Even if you do not consider yourself a trader, I believe you will enjoy — and benefit from — this new podcast series. To get started listening to the first episode, just click the play button below. If you prefer to download the show, click here.
Until tomorrow,
Jerry Robinson
---

Stock Trading Bootcamp: Part I
Broadcast Every Saturday Morning – Hosted by Jerry Robinson


Topic: In Part I of our new Stock Trading Bootcamp podcast series, Jerry Robinson discusses the "trade of trading."
Download Now >>
(Right click link above and 'save as' to your device)
Other Listening Options
Become an Gold member today and benefit from Jerry Robinson's 16 years of trading experience. All subscribers get instant access to our daily trading idea and over 25 hours of stock trading video tutorials by Jerry Robinson. Learn more here.
---
Inside this Issue
---

"Preparing — and Profiting — From the Coming Collapse"
Foreign central banks' Treasury bond holdings parked at the Federal Reserve dropped by the most on record in the latest week. Some analysts think the crisis in Ukraine is sparking the move.
Stock markets are set for what could be another nervous week, with continuing tensions between the West and Russia over Ukraine and U.S. Federal Reserve policymakers highest on traders' minds.
Chinese e-commerce giant Alibaba says it's gearing up to go public on a U.S. stock exchange in what is likely to be the world's biggest IPO this year.
The yellow metal continues to move higher as the demand for safe havens increase.
Four particular asset classes provide investors with the ability to not only hedge against a stock market decline but capitalize on it.
New research from the Brookings Institute shows that just 26% of teens ages 16 to 19 had a job in 2011, down from 45% in 2000.
Latest currency move by China applauded by the West…
Over the last month, Russian stocks have lost nearly 20% of their value…
Uncle Warren is not warming up to bitcoin…
View the Investor Wire Archive >>
U.S. Financial Markets
Real-time Gold and Silver Prices
Precious Metals Market Update with Tom Cloud
---

"World News Headlines That We Are Tracking"
The Crimean people voted overwhelmingly to leave Ukraine and join Russia, election officials said Sunday.
A leading anchor on Russian state television on Sunday described Russia as the only country capable of turning the United States into "radioactive ash", in an incendiary comment at the height of tensions over the Crimea referendum.
A United States surveillance drone has been intercepted above the Ukranian region of Crimea.
Pressure to let go of the final vestiges of U.S. authority over the system of Web addresses and domain names that organize the Internet has been building for more than a decade and was supercharged by the backlash last year to revelations about National Security Agency surveillance.
The legendary billionaire investor says the eurozone needs to become more integrated calling for a common fiscal budget policy and a banking union.
Top college dean blames the growing number of online MBA programs…
Protesters say they are non-partisan, but united in frustration with the Abbott Government's approach on numerous policy issues.
Free AR-15's, anybody?
---

"Daily Investment Trends for the Savvy Investor"
You are attempting to view premium content for subscribers only. If you are a subscriber, log in here. If you are not currently subscribed, you can learn more here.
View the Daily Chart Archive >>
---

"A Daily Stock Trading Idea for Short-Term Traders"
— Subscribers Only —
You are attempting to view premium content for subscribers only. If you are a subscriber, log in here. If you are not currently subscribed, you can learn more here.
Trade Alert – March 17
Sold RUSS Friday morning for a 12.28% gain!
Enter the Trading Room to View all Trading Activity >>
View our Trading Performance >>
Not a subscriber? Learn more here >>
---


"A Daily Dose of Financial Wisdom from God's Word"

"He who gives to the poor will never want, but he who shuts his eyes will have many curses."
Proverbs 28:27
---
---