BEARISH CALL ON RUSSIA PAYS OFF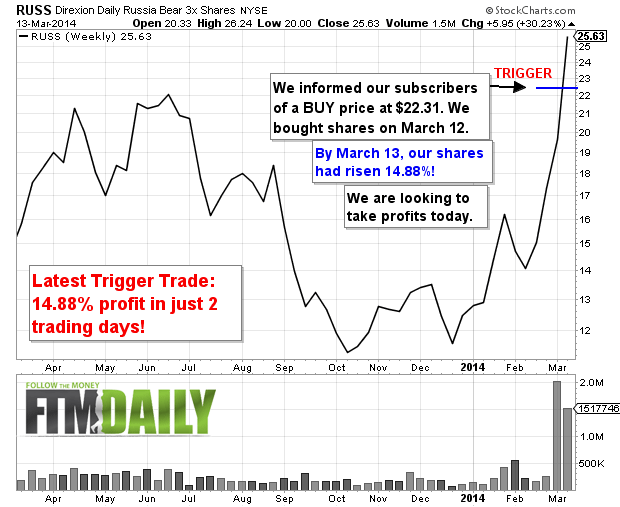 Our Bearish Call On Russian Stocks Nets 15% in Just 48 Hours
FTMDaily.com – Amid mounting tensions between Russia and the West, we advised our subscribers earlier this month to keep their eyes on Russian stocks. On March 4, I wrote the following note to all of our FTM Insiders:
"With Russian stocks falling like a rock amid the Ukraine crisis, here's one trade that could provide some short-term profits. This Russian ETF (Ticker: RUSS) is a highly leveraged (3x) inverse play on Russia's stock market. This ETF goes up by a factor of three when Russia's broad stock market falls by a factor of one. I always use extreme caution with these inverse ETFs as they can be highly volatile. Potential entry point at $22.31."
On Wednesday, the ETF reached its entry price of $22.31 and we swooped in to buy shares. Then, the following day, the ETF did exactly what I expected: It soared by over 13% in a matter of a few hours. All told, our current trade is up nearly 15% in just two days! Because it never pays to be greedy, I will be looking to sell the ETF today and lock in the gains.
Each morning before the market opens, we post a new stock trading idea in our Subscribers-Only Area, complete with a buy price and a suggested exit price. This morning, I have placed another quick profit trading idea up for all of our subscribers.
Unlike many of the stock trading services that litter the web, our service is unique in that every trade we post is an idea that we actually trade ourselves. You can learn more about our daily trading ideas here. At just $19.95 per month (or $199 per year,) you can easily make your money back on your very first trade! If you want to learn to trade, or just want a good solid trading idea each and every morning before the opening bell, this is definitely the service you have been looking for! What are you waiting for?
Until Monday,
Jerry
Become an Gold member today and benefit from Jerry Robinson's 16 years of trading experience. All subscribers get instant access to our daily trading idea and over 25 hours of stock trading video tutorials by Jerry Robinson. Learn more here.
---
Inside this Issue
---

"Preparing — and Profiting — From the Coming Collapse"
After a string of ho-hum trading sessions, U.S. stocks took it on the chin Thursday.
In this Gold member Exclusive, Precious Metals advisor Tom Cloud shares two precious metals that are flashing "BUY" signals right now.
Premier Li Keqiang told lenders to China's private sector factories they should expect debt defaults as the world's second largest economy encounters "serious challenges" in the year ahead.
The 50 million idle Americans include many who are studying, have chosen not to work or have retired early.
The oil company behind the largest offshore oil spill in U.S. history can once again perform work for the federal government.
As the housing market moves slowly into recovery, more and more Americans are gaining confidence and hoping to jump into home ownership.
San Diego comes in as #1…
Next time you board a commercial flight, don't expect to find an empty seat next to you.
The rebound in the stock market and the recovery in home prices has sent the number of millionaire households in the United States to a new all-time record high.
View the Investor Wire Archive >>
U.S. Financial Markets
Real-time Gold and Silver Prices
Precious Metals Market Update with Tom Cloud
---

"World News Headlines That We Are Tracking"
With a referendum on secession looming in Crimea, Russia massed troops and armored vehicles in at least three regions along Ukraine's eastern border on Thursday, alarming the interim Ukraine government about a possible invasion and significantly escalating tensions in the crisis between the Kremlin and the West.
Kerry: "If there is no sign [from Russia] of any capacity to respond to this issue … there will be a very serious series of steps on Monday."
It's not just the CIA, and it's not a new problem…
The NSA scandal just continues to get worse by the day…
Researcher finds tantalizing tefillin parchments from Second Temple era, overlooked for decades and unread for 2,000 years.
House Speaker John Boehner (R-Ohio) announced Thursday he had invited Pope Francis to address a joint session of Congress.
Water scarcity is one of the most urgent food security issues facing countries in the Middle East and North Africa, with fresh water availability in the region expected to plunge by 50% by 2050, according to the United Nations.
As long as tribes are denied the right to control their own resources, they will remain locked in poverty and dependence.
New underwater surveillance technology will enable U.S. military to get closer to potential targets without attracting attention.
Hundreds of people have been flocking to a house in southern Belgium to catch a glimpse of a small statue of the Virgin Mary which reportedly glows in the dark.
---

PODCAST: Gold and Stock Update
Broadcast Every Saturday Morning – Hosted by Jerry Robinson


Topic: No new radio show this week as Jerry Robinson was out sick with pneumonia…
Download Now >>
(Right click link above and 'save as' to your device)
Other Listening Options
---

"Daily Investment Trends for the Savvy Investor"
You are attempting to view premium content for subscribers only. If you are a subscriber, log in here. If you are not currently subscribed, you can learn more here.
View the Daily Chart Archive >>
---

"A Daily Stock Trading Idea for Short-Term Traders"
— Subscribers Only —
You are attempting to view premium content for subscribers only. If you are a subscriber, log in here. If you are not currently subscribed, you can learn more here.
Trade Alert – March 14
Sold MPC & VLO for 2.88% and 3.08% gains.
RUSS was up 13.46% in single trading day on Thursday!
Enter the Trading Room to View all Trading Activity >>
View our Trading Performance >>
Not a subscriber? Learn more here >>
---


"A Daily Dose of Financial Wisdom from God's Word"

"He who is generous will be blessed, for he gives some of his food to the poor."
Proverbs 22:9
---
---