SHORT-TERM TRADING IDEA: NSC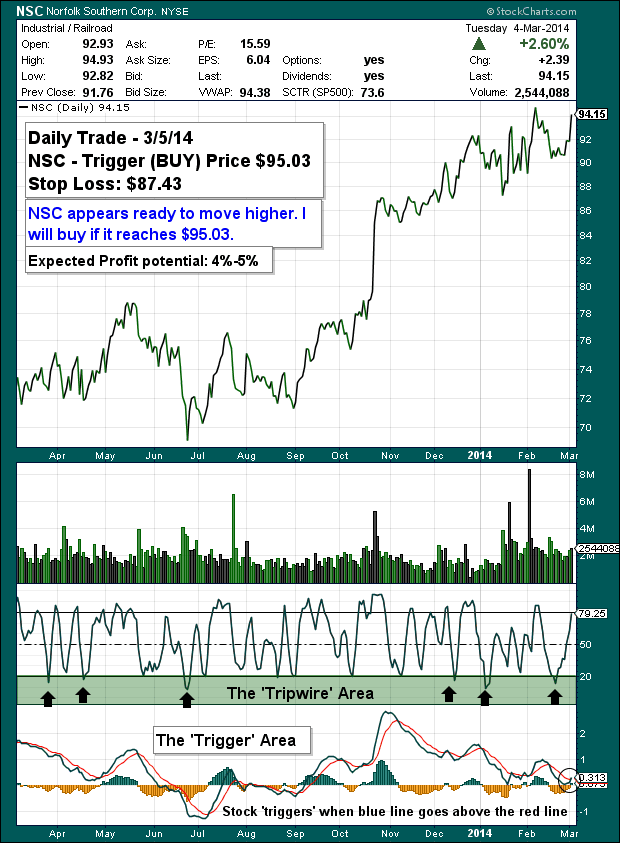 Norfolk Southern Corp. Flashing New Buy Signal at $95.03
FTMDAILY.COM – Every morning we share one new conservative stock trading idea with our subscribers that we believe could provide 1%-5% in profits within a very short period of time. (Usually within 10 days.) Today, we are sharing our subscribers-only daily trading idea with our entire audience.
Norfolk Southern Corp. (Ticker: NSC), a Virginia-based holding company, owns two major freight railroads, Norfolk Southern Railway Company and Norfolk Western Railway Company, which operates in numerous states, the District of Columbia and the Province of Ontario. The stock appears ready to breakout to new highs, perhaps as early as this week. I will buy shares of NSC, if it reaches $95.03. I will then immediately place a stop-loss order for $87.43 to limit my total downside loss to 8%. However, if NSC reaches $95.03, I expect to earn a quick 4%-5% profit over a few trading days.
Want access to our daily trading idea each morning in your email inbox? Click here.
DISCLAIMER: The above trading ideas are from my own personal stock watchlist and are for educational and informational purposes only. They are NOT specific buy recommendations. Trading stocks is risky and you could lose all of your money. Trade at your own risk. Jerry Robinson is a stock trader, not an investment advisor. You should always consult a trusted financial services professional before making any financial or investment decisions. READ FULL DISCLAIMER.
---
Inside this Issue
---

"Preparing — and Profiting — From the Coming Collapse"
The S&P 500 soared to new record highs after tensions over Ukraine ebbed on Tuesday.
"An attempt to announce sanctions would end in a crash for the financial system of the United States, which would cause the end of the domination of the United States in the global financial system."
Pimco quietly has raised $5.5 billion to buy bank assets in the U.S. and Europe and has already closed the fund to new investors.
The average amount borrowed by car buyers last quarter climbed above $27,000 — for the first time ever.
On retirement, three new reports paint a bleak picture of what the future may look like for Americans when they retire.
After the implosion of Mt. Gox, Tokyo moves to regulate Bitcoin.
View the Investor Wire Archive >>
U.S. Financial Markets
Real-time Gold and Silver Prices
---

"World News Headlines That We Are Tracking"
The National People's Congress meets to begin a two-week legislation bonanza.
The rising dragon flexes its muscles…
A bill that would nullify Agenda 21 in Oklahoma passed through the state house today.
The Turkish Air Force scrambled eight F-16 fighter jets after a Russian surveillance plane flew parallel along its Black Sea coast
Christians opt for a medieval-style 'protection agreement' and tax over conversion or death.
---

PODCAST: Gold and Stock Update
Broadcast Every Saturday Morning – Hosted by Jerry Robinson


Topic: With Jerry Robinson on vacation last week, this brief episode provides a precious metals update, our latest trading performance, and an investing idea..
Download Now >>
(Right click link above and 'save as' to your device)
Other Listening Options
---

"Daily Investment Trends for the Savvy Investor"
You are attempting to view premium content for subscribers only. If you are a subscriber, log in here. If you are not currently subscribed, you can learn more here.
View the Daily Chart Archive >>
---

"A Daily Stock Trading Idea for Short-Term Traders"
— Subscribers Only —
You are attempting to view premium content for subscribers only. If you are a subscriber, log in here. If you are not currently subscribed, you can learn more here.
Enter the Trading Room to View all Trading Activity >>
View our Trading Performance >>
Not a subscriber? Learn more here >>
---


"A Daily Dose of Financial Wisdom from God's Word"

"Prepare your work outside and make it ready for yourself in the field; afterwards, then, build your house."
Proverbs 24:27
---
---