2014 LIBERTY MASTERMIND SYMPOSIUM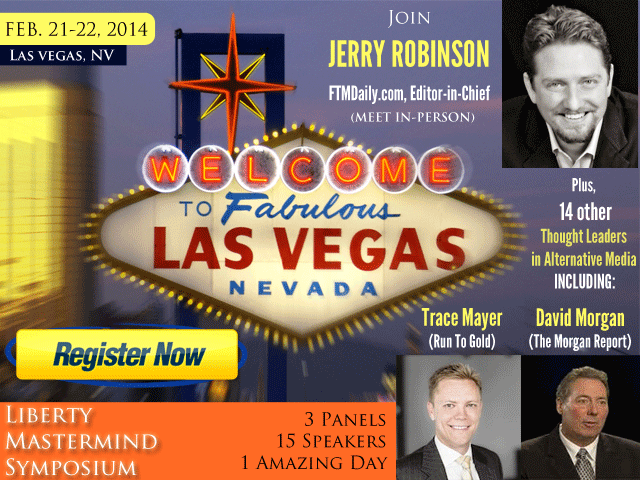 Jerry Robinson, David Morgan, Trace Mayer, and 12 Other Financial Thought Leaders Meet in Las Vegas to Discuss Impending Economic Collapse
FTMDAILY.COM – Jerry Robinson has arrived in Las Vegas for this weekend's Liberty Mastermind Symposium, where he and 14 other financial thought leaders will present their ideas on America's impending economic collapse, along with specific strategies for achieving financial and personal liberty. Other speakers at this year's event include: David Morgan (Silver-Investor.com), Trace Mayer (RuntoGold.com), Wayne Allyn Root (RootforAmerica.com), and many others.
For more information about the 2014 Liberty Mastermind Symposium, click HERE.
Below is a video from one of the expert panels at last year's event, which included Jerry Robinson.
VIDEO: One of Three Expert Panels at Last Year's Symposium
NOTE: Next week, FTMDaily's offices will be closed and will re-open Monday, March 3. In lieu of our regular FTMDaily Briefings, we will be sharing some of the top articles from our popular subscription service, the FTMQuarterly Newsletter.
---
Inside this Issue
---

"Preparing — and Profiting — From the Coming Collapse"
China's factory activity slows for the second month in a row…
If you are looking for work, pick up a shovel and start planting seeds.
The percentage of the U.S. population on food stamps in 2013 rose to the highest level ever, just over 15%, at 47,600,000 persons.
View the Investor Wire Archive >>
U.S. Financial Markets
Real-time Gold and Silver Prices
---

"World News Headlines That We Are Tracking"
Dozens killed, hundreds injured, scores of police officers taken hostage by protesters as EU agrees sanctions over 'unacceptable' violence, but Moscow urges regime to assert itself.
People close to Ukraine's opposition leaders expressed concern that president Viktor Yanukovich, his options dwindling, was preparing to unleash the army to crush the protests against him – possibly within hours.
Iran and six world powers have agreed on a timetable and framework for negotiating a comprehensive agreement to end the confrontation over Iran's nuclear program.
European companies are salivating on the sidelines of the "peace talks" eager to pounce on Iran's vast untapped markets.
Two Israeli arms dealers reportedly have been arrested for trying to sell spare parts for F-4 Phantom jets to Iran.
With one of the largest armies in the world and the only declared nuclear power among the Muslim states, Pakistan is in a unique position to assist Saudi Arabia with its defense needs.
---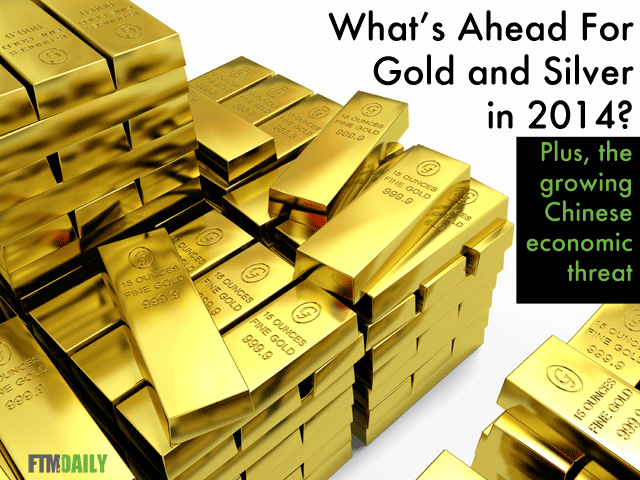 PODCAST: What's Ahead for Gold & Silver in 2014?
Broadcast Every Saturday Morning – Hosted by Jerry Robinson


Topic: On this week's episode, Jerry Robinson explores the precious metals markets, gives guidance on U.S. stocks and warns about China.
Read Show Notes >>
Download Now >>
(Right click link above and 'save as' to your device)
Other Listening Options
---

"Archiving the Rise of Big Brother, the Erosion of Personal Liberty, and the Fall of the Republic"
Colorado's total pot sales next fiscal year were estimated to be about $610 million.
More than 8.57 million guns were produced in 2012, up 31 percent from 6.54 million in 2011.
The NSA isn't the only one capable of tapping phone calls anymore thanks to a new smartphone app called 'Crowdpilot,' which could potentially let anyone listen in on your calls without your knowledge.
Just the latest example of the growing U.S. Police State…
View the Liberty Wire Archive >>
---

"Daily Investment Trends for the Savvy Investor"
You are attempting to view premium content for subscribers only. If you are a subscriber, log in here. If you are not currently subscribed, you can learn more here.
View the Daily Chart Archive >>
---

"A Daily Stock Trading Idea for Short-Term Traders"
— Subscribers Only —
You are attempting to view premium content for subscribers only. If you are a subscriber, log in here. If you are not currently subscribed, you can learn more here.
Enter the Trading Room to View all Trading Activity >>
View our Trading Performance >>
Not a subscriber? Learn more here >>
---


"A Daily Dose of Financial Wisdom from God's Word"

"No one can serve two masters, for either he will hate the one and love the other, or he will be devoted to the one and despise the other. You cannot serve God and money."
Matthew 6:24
---
---