Exclusive Market Briefing – S&P 500 and Gold Analysis – 2/14/14
The S&P 500 appears to be making yet another attempt at hurdling the 1850 resistance level, which it has already failed to do at least twice over the last several weeks. Despite the recent 'rebound' in U.S. stocks, the FTM Market Barometer remains RED ('Market in Correction') as overall volume has been low, along with several other negative market indicators. At this point, we are waiting to see if the S&P 500 index (the most broadly watched U.S. stock index around the globe) can fully penetrate and scale above the 1850 level. If so, much of the big institutional money (mutual funds, hedge funds, etc.) will likely pile in and drive this multi-year bull market even higher. However, if the S&P 500 fails at its current attempt to rise above 1850, the index could plunge once again. If this occurs, pay very close attention to the important 1750 support level. If the S&P fails at scaling 1850 and plummets below 1750 in the process, massive selling will likely ensue. Current market conditions are very difficult and there is presently more downside risk than upside potential in our estimation.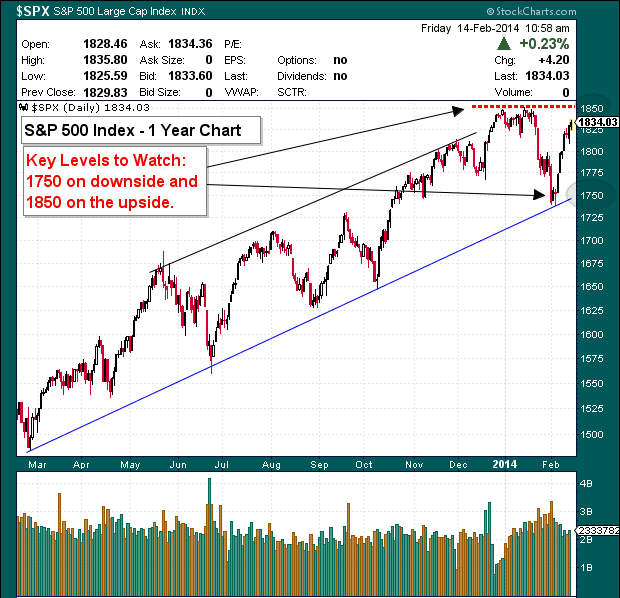 Meanwhile, gold prices are rebounding strongly so far in 2014. After a terrible down year in 2013, it appears buying interest is surging for gold. The 'breakout' in gold prices occurred at the beginning of this month. If you bought anywhere near the absolute bottom of this current rout in gold prices (around $1180), then you are likely very happy as gold climbs. If you do not currently own any gold, it is highly advisable that you consider adding some exposure on any future price dips.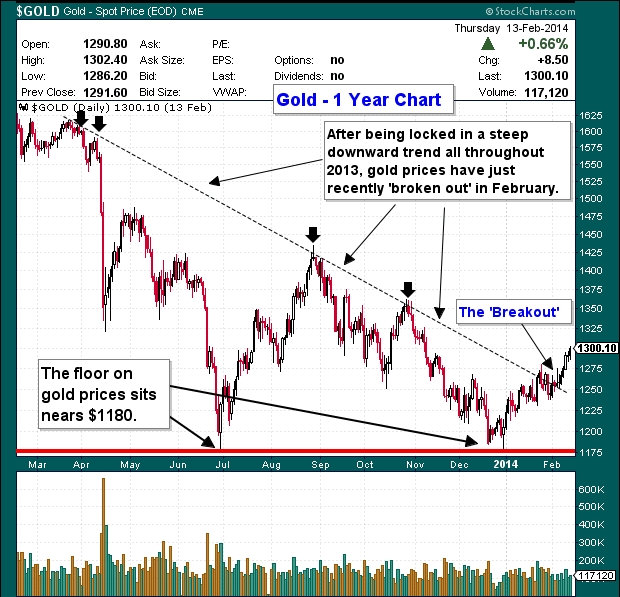 Become an Gold member Today!
(Cancel at anytime. No contracts.)
Get Full Access to:


Jerry Robinson's Daily Trading Ideas


The FTM Income University


The FTM Market Barometer


The Global Currency Monitor


AND SO MUCH MORE!
Choose your plan:
---
Inside this Issue
---

"Preparing — and Profiting — From the Coming Collapse"
Gold headed for the biggest weekly advance since August as concern that the U.S. economy may be slowing down. Silver is set for the longest rally since March 2008.
Reuters is reporting that "the savings of the European Union's 500 million citizens could be used to fund long-term investments to boost the economy and help plug the gap left by banks since the financial crisis."
Growth in Germany, France and the Netherlands beat economists' estimates in the fourth quarter and Italy resumed expansion in a sign the fragile euro-area recovery is gaining traction.
If mortgage banks want to stay profitable, they have no choice but to market once again to those with little or no credit and/or income.
BTC China CEO: "So that's what's amazing about bitcoin, it's truly a global phenomenon, very resilient and the reason it is resilient is because many people want to buy into it. Whenever the price dips, we see people sitting on the sidelines eager to buy."
High-frequency trading — the practice of making thousands of algorithmic stock trades per minute — is about to get a big boost in the USA.
1. You let your political views guide your investments without realizing that the market doesn't care who you voted for or which cable news outlet you find more honest…
View the Investor Wire Archive >>
U.S. Financial Markets
Real-time Gold and Silver Prices
Precious Metals Market Update with Tom Cloud
---

"World News Headlines That We Are Tracking"
In a remarkable turn of events, the U.S. stands down as Iran flexes its military might sending a naval fleet to American maritime waters.
A report just released by the Australian Strategic Policy Institute (ASPI) said that China's emergence as a major economic power will pose great challenges for the global community.
A strange S-shaped formation which appeared on weather bureau radar off the West Australian coast was not caused by cloud.
Strange video baffles viewers…
---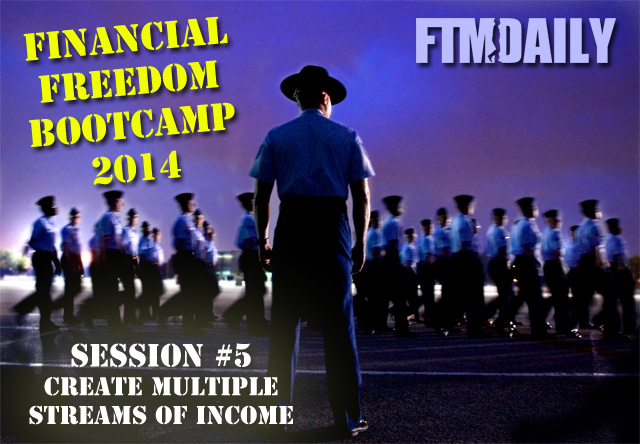 Broadcast Every Saturday Morning – Hosted by Jerry Robinson
Topic: The time to become financial prepared has never been greater than in 2014. Let's talk about how YOU can become financially free.
Read Show Notes >>
Download Now >>
(Right click link above and 'save as' to your device)
Other Listening Options
---

"Archiving the Rise of Big Brother, the Erosion of Personal Liberty, and the Fall of the Republic"
Gunman used boat to access Tennessee nuclear facility.
Paul Craig Roberts asks if the American people will ever wake up?
Sign the petition to grant Snowden clemency before his amnesty in Russia expires on July 31, 2014.
UK version of spy system was used to target political activists.
Founder of the innovative technology is warning that it is more vulnerable to sabotage or disruption than ever before.
Ayatollah Ali Khamenei has delivered a sabre-rattling speech to Iranian university students calling them to prepare for cyber war.
View the Liberty Wire Archive >>
---

"Daily Investment Trends for the Savvy Investor"
You are attempting to view premium content for subscribers only. If you are a subscriber, log in here. If you are not currently subscribed, you can learn more here.
View the Daily Chart Archive >>
---

"A Daily Stock Trading Idea for Short-Term Traders"
— Subscribers Only —
You are attempting to view premium content for subscribers only. If you are a subscriber, log in here. If you are not currently subscribed, you can learn more here.
Enter the Trading Room to View all Trading Activity >>
View our Trading Performance >>
Not a subscriber? Learn more here >>
---


"A Daily Dose of Financial Wisdom from God's Word"

"Better is a little with righteousness than great income with injustice."
Proverbs 16:8
---
---