THE YEAR OF REAL ESTATE?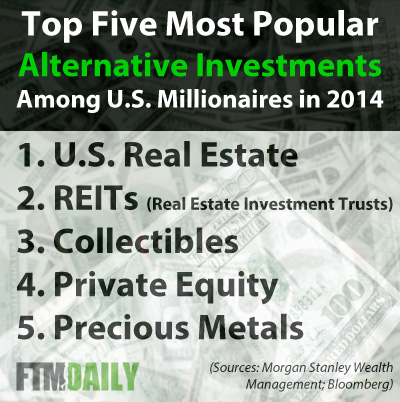 U.S. Millionaire Investors Are Turning to Real Estate, Precious Metals in 2014
According to a recent survey released by Morgan Stanley, a majority of U.S. millionaires expect real estate to be best alternative investment to own this year. According to Bloomberg:
"About 77 percent of investors with at least $1 million in assets own real estate, according to a survey released today by the New York-based investment bank's wealth-management unit. Direct ownership of residential and commercial properties was the No. 1 alternative-investment pick for 2014, with a third of millionaires surveyed saying they plan to buy this year. Twenty-three percent said they expect to invest in real estate investment trusts, the second-most popular choice."
After the massive run-up in stocks in 2013, it appears the nation's smart money may begin moving money from an overvalued stock market into both U.S. residential and commercial real estate.
Certain types of commercial real estate properties are being eyed by wealthy investors:
"Self-storage properties are among commercial real estate investments wealthy individuals are buying… Retail shopping centers are seen as less attractive as more consumers shop online through companies such as Amazon.com Inc."
While FTMDaily does not foresee a massive upside for U.S. real estate prices as a whole in the coming years, we expect the the rental market in the U.S. to remain robust. America's consumer debt levels — especially the $1 trillion+ student loan debacle — threaten to turn the nation into a land of lords and serfs.
Some worry that U.S. real estate is either in — or is nearing — bubble territory. But my reading of the data doesn't point to an existing bubble. Consider this 10-year chart of new home sales in the U.S.
That doesn't look like a bubble, but instead a long and protracted emergence from a credit bubble-inspired crash. (Sure, places like Las Vegas and Phoenix look frothy. But there are plenty of other places, especially in the Midwest, where prices are just right for those seeking long-term cash flow.)
Against a backdrop of rising interest rates and tightened credit standards, overall home sales will continue to struggle in the years ahead. This spells opportunity for those who are eager, not so much for capital gains, but for cash flow. Rental real estate, when purchased correctly, can lead to a lifetime of dependable cash flow. Additionally, this rental income is not fixed, but flexible: Raise the rent payment and raise your income. In this respect, rental real estate, when purchased for cash or on a fixed interest rate loan, can provide real and lasting protection from inflation.
In the final analysis, we view the purchase of U.S. rental real estate in select areas of the country as a wise move in 2014.
Want to learn more about real estate investing? FTM Insiders have access to our entire library of income and investment ideas.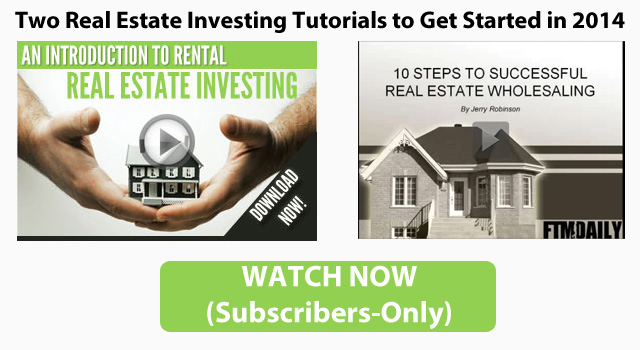 (Offer good through 2/15/13. Use coupon code: dollar2014)
RELATED READING
Self Storage Investing: 4 REITs for Income Investors
How the Student Loan Crisis is Changing My Real Estate Investment Strategy
Boost Your Portfolio with REITs
---
Inside this Issue
---

"Preparing — and Profiting — From the Coming Collapse"
You gotta love those 'fiscally conservative' Republicans…
Gold extended its 2014 rally, climbing to a three-month high as speculation that U.S. stimulus will continue boosted the appeal of alternative assets.
You have a chance today to buy into relatively cheap European stocks before the ECB unleashes one of their economy-boosting "big bazookas."
Cushing supplies dropped to 37.6 million barrels, the lowest level since Nov. 1, the Energy Department's statistical arm reported.
Just in time for Valentine's Day…
Cyclical commodities, especially platinum, copper and silver, are the most popular commodity plays among investors in 2014. (FTM Insiders: Hear what Precious Metals Expert, Tom Cloud, is saying this week about the precious metals market.)
View the Investor Wire Archive >>
U.S. Financial Markets
Real-time Gold and Silver Prices
Precious Metals Market Update with Tom Cloud
---

"World News Headlines That We Are Tracking"
Neither the United States nor Israel has ruled out military action to prevent Iran from developing a nuclear weapon, if diplomacy fails.
Palestinian Authority's Religious Affairs Minister said Jerusalem's Western Wall, the holiest site in Judaism outside the Temple Mount, must be brought under Palestinian sovereignty in any upcoming peace agreement between Israel and the Palestinians.
"There appears to be no reason for Israel to attempt to penetrate U.S. security as we're willing to give them the store."
Yesterday, South and North Korea held an unexpected meeting of high-ranking government officials to discuss current inter-Korean affairs amid Pyongyang's protests over coming Seoul-Washington military drills.
European commission says NSA revelations call into question US role in internet governance.
Inspired by Switzerland's immigration vote, which has infuriated the European Union, one of Norway's ruling parties is calling for the country to hold its own referendum on limiting immigration from the EU.
---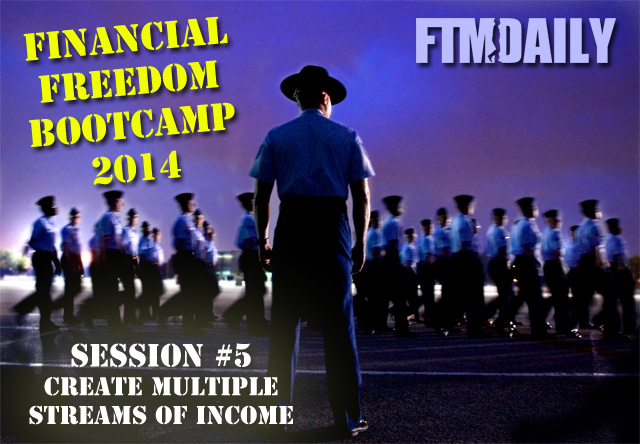 Broadcast Every Saturday Morning – Hosted by Jerry Robinson
Topic: The time to become financial prepared has never been greater than in 2014. Let's talk about how YOU can become financially free.
Read Show Notes >>
Download Now >>
(Right click link above and 'save as' to your device)
Other Listening Options
---

"Archiving the Rise of Big Brother, the Erosion of Personal Liberty, and the Fall of the Republic"
Documents from an Ohio National Guard training drill conducted last January reveal the details of a mock disaster where Second Amendment supporters with "anti-government" opinions were portrayed as domestic terrorists.
The United States' new press freedom ranking comes on the heels of a new and dangerous campaign against Glenn Greenwald and other journalists who have reported on the documents leaked by former NSA contractor Edward Snowden.
Sophisticated new 360-degree lenses embedded in the ceilings and walls of the buses will now capture everything.
View the Liberty Wire Archive >>
---

"Daily Investment Trends for the Savvy Investor"
You are attempting to view premium content for subscribers only. If you are a subscriber, log in here. If you are not currently subscribed, you can learn more here.
View the Daily Chart Archive >>
---

"A Daily Stock Trading Idea for Short-Term Traders"
— Subscribers Only —
You are attempting to view premium content for subscribers only. If you are a subscriber, log in here. If you are not currently subscribed, you can learn more here.
Enter the Trading Room to View all Trading Activity >>
View our Trading Performance >>
Not a subscriber? Learn more here >>
---


"A Daily Dose of Financial Wisdom from God's Word"

"A false balance is an abomination to the LORD, but a just weight is His delight."
Proverbs 11:1
---
---