SNOWDEN 2.0: 'ECONOMIC ESPIONAGE'
In Rare Interview, Snowden Accuses U.S. of Spying on Foreign Companies for Economic Gain
by Jerry Robinson

German TV company NDR gained a rare interview with Edward Snowden, which was aired last night in Germany. It was the first television interview Snowden has granted since his emergence onto the world scene last summer. When asked whether the NSA used its global surveillance network for financial gain through spying on foreign corporate competitors, like German electronics giant Siemens, Snowden replied: "I don't want to pre-empt the editorial decisions of journalists but what I will say is there is no question that the U.S. is engaged in economic spying. If there is information at Siemens that they think would be beneficial to the national interests, not the national security, of the United States, they will go after that information and they'll take it."
The NSA's involvement in economic espionage is already well documented after it was first reported upon several months ago. Last September, the Guardian newspaper reported that the NSA had conducted intelligence-gathering operations against energy giant Petrobras, the largest company in Brazil. Petrobras is also one of the world's 30 largest corporations that is "developing the biggest oil discoveries of this century, which are in a pre-salt region deep under the Atlantic." So far, the U.S. intelligence community has failed to divulge what specific threat was posed by Petrobras to America's 'national security.'
Meanwhile, in the U.S., President Obama has introduced "reforms" at the NSA. But his recent speech on "NSA reforms" was toothless and the details are fuzzy. Despite his long-winded speeches and oratory, President Obama has openly revealed where his true loyalties lie. That is, they lie in the same place shared by virtually every other President since World War II: The military-industrial complex. When pressed by reporters on why German Prime Minister Angela Merkel's mobile phone was intercepted by the NSA, President Obama's response was telling: "As long as I'm president of the United States, the chancellor of Germany will not have to worry about this." Does Obama really expect the German people (and the American people for that matter) to trust him to hold back the Orwellian forces running amok in Washington and around the globe? Apparently.
Meanwhile, the debate still rages over whether Snowden's actions of blowing the whistle make him a defector. Snowden has a response: "If I defected at all, I defected from the government to the public." I agree. In the future, when the history books are being written about these unprecedented days, I would not be surprised if Snowden's actions are viewed as 'heroic' and 'morally courageous.' But for now, the coordinated witch hunt being waged against Snowden continues… And the world is being forced to make a decision: Should we spend our energy attempting to stop the "Edward Snowdens" of the world? Or, rather, should we spend that time attempting to stop the growth of an out-of-control global surveillance state? After this latest revelation of America's use of NSA surveillance resources to spy on foreign companies, the answer is becoming much more obvious.
---
Inside this Issue
---

"Profiting From the Coming Paper Money Collapse"
All eyes are back on the Fed this week as Wall Street anticipates another $10 billion 'taper' to QE3.
Top global financial institution urges restraint on Fed 'tapering,' urges Eurozone to battle falling price levels.
'The world is catching emerging markets flu.'
Last Thursday, JPM saw 321,500 ounces of gold depart in one day.
Some HSBC customers have been prevented from withdrawing large amounts of cash because they could not provide evidence of why they wanted it.
View the Investor Wire Archive >>
U.S. Financial Markets
Real-time Gold and Silver Prices
Precious Metals Market Update with Tom Cloud
---

"World News Headlines That We Are Tracking"
More military muscle-flexing in one of the most hostile regions in the world…
Does your family spend more or less time together than the average family does each day?
If "going solar" is a global race, China is the clear winner.
---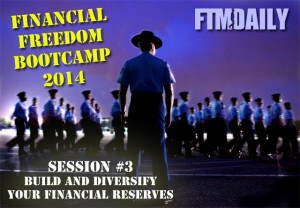 Broadcast Every Saturday Morning – Hosted by Jerry Robinson
Topic: The time to become financial prepared has never been greater than in 2014. Let's talk about how YOU can become financially free.
Read Show Notes >>
Download Now >>
(Right click link above and 'save as' to your device)
Other Listening Options
---


"Archiving the Rise of Big Brother, the Erosion of Personal Liberty, and the Fall of the Republic"
Former CIA officers claim the agency paid $15 million to Polish intelligence back in 2003 for use of the 'black site,' handing over the cash in two cardboard boxes.
Growing protests in Thailand threaten to erupt into greater violence and bloodshed.
Seriously?
View the Liberty Wire Archive >>
---

"Daily Investment Trends for the Savvy Investor"
You are attempting to view premium content for subscribers only. If you are a subscriber, log in here. If you are not currently subscribed, you can learn more here.
View the Daily Chart Archive >>
---

"A Daily Stock Trading Idea for Short-Term Traders"
— Subscribers Only —
You are attempting to view premium content for subscribers only. If you are a subscriber, log in here. If you are not currently subscribed, you can learn more here.
Enter the Trading Room to View all Trading Activity >>
View our Trading Performance >>
Not a subscriber? Learn more here >>
---


"A Daily Dose of Financial Wisdom from God's Word"

"But if anyone does not provide for his own, and especially for those of his household, he has denied the faith and is worse than an unbeliever."
1 Timothy 5:8
---
---