CAN S&P 500 BREAK ABOVE 1850?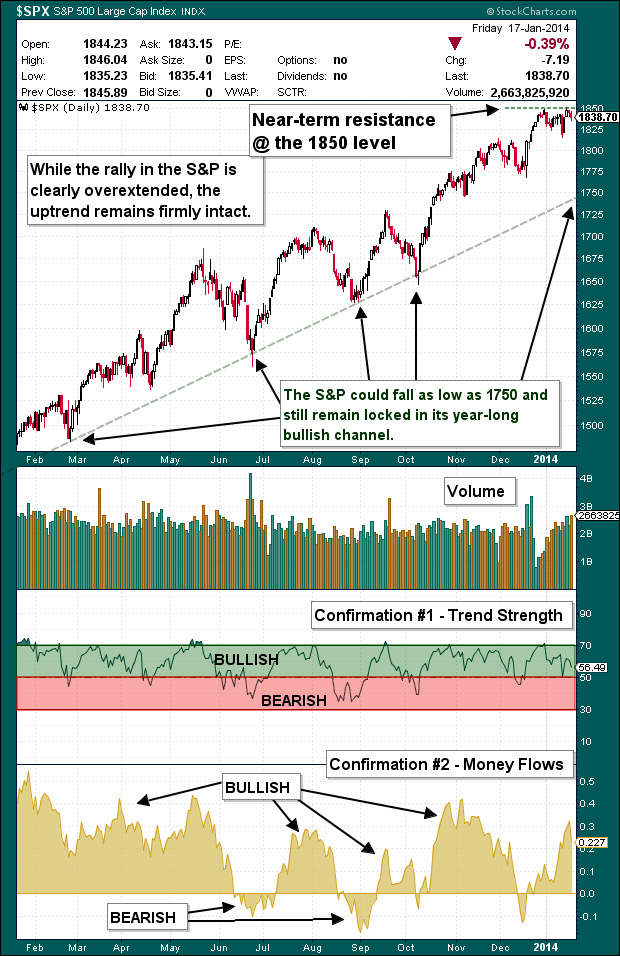 S&P 500 Index Hits Major Resistance at 1850
While we fully expect U.S. stocks to continue higher in 2014 — despite some major turbulence — some basic technical analysis of the above S&P 500 chart shows that the major index is hesitating at its recent all-time high of 1850. It would be a bullish sign if the S&P can successfully close above 1850 in the coming days. In contrast, if the index fails to breach this level, a sharp correction could lie ahead. So far, the 1850 level has acted as a "hard ceiling" on the index. We will continue to monitor the markets and will update our FTM Insiders as events warrant. For our latest complete market commentary, click here.
---
Inside this Issue
---

"Profiting From the Coming Paper Money Collapse"
It must almost be time to spread "democracy" to North Korea.
The "exceptional" 29.6 carat blue diamond is the latest rare stone to be found in the Cullinan mine.
Economists Carmen Reinhart and Kenneth Rogoff are predicting that America will soon be forced to adopt financial measures only previously used by third-world countries in order to control its runaway debt.
The USDA says that there were 23,052,388 households on food stamps in the average month of fiscal 2013.
View the Investor Wire Archive >>
U.S. Financial Markets
Real-time Gold and Silver Prices
Precious Metals Market Update with Tom Cloud
---

"World News Headlines That We Are Tracking"
New report released by the Massachusetts Institute of Technology claims the "Obama administration narrative" on Syria "was not even close to reality."
Police seize over 6 million euros of "false donations" held in secret bank accounts and real estate holdings, which were allegedly recycled from offshore accounts through the Vatican bank.
Thailand has announced a two-month state of emergency in Bangkok after anti-government protests turn deadly.
The nation has also vowed it will have warships placed in international waters near the coast of the United States within a few years.
"We are reorganizing our deployment in Africa to be more reactive about potential crises."
Tens of thousands of South Koreans flooded banks and call centers Tuesday to cancel credit cards following the unprecedented theft of the personal data of at least 20 million people.
---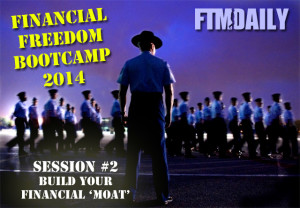 Broadcast Every Saturday Morning – Hosted by Jerry Robinson
Topic: The time to become financial prepared has never been greater than in 2014. Let's talk about how YOU can become financially free.
Read Show Notes >>
Download Now >>
(Right click link above and 'save as' to your device)
Other Listening Options
---


"Archiving the Rise of Big Brother, the Erosion of Personal Liberty, and the Fall of the Republic"
Former U.S. spy agency contractor Edward Snowden said he acted alone in leaking U.S. government secrets and calls rumors that he obtained "help" from Russia as utterly "absurd"
Close relatives of China's top leaders have held secretive offshore companies in tax havens that helped shroud the Communist elite's wealth, a leaked cache of documents reveals.
View the Liberty Wire Archive >>
---

"Daily Investment Trends for the Savvy Investor"
You are attempting to view premium content for subscribers only. If you are a subscriber, log in here. If you are not currently subscribed, you can learn more here.
View the Daily Chart Archive >>
---

"A Daily Stock Trading Idea for Short-Term Traders"
— Subscribers Only —
You are attempting to view premium content for subscribers only. If you are a subscriber, log in here. If you are not currently subscribed, you can learn more here.
Enter the Trading Room to View all Trading Activity >>
View our Trading Performance >>
Not a subscriber? Learn more here >>
---


"A Daily Dose of Financial Wisdom from God's Word"

"Better is a little with righteousness than great income with injustice."
Provers 16:8
---
---