+19.1% IN ONE MONTH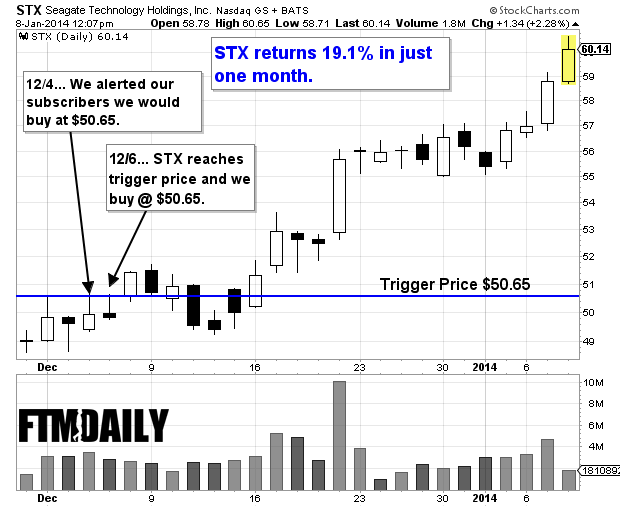 FTMDaily's Exclusive Stock Trading Service Rakes in Gains
Jerry Robinson's New Trigger Trade System. FTMDaily readers who upgrade to our premium Gold member membership receive many benefits, including complete access to our new Trigger Trade Report, a unique stock trading service that is gaining respect within the stock trading community as a low-risk stock trading method to create consistent income from the markets. For example, one of our latest trading ideas, Seagate Technology (Ticker: STX) is up an astonishing 19% in just one month. Learn more about how our trading system has performed here.
Subscribers Receive:
One New Trading Idea Every Day Delivered Straight To Their Email Inbox
Instant Access To Over 20 Hours Of Trading Education Videos with Jerry Robinson
Learn More About Our Trading System

Trigger Trade Report – Get Access to our Daily Stock Trading Ideas Now!
Subscriber Testimonial
"I made all of my money back in the very first week (on my second trade.) If the stock idea reaches its trigger price, I buy. If it doesn't trigger, I don't buy. Its really simple!"
(Ray M., Orlando, FL)
---
Inside this Issue
---

"Profiting From the Coming Paper Money Collapse"
The minutes of the December FOMC meeting will be released today at 2:00PM ET.
Deals are increasing as gold-mining companies are close to their cheapest relative to book value in at least two decades.
"The 30-year corporate job with a gold watch isn't there anymore."
CEO: "I am agnostic regarding the future value of bitcoin. I merely feel bitcoin is a viable medium of exchange that Overstock.com should embrace to better serve our customers, and that the U.S. should embrace to create a robust, viable alternative to our current monetary institutions."
China will allow the creation of up to five privately financed banks this year gradually opening the state-run industry in a bid to boost growth, the country's banking regulator says.
View the Investor Wire Archive >>
U.S. Financial Markets
Real-time Gold and Silver Prices
Precious Metals Market Update with Tom Cloud
Read/Print the Audio Transcript or Download the mp3
---

"World News Headlines That We Are Tracking"
Another 800 U.S. soldiers, armored vehicles and tanks will head to South Korea next month.
Fifty years after President Johnson started a $20 trillion taxpayer-funded "war on poverty," the number of Americans living in poverty has only fallen 2%.
Police, who scrambled a helicopter to investigate, admit they still don't know what the object was.
Over 20 reported sexual advances from priests, bishops and a cardinal.
E-book versions of Hitler's opus are rising in the rankings on Amazon and iTunes. What gives?
---

Broadcast Every Saturday Morning – Hosted by Jerry Robinson
Topic: On this week's show, economist and investor Jerry Robinson explains how stock traders can profit from current financial trends.
Read Show Notes >>
Download Now >>
(Right click link above and 'save as' to your device)
Other Listening Options
---


"Archiving the Rise of Big Brother, the Erosion of Personal Liberty, and the Fall of the Republic"
Senior citizens, Republicans, and Southerners remain the only major demographic groups who still oppose the legal use of pot.
The proposal would allow residents to legally grow up to six marijuana plants per household and possess and transfer up to an ounce of the drug without penalty.
Christianity faces restrictions and hostility in 111 countries compared to just 90 countries that limit or harass the second-largest faith, Islam.
View the Liberty Wire Archive >>
---

"Daily Investment Trends for the Savvy Investor"
You are attempting to view premium content for subscribers only. If you are a subscriber, log in here. If you are not currently subscribed, you can learn more here.
View the Daily Chart Archive >>
---

"A Daily Stock Trading Idea for Short-Term Traders"
— Subscribers Only —
You are attempting to view premium content for subscribers only. If you are a subscriber, log in here. If you are not currently subscribed, you can learn more here.
Enter the Trading Room to View all Trading Activity >>
Not a subscriber? Learn more here >>
---


"A Daily Dose of Financial Wisdom from God's Word"

"Indeed, the very hairs of your head are all numbered. Do not fear; you are more valuable than many sparrows."
Luke 12:7
---
---