Today's chart is free and open to the public.

"Daily Investment Trends for the Savvy Investor"
THE GROWTH OF AFFILIATE MARKETING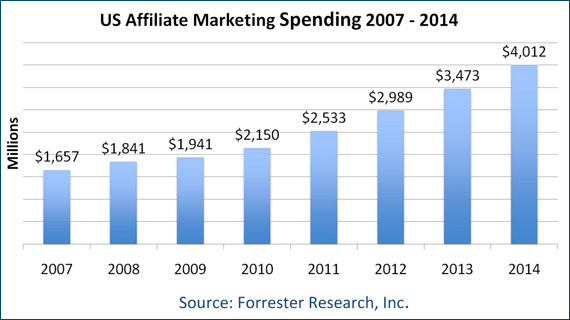 CHART: How Everyday People Are Cashing in on the Internet
In the past, companies relied on traditional advertising strategies to drive new customers to their products and services. But with the advent of the internet, those traditional advertising strategies have been forced to adapt to rapidly changing buying habits.
As you can see from the above chart, many U.S. companies have been shifting their marketing dollars to internet affiliate marketing.
What is affiliate marketing?
It's quite simple, actually. Affiliate marketing is simply a form of marketing that compensates individuals for promoting a product or a service. Companies have long known that "word-of-mouth" advertising produces far better results than display advertising (i.e. yellow pages, billboards, commercials, etc.)
For example, Amazon.com has built one of the largest affiliate marketing programs on earth. Anyone can become an Amazon affiliate marketer by heading over to their website, clicking a few links, and signing up.
Once you become an Amazon affiliate, you are then given a special URL that you can give out to others (say through social media, your blog, or on your own website). When someone clicks on that unique URL and makes a purchase you, the affiliate marketer, get a percentage of the total sale as a commission.
This works because the affiliate URL contains a special tracking cookie that links it back to the affiliate. This ensures that anyone who specifically comes to Amazon.com through that link will be credited to the proper affiliate.
The growth of affiliate marketing has been immense over the last several years as companies have realized the tremendous power of word-of-mouth marketing.
Think about it… It you are a business owner, would you rather pay thousands of dollars for a billboard ad that may or may not drive more sales, or would you rather create an affiliate program and only have to pay an affiliate a sliver of the profits if he or she sends a paying customer to your business?
Since 2009, I have been working as an affiliate for many of the top brands in the United States. My success has come through creating many focused websites that deliver great content and that add value.
If you are interested in learning how to get started earning money online as an affiliate marketer, I highly recommend that you do two things:
1. Buy a book entitled Search Engine Optimization by Kris Jones. This book pulls no punches and does a great job of explaining the basics of affiliate marketing. (I have owned this book for years and still find it to be a great "go-to" reference.)
2. Get an education. There is lot to learn if you want to be successful affiliate marketer. I strongly recommend that you check out this free internet marketing school, which will teach you many of the basics for free. The school is run by two internet entrepreneurs, Carson and Kyle. They have a ton of great material for free. (However, if you are really serious about earning money online, you should consider upgrading to their premium account as I have definitely found it to be worth every penny.)
Let 2015 be the year that you create another passive income stream. Affilate marketing is one of the best income streams you can start, especially if you have more time than money.
Until tomorrow,
Jerry Robinson
VIDEO: Real Estate Investing 101
In these tough economic times it is vital for individuals to develop multiple streams of income. Investing in rental real estate is often an excellent way to generate additional monthly cash flow. Let economist and investor, Jerry Robinson, share his real-world tips and insights on the basics of investing in rental properties.
DOWNLOAD OUR REAL ESTATE INVESTING 101 VIDEO AND PDF REPORT BY JERRY ROBINSON HERE
---
— Paid subscriber access only —
View our Plans and Pricing here
---
Real-Time Market Update

(Courtesy of Finviz.com)
---