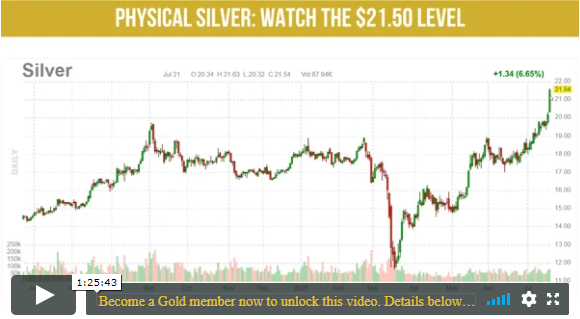 Topics covered on this video coaching call
On today's call, trading coach Jerry Robinson focuses on the major decline in the U.S. dollar and how it is boosting gold, silver, and mining stocks. Later, another important update on cannabis stocks, plus a very beneficial Q&A session.
Table of Contents:
00:10 – Introduction/Important Disclaimer
00:53 – Chart: U.S. dollar is likely entering a long decline
04:23 – The interest on the staggering U.S. debt is the fastest-growing part of the Federal budget
07:10 – Every dollar Washington spends is a dollar borrowed… with absolutely no pushback from "fiscal conservatives"
08:00 – Wildly overleveraged governments and corporations are now even more overleveraged
14:10 – Why gold and silver are winning and why the usual suspects aren't talking about it (yet)
21:48 – Charts don't lie: Physical gold is approaching a new all-time high
23:11 – Physical silver has penetrated the $21.50 level
27:22 – Gold/silver miners ETFs are shining too
30:15 – Don't miss this: Gold and Silver uptrends are still in their infancy
33:10 – S&P 500 breaks out above 3250 resistance level
36:57 – Our current favorite volatility ETF
41:20 – Cannabis Update: 4 cannabis stocks we own right now – and a few more that have our attention
55:20 – Info-packed Q&A
Become a Gold or Platinum Member now and instantly unlock this private group coaching session!
When you become a member, you will get access to our LIVE Private Group Coaching calls with Jerry Robinson


DISCLAIMER: The services provided in the Gold Membership are intended only to provide information. Trading involves risk. Decisions to buy, sell, hold or trade in stocks, futures, securities, and other investments involve risk and are best made based on the advice of qualified financial professionals.