For Platinum member Members Only (Member Login)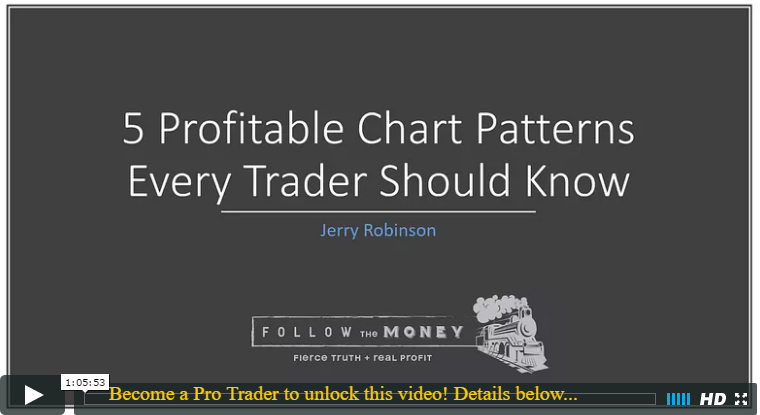 Topics Covered on this video conference call (in order)
5 Profitable Chart Patterns Every Trader Should Know – Part 1. Veteran trader, Jerry Robinson, shares a valuable trading lesson on identifying and using chart patterns to increase trading profits. Here are some of the highlights:

A discussion on the importance of chart patterns
What are Reversal Patterns and Continuation Patterns?
An explanation of Profitable Chart Patterns #1 and #2
A Warning to Global Investors. Geopolitical issues should make investors think twice when investing in this east Asian nation.
Gold Struggling in Today's Market. As the price of the yellow metal is dropping substantially this morning, what should you be watching right now?
Today's Charts to Watch. Jerry shares his analysis on seven charts he is watching this week, including:

S&P 500 Index (SPY)
Nvidia (NVDA)
And five other key charts for investors seeking profits
Sector Rotation Strategy Update. We have rotated our Sector Rotation Strategy for the fourth quarter of 2016. Here's what we are buying now!
Member Questions Answered on Today's Video
How do you recognize a channel early enough to take advantage of it?
Which chart view on the Profit Trakker software do you normally use when studying channels and patterns?
Is Advanced Micro Devices, Inc. (AMD) a good buy right now since they are so much cheaper than another popular semiconductor company, Nvidia (NVDA)?
China is supposed to release their gold figures. Do you know why they haven't released this data yet?
Would a November or December put option on gold or silver be a good idea considering the pullback in metals this week?
Become a Platinum member to See the Full Video Instantly
And get access to our LIVE conference call videos every Tuesday and Friday with Jerry Robinson

Choose your plan:
(Get 2 months free when you pay for the whole year!)

DISCLAIMER: The services provided in the Platinum member membership are intended only to provide information. Trading involves risk. Decisions to buy, sell, hold or trade in stocks, futures, securities, and other investments involve risk and are best made based on the advice of qualified financial professionals.