For Platinum member Members Only (Member Login)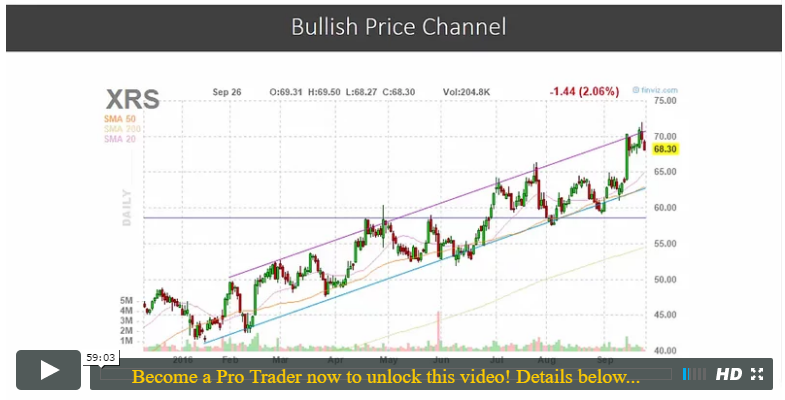 Topics Covered on this video conference call (in order)
Understanding Trends and Trendlines. Veteran trader, Jerry Robinson, continues his teaching on trendlines with a discussion of Support and Resistance Lines.
Stocks We Are Watching. Jerry discusses several stocks and ETFs he is watching for potential entry points, including two REITs and a rising foreign stock market.
Member Questions Answered on Today's Video
How many touch points are needed to establish a support and resistance trendline?
Can I use Bollinger Bands in the same way you use support and resistance trendlines?
Can you provide your analysis on the Financial Sector? Is it topping out?
Do you know which sector you will pick on Oct. 1st?
Can you provide your analysis on the Ultrashort Dow 30 ETF (DXD)?
I am considering a long-term put on Capital One (COF). Can you provide your thoughts on this potential trade?
Do you track Mobileye (MBLY) in your SmartScore Ranking system? If so, what are your thoughts on this company as a potential trade?
Become a Platinum member to See the Full Video Instantly
And get access to our LIVE conference call videos every Tuesday and Friday with Jerry Robinson

Choose your plan:
(Get 2 months free when you pay for the whole year!)

DISCLAIMER: The services provided in the Platinum member membership are intended only to provide information. Trading involves risk. Decisions to buy, sell, hold or trade in stocks, futures, securities, and other investments involve risk and are best made based on the advice of qualified financial professionals.