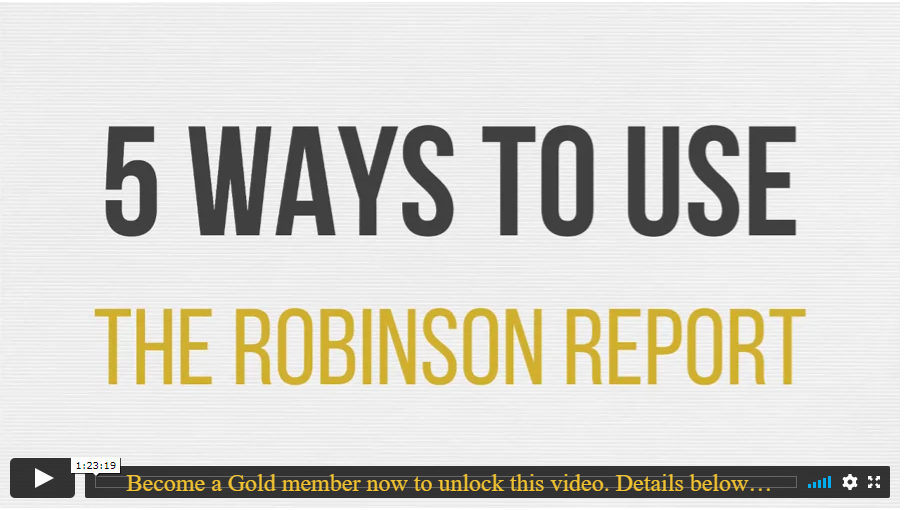 Topics covered on this video coaching call
On today's call, trading coach Jerry Robinson shares five ways that investors and traders can benefit from each weekend issue of The Robinson Report. Later, an update on Bitcoin and real estate investing.
Table of Contents:
00:11 – Introduction/Important Disclaimer
01:04 – Today's agenda
02:32 – Market Breadth: 75% of S&P 500 Stocks are now trading above their 200 DMA
07:38 – The 97-351 strategy remains intact
10:43 – Intro: 5 tips to use The Robinson Report more effectively
11:46 – Tip #1: Watch the Current Market Trends page (Bonus: A couple of my favorite market trend setups)
18:02 – Tip #2: Learn more about the K-Channel trading strategy in conjunction with Profit Trakker
34:43 – Tip #3: Our ETF uptrend alerts keep you focused on the new uptrends and downtrends
42:34 – Tip #4: Our Smartscore Rankings are extremely valuable to keep you informed as to where the 'smart money' is flowing
45:58 – Tip #5a: Our "Top Weekly Gainers" and "New Uptrends of Note" contain interesting insights at a glance
47:37 – Tip #5b: The Sector ETF Rotation Model Portfolio offers a simple investing approach
49:28 – Q&A: Do government plans to implement digital ledgers and to regulate private cryptos present a real risk to crypto investors?
52:15 – Blockchain is an enemy of the state by design
59:58 – Biden or Trump? Bitcoin wins either way due to America's financial house of cards
1:04:46 – The opportunities and benefits of real estate investing
1:09:50 – New Feature: K-Channel views in Profit Trakker
1:11:00 – Q&A
Enjoy live group coaching with Jerry Robinson when you join our global investing/trading community
Our premium investing and trading tools and research are used by both professional and individual investors and traders
Try any of our premium memberships free for 7 days. View plans/pricing


DISCLAIMER: The services provided in our memberships are intended only to provide education and information. Trading and investing involves risk. Decisions to buy, sell, hold or trade in stocks, futures, securities, and other investments involve risk and are best made based on the advice of qualified financial professionals.