by Jerry Robinson | FTMDaily Editor-in-Chief
HOUSTON, November 15
I was grateful to hear yesterday that the U.S. Supreme Court had agreed to take on the economically destructive 2,700 page Obamacare legislation in its upcoming session. It appears that the Supremes will give the politically divisive issue a 5 1/2 hour hearing, which is far greater than their typical 60 minute time allowance for oral arguments. The challenge is being brought by 26 states. We are told that the hearing will begin in March 2012 and that we should expect a final decision to be handed down on June 30. This is somewhat surprising considering that this will place the Supreme Court in an interesting situation: deciding on the constitutionality of a piece of hotly debated legislation during a Presidential election year. Last weekend, I had an interesting discussion with a senior fellow from the CATO Institute, Michael Tanner, over the ramifications that Obamacare would have on individuals, small businesses, and more. If you missed the interview, you can listen here. 
___________________________
This weekend, I will be in Detroit conducting our final Building True Wealth Financial Seminar of 2011. We are now booking for the Fall of 2012.We still have a few remaining spots available. If you are interested in learning more, click here. (If you are a church or a non-profit, be sure to inquire about our special 2012 Grant Program.) 
___________________________
After watching several Republican Presidential Debates, I have been very unimpressed with the "front-runners." On this weekend's edition of FTMWeekly radio, I will announce the candidate that I will be voting for in 2012. Be sure to tune in. Our special guests on this weekend's show will be popular author and investment advisor, Peter Schiff, noted silver expert, David Morgan, and veteran precious metals advisor, Tom Cloud.
___________________________
Some strange looking structures (giant lines) have been picked up by a Google Maps satellite in the Gobi desert in China. What are they? The theories range from military satellite targets to planned attacks on other cities. Read more here.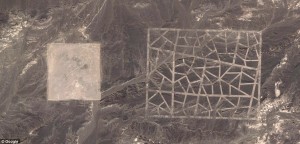 _______________________________________________________