For Gold member Members Only (Member Login)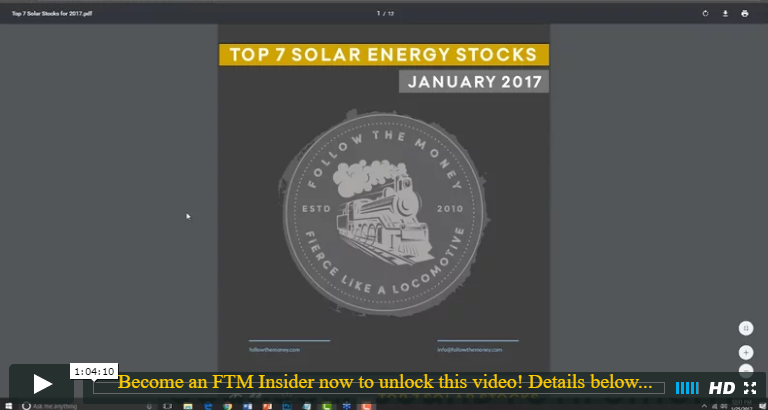 Topics Covered on this video conference call (in order)
The Solar Story. Jerry Robinson begins the video by discussing the current state of the globe's energy consumption and why alternative energy sources are not only much needed in our society, but also why they are so heavily politicized.
Why Solar Stocks Could Soar in 2017. After many solar stocks have lost around 90% of their value since highs of 2008, recent buying volume exceeding selling volume in the solar industry, and chart trends looking optimistic, we explain why we are beginning to compile our buy list for solar stocks.
MEMBERS DOWNLOAD NOW! Brand new special report for members only: Top 7 Stocks for 2017, in which Jerry Robinson reveals his top stocks to trade this year in the solar energy industry. Become a member now!
What is our SmartScore Ranking? Jerry gives a detailed description about the criteria he uses when ranking a stock or ETF.
Top 7 Solar Stocks for 2017! Complete with his signature commentary and chart analysis, Jerry details each of the top seven solar stocks on our watchlist for 2017.
How to Trade Solar Stocks Using Trigger Trade Pro. See exactly how Jerry views the stock chart, and how he determines entry and exit points, using our very own trading software.
Questions Answered on this video conference call
How do I get access to your Profit Trakker software?
Will you alert us when you are buying each of the seven solar stocks?
What is a good 401(k) fund allocation for today's market environment?
Become an Gold member to See the Full Video Instantly
And get access to our LIVE conference call videos every month with Jerry Robinson

Choose your plan:
(Get 2 months free when you pay for the whole year!)

DISCLAIMER: The services provided in the Gold member membership are intended only to provide information. Trading involves risk. Decisions to buy, sell, hold or trade in stocks, futures, securities, and other investments involve risk and are best made based on the advice of qualified financial professionals.