For Gold member Members Only (Member Login)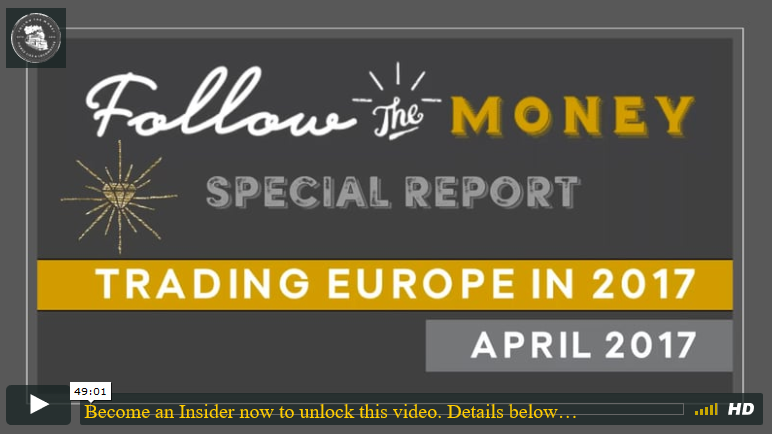 Topics Covered on this video conference call (in order)
Trading Europe. Jerry Robinson begins the video with the unveiling of our newly-released special report on trading European stocks in 2017.
The French Election. As Centrist candidate Emmanuel Macron took the lead in the recent French election, European stocks soared on the hopes that the euro (and the EU) will emerge unscathed. To be continued on May 7th…
MEMBERS DOWNLOAD NOW! Exclusive for members only: SPECIAL REPORT: European Stocks in 2017, in which Jerry Robinson reveals his top European stocks to trade this year. Become a member now!
Is 2017 the Year of European Stocks? The Euro Stoxx 50 ETF (FEZ) has been on a tear, thanks to a full-blown stampede by those bullish on the euro.
Europe's bloody history. Jerry explains why France is such a vital component of the EU, as well as the reasons behind Europe's last-ditch efforts at unification and peace.
Seven Attractive European ETFs for 2017. As Jerry announces that he is increasing his exposure to select country ETFs in Europe, he identifies seven that are currently on his radar, with an in-depth analysis of each.
Biblical sentiment on populism and propaganda. Jerry reminds us of the stark biblical contrast between populism and caring for "the least of these".
Become an Gold member to See the Full Video Instantly
And get access to our LIVE conference call videos every month with Jerry Robinson

Choose your plan:
(Get 2 months free when you pay for the whole year!)

DISCLAIMER: The services provided in the Gold member membership are intended only to provide information. Trading involves risk. Decisions to buy, sell, hold or trade in stocks, futures, securities, and other investments involve risk and are best made based on the advice of qualified financial professionals.