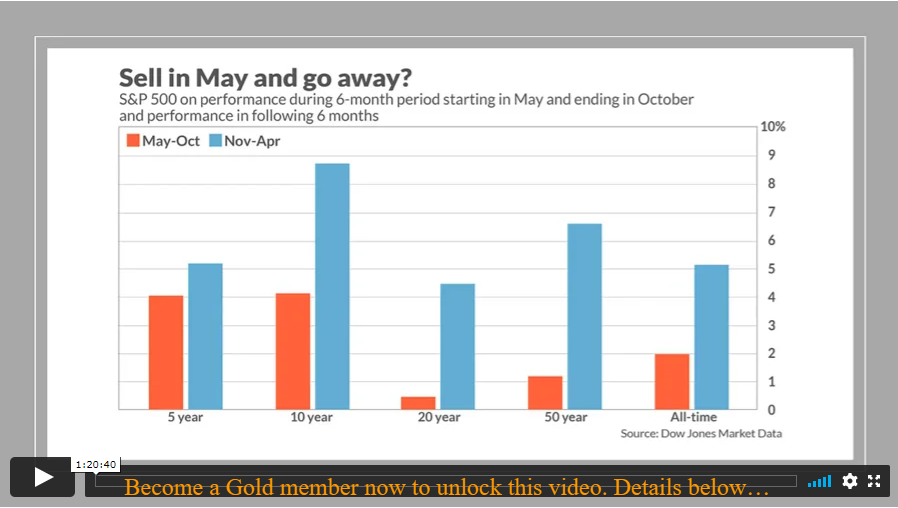 Topics covered on this video coaching call
On today's call, trading coach Jerry Robinson discusses the "six-month switching" investment strategy, price gaps, cannabis stocks, how to put your cryptocurrency investing on auto-pilot, and provides an update on the booming Chinese stock market.
Table of Contents:
00:11 – Introduction/Important Disclaimer
00:36 – Today's agenda
04:53 – Intro to The Six-Month Trading Strategy
06:20 – Average DJIA performance 1950-2018 using this strategy
12:27 – Dow market data shows remarkable performance of the S&P 500 with this strategy
13:53 – Average half-year returns for 37 markets (1998-2012)
14:40 – How the Six-Month Switching Strategy works
18:25 – Price Gaps explained
20:11 – A recent price gap in TQQQ and a filling of the gap
33:07 – Trade of the Day: Pure Cannabis ETF (YOLO)
38:08 – Cannabis stocks will likely soar on a Biden win
48:07 – How to Auto-Invest in Bitcoin
49:28 – I buy outright when Bitcoin's price is in my buy zone (60-80% below all-time high)
51:11 – When Bitcoin is above my buy zone, here's how I dollar cost average…
1:04:53 – China's stock market has surpassed the $10 trillion market cap
1:05:42 – China is the only country in the entire world that is going to have growth in 2020
1:08:40 – China stocks ranked by Smartscore
1:10:43 – Q&A
Enjoy live group coaching with Jerry Robinson when you join our global investing/trading community
Our premium investing and trading tools and research are used by both professional and individual investors and traders
Try any of our premium memberships free for 7 days. View plans/pricing


DISCLAIMER: The services provided in our memberships are intended only to provide education and information. Trading and investing involves risk. Decisions to buy, sell, hold or trade in stocks, futures, securities, and other investments involve risk and are best made based on the advice of qualified financial professionals.