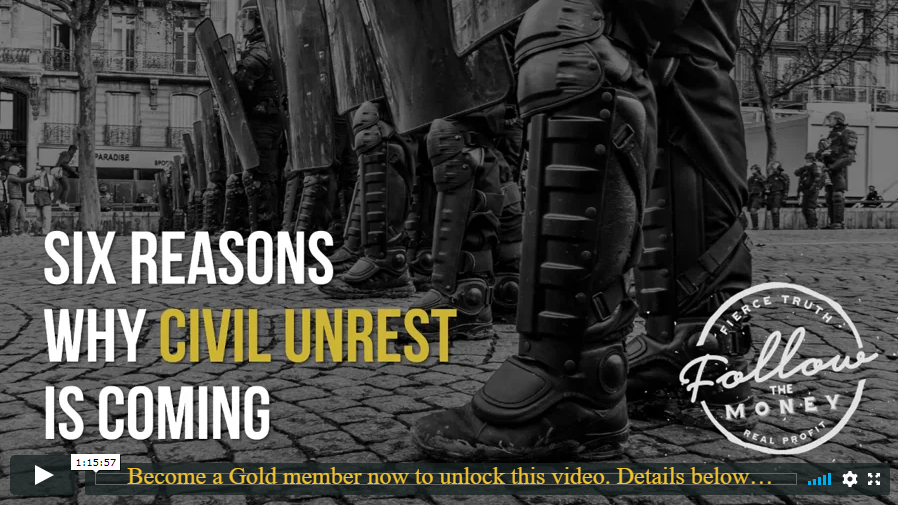 Topics covered on this video coaching call
On today's coaching call, Jerry Robinson shares six reasons why he believes that civil unrest is coming to America in 2020 (begins at 19:29 minute mark). First, he examines the economic results from past pandemics and later, he answers your questions.
Table of Contents:
00:11 – Introduction/Important Disclaimer
01:53 – The purpose of today's topic
04:42 – Register for our next Trend Trading Bootcamp on April 18, 2020
05:22 – The long-term economic implications of 15 previous pandemics with at least 100,000 deaths
07:41 – History of interest rates after pandemics and wars in Europe
10:23 – Q&A (Return to gold standard? Will government default on its debt?)
19:29 – "6 Reasons Civil Unrest is Coming" (stunning charts along with insightful economic and cultural commentary)
47:25 – Charting the S&P with commentary
1:03:06 – Q&A (Thoughts on ACB, TZA and much more)
Become a Gold or Platinum Member now and instantly unlock the replay of this full video lesson.
When you become a member of Followthemoney.com, you will get access to many of our top investment and trading research, which includes our weekly live Private Group Coaching calls with Jerry Robinson (Bring your questions for Jerry on this weekly call)

DISCLAIMER: The services provided in the our memberships are intended only to provide education and information. Trading involves risk. Decisions to buy, sell, hold or trade in stocks, futures, securities, and other investments involve risk and are best made based on the advice of qualified financial professionals. Trade and invest at your own risk.