In this 11th episode of the BRAND NEW Mid-Week Precious Metals Market Update, Tom Cloud discusses some of the technicals and fundamentals that are impacting gold and silver prices, with exclusive info for FTM Insiders.
[private]
Welcome FTM Insider! You are currently viewing exclusive content. You can return to your Insider Dashboard here.
9/18/2013 – Mid-Week Precious Metals Market Update E11

Download
(Right-click and select 'Save as')
Audio Transcript Below
This is Tom Cloud with the Midweek Precious Metals Market Update.
No Quantitative Easing
Today is the day that everyone had been waiting for because Chairman Bernanke of the Federal Reserve made his announcement at 2:00 pm Eastern Time and took the scenerio that we thought he might take, and that was no quantitative easing cut at all. He kept it at $85 billion a month.
We really felt he had no choice, but that did not mean he wouldn't do it because the bank stocks index dropped 6% last month, and we saw Bank of America taken out of the Dow because it was performing so poorly and its assets were going down dramatically, Then we turn around and got economic news in America on Friday that was all negative. So, with the bank stocks going down, they would even go down further if they didn't give them the money and buy their mortgage-backed securities with the quantitative easing money that the Fed has been using every month.
Jump in Metals Prices
So, now that they've announced that, we saw the jump today, from the time they announced it, go from $1300 to $1348 in gold right at $50 an ounce, and silver $1.10, a little over 5% in 15 minutes.
World Debt Out of Control
We know now that things are going to get worse. But, really, yesterday, on Tuesday, we started getting news that concerned us. We were getting news out of Switzerland that in the last 12 years the world GDP (gross domestic product) had grown from $20 to $30 trillion over that 12 year period, and the debt had grown from $70 to $140 trillion, $142 trillion to be exact. So, what that told us is that it is now taking $7 of debt to produce $1 of GDP worldwide.
If there's anyone out there listening to this that thinks things are going to get better, they're absolutely kidding themselves. It's just exactly the opposite. It's going to continue to take more money to produce $1 of gross domestic product, and we're seeing interest rates, this afternoon, really jump. So, what that means, if you have a $17 trillion debt like we do, and let's say interest rates only went up one half of one percent. I think they'll go up more. So, you're talking about $85 or $90 billion extra in interest just on bonds for the next 12 months. Of course, they're increasing that every month. So, the debt's going to run the dollar completely out.
Oil has exploded up this afternoon, which is bad for inflation. So, we're just continuing to see everything that Jerry's talked about on his show, and what we've been talking about, and yet, we haven't seen that bounce. We've seen the price actually stay down, and we've had to be very, very patient and wait on these events to start happening.
One of the other things I strongly recommend to you is to visit USA Watchdog and look at the Karen Hudes interview. She was the head council for the world bank who basically was let go because she whistle-blew what the world bank was doing, Robin Hood antics of taking money from underdeveloped countries and going to these major banks world wide. This is a devastating interview that each of you should look at because it just tells you more and more.
There are major things out there ready to happen, whether you want to talk about Syria, go back and talk about Iran, talk about the world bank fiasco, or talk about printing money. Every major country in the G7 has a money supply growth of over 20% for the year 2013. So, we all know that it's very hard for your investments to keep up with the way they're printing money.
Gold, Silver Up 400% in Last 12 Years
As I said last week, one thing you have to keep in mind is what happened over the last 12 years. We know the next 12 years, in my opinion, is going to be much more inflationary, and the Fed will be printing a lot more money. The only three things that have gone up over 400% in 12 years are gold, silver, and the money supply growth. Nothing else has even come close to going up 400%. We're not talking about an isolated stock like Apple or something. I'm not talking about one stock. I'm talking about indices on all the different investments available to us.
So, once again, I'll say we are in that season where we will expect gold and silver to have a very strong rise the rest of the year. We have been predicting this since early August on every show we've done with Jerry and Jennifer, and we see that just continuing to happen.
Current Special on Silver Bars
We also see premiums on silver jumping up this afternoon right after we got Comex bars, (they jumped a dime). We are going to honor through Friday that special we gave Jerry on Monday. After Friday, it's going to be at least $0.15 an ounce higher than it is right now for 100 ounce Comex silver bars. We expect those premiums on Comex bars to continue to rise.
So, all in all, the news is good for metals holders, but certainly bad for my children and my grandchildren, as we just continue to see runaway debt and no one wanting to do anything about it. We're looking it straight in the face.
Obama even came out today and is trying to twist the arms of the Republicans to raise the debt ceiling without debates. He wants to just vote $2 trillion into existence, and not try to debate and bring up all the bad things that this man has done.
So, we just have to use common sense and know we're in the right place, and we just feel that with the whistle-blowers coming out against JP Morgan on Friday, and JP Morgan does not want their stock hit hard, they do not want to be into gold and silver as an arm of the Federal Reserve, or whoever they are acting in behalf of.
All this said, I'm very optimistic about the remainder of the year for gold and silver and platinum and palladium. If anyone needs to talk to me, they can reach me at 800-247-2812.
With this week's midweek precious metals market update, this is Tom Cloud signing out.
One Year Gold Chart
With technical indicators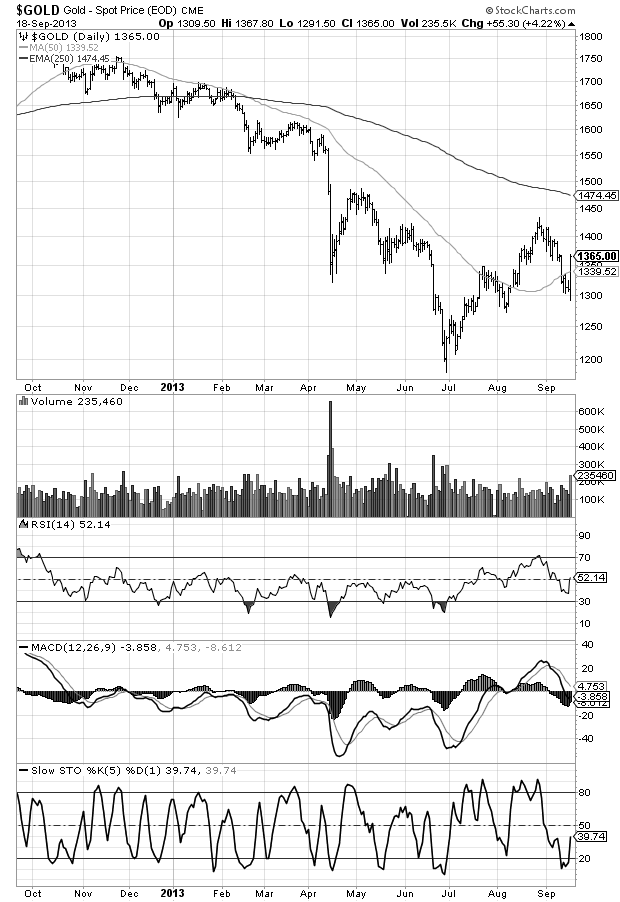 One Year Silver Chart
With technical indicators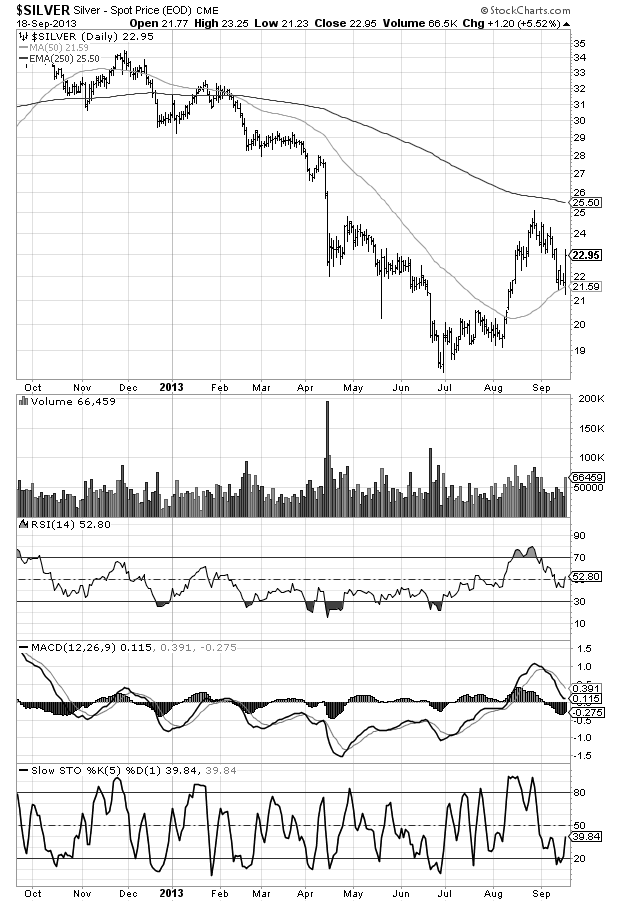 One Year Palladium Chart
With technical indicators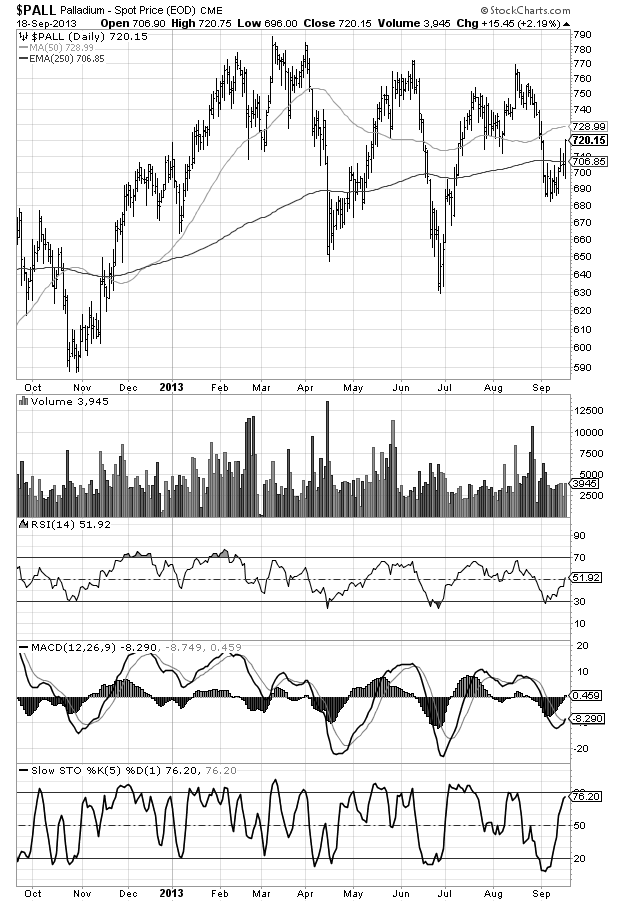 One Year Platinum Chart
With technical indicators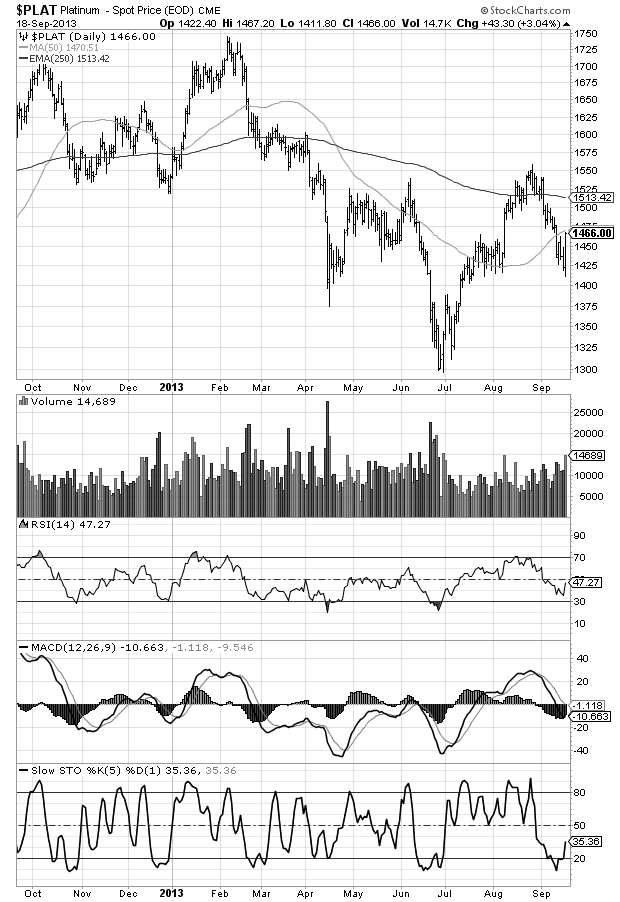 [/private]
Want to speak with Tom Cloud? Call him direct at (800) 247-2812