In this 9th episode of the BRAND NEW Mid-Week Precious Metals Market Update, Tom Cloud discusses some of the technicals and fundamentals that are impacting gold and silver prices, with exclusive info for FTM Insiders.
[private]
Welcome FTM Insider! You are currently viewing exclusive content. You can return to your Insider Dashboard here.
9/04/2013 – Mid-Week Precious Metals Market Update E09

Download
(Right-click and select 'Save as')
Audio Transcript Below
This is Tom Cloud with the Midweek Precious Metals Market Update.
Markets Fall as Syrian Tensions Ease
As we tape this on Wednesday, the markets have fallen overnight in Asia and in Europe after the strong ups on Friday and Tuesday. We're now seeing some of those gains being given back as tensions in Syria have eased, at least on paper. We certainly know that any strike by Obama and Russian involvement and Iranian involvement, especially if they go after Israel, will cause gold to go up dramatically. But for today, in the mid week, we're seeing metals sell off as people feel there's not an eminent strike in sight.
We're looking ahead in the next two days to what's going to be coming out of the ECU as the central banks in Europe meet, and what we'll hear. With 47 banks in trouble over there, we're anxious to hear what kind of news will come out of there. Of course, if it's quantitative easing type of news, if they're willing to step in and print more money, then certainly, that will bode well for the metals on Thursday and Friday.
Little FED Tapering Expected
We also have economic data coming out that continues to lead us to believe there will not be any severe tapering when the FED does meet in two weeks. So, all that said, everything points to the next major event, barring war, as the debt ceiling, and that is getting a lot of play already as the Republicans are jockeying for position and talking about there has to be tax cuts to equal the debt ceiling going up. This is the same gibberish we get every time.
Certainly, we all know they're not going to close the government down. They will raise the debt ceiling. If they raise it the expected $1.5 to $2 trillion, then they'll round it up to $19 trillion from the current $17 trillion that we're bumping up against currently, and actually have gone over. Creative bookkeeping has allowed them a few more weeks. So, we just stay the ship.
We're in the best time of the year for metals. The harvest season is coming in and even with extra tax this year, we're still seeing a lot of buying. A lot of gold is being smuggled into India. We see the Japanese economy actually expanding faster than people thought it was with the new adjustment in figures. So, everything is really set up to see much higher prices in gold and silver by the end of the year.
Will volatility continue? Yes. We will continue to see volatility. We have some banking crises out there. We've got derivative problems that are really going to come into play.
Central Banks Continue Buying Gold
In my opinion, as central banks continue, I think central banks will be buying. Everything we're hearing out of Europe, our sources tell us a lot of tonnage of gold is being shopped to see if it can be delivered quickly. So, to all the major buyers out there, and once again, just to remind our listeners, central banks have not sold any gold now since 2008. So, they're buying where they used to have to sell 400 tons a year, they're not selling ANY. They're just continuing to buy.
So, hopefully, this will give you an idea. If anyone has any specific question, they can call me at 800-247-2812.
Investing Ideas
Lastly, if you've got money in IRAs and don't have part of it in precious metals, you probably need to consider a precious metals IRA. I'll be happy to discuss that with you if you'll give me a call.
And, for those still holding rare coins, with them only performing about 20% as well as gold bullion has the last 12 years, and we see that not getting any better, it's a good time to get switched over to gold bullion while it's still down for the year.
With this week's midweek precious metals market update, this is Tom Cloud signing out.
One Year Gold Chart
With technical indicators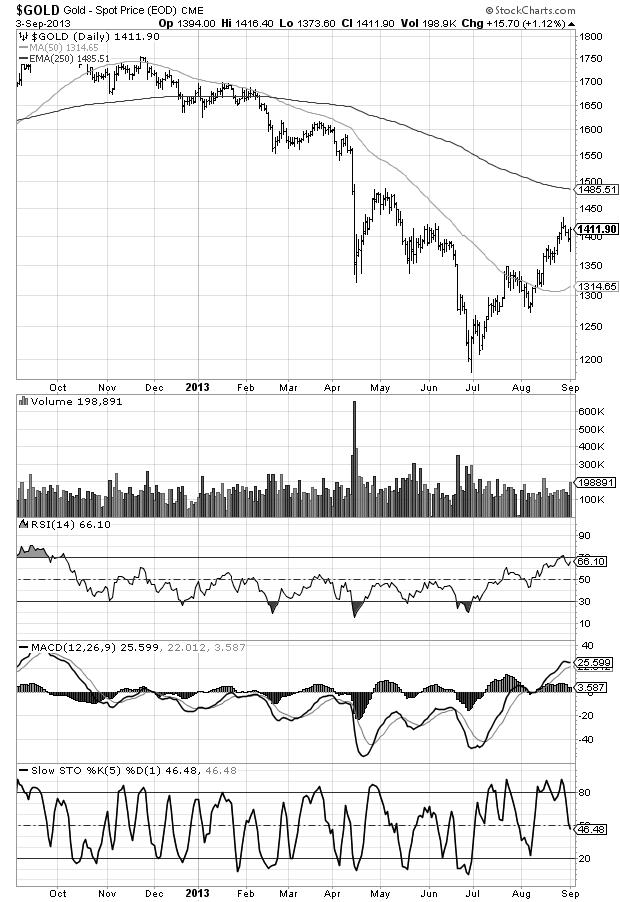 One Year Silver Chart
With technical indicators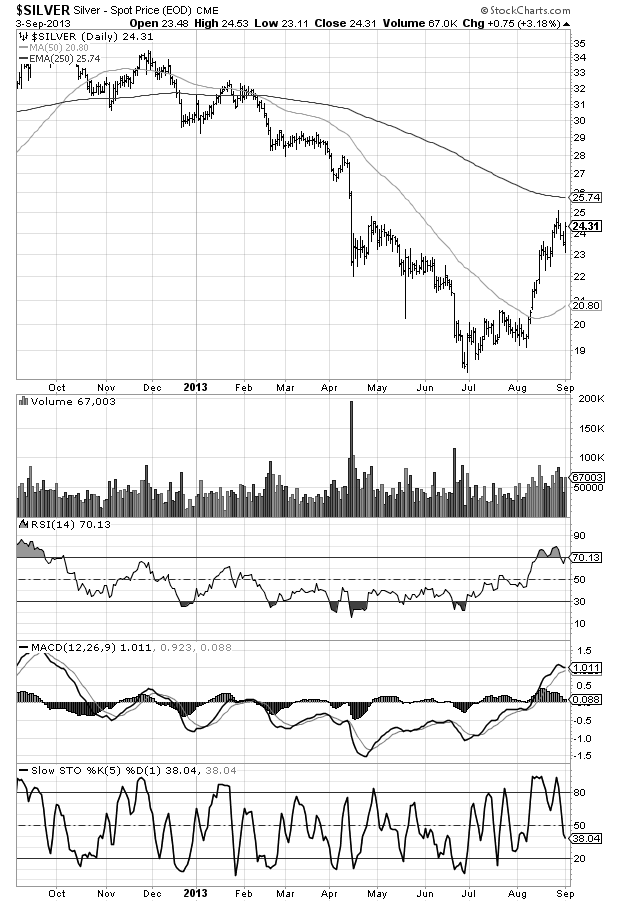 One Year Palladium Chart
With technical indicators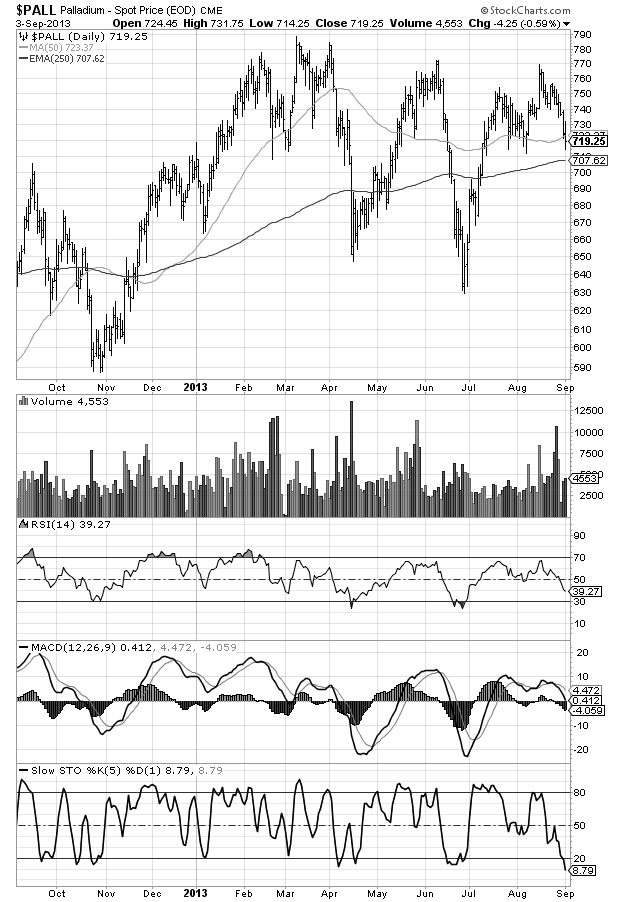 One Year Platinum Chart
With technical indicators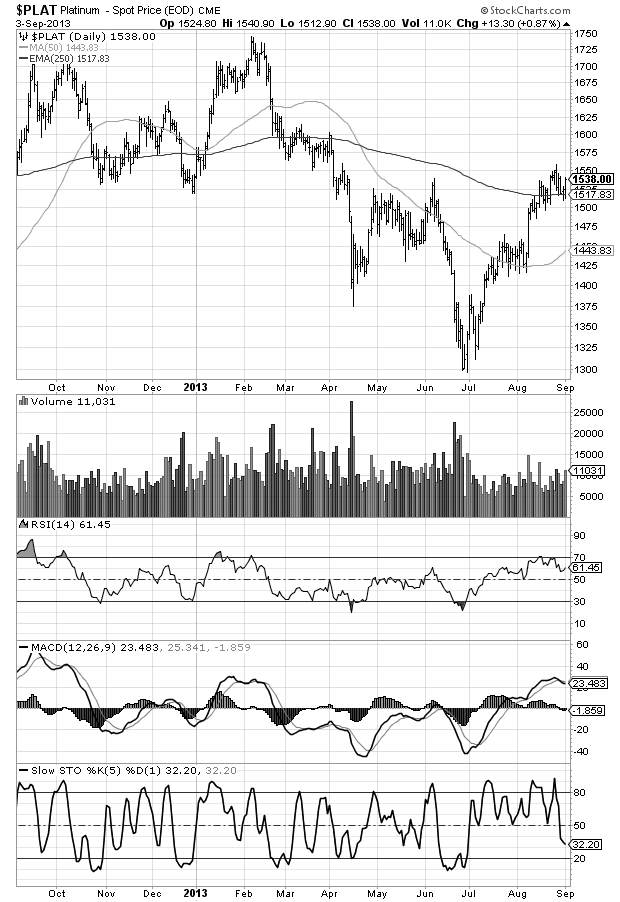 [/private]
Want to speak with Tom Cloud? Call him direct at (800) 247-2812