For Gold member Members Only (Member Login)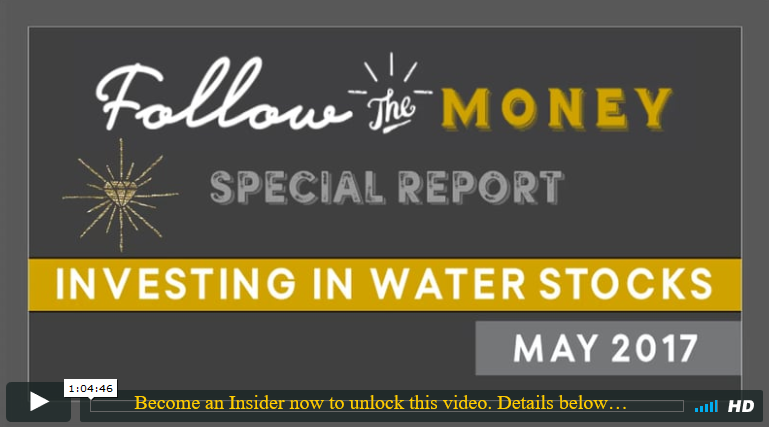 MEMBERS DOWNLOAD NOW! Exclusive for members only: SPECIAL REPORT: Investing in Water Stocks in 2017, in which Jerry Robinson reveals the top five water stocks from our SmartScore system. Become a member now!
Topics Covered on this video coaching call (in order)
Founder and Economist Jerry Robinson is joined by Junior Trend Analyst Steve Penny for an introduction to our newly-released special report on our top water stocks, as ranked by FollowtheMoney's SmartScore system. Jerry begins with an invaluable discussion on the world's impending (and ongoing, in some places) water crisis, followed by the top five water stocks from our SmartScore system. Here are the video highlights:
Expensive Ground Water. Tapping aggressively drives down the water table, making it more difficult to reach the water, and potentially even too costly.
The Staggering Human Incentive. Are you aware that every 90 seconds a child dies from a water-related disease?
What is SmartScore? Jerry's provides an in-depth explanation of each of the seven metrics we use to rank stocks with our proprietary SmartScore system.
Five Promising Water Stocks. Jerry unveils our SmartScore's top five water stocks that are poised for profit in 2017.
Charting the Markets. Jerry closes out today's call with a look at the S&P 500, gold, and some of our recent trade of the day selections.
Become an Gold member to See the Full Video Instantly
And get access to our LIVE coaching call videos every month with Jerry Robinson

Choose your plan:
(Get 2 months free when you pay for the whole year!)

DISCLAIMER: The services provided in the Gold member membership are intended only to provide information. Trading involves risk. Decisions to buy, sell, hold or trade in stocks, futures, securities, and other investments involve risk and are best made based on the advice of qualified financial professionals.