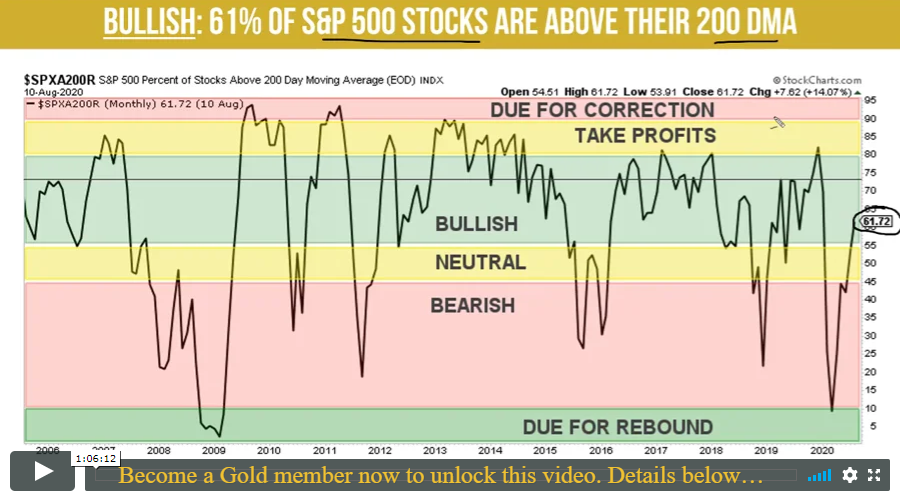 Topics covered on this video coaching call
On today's call, trading coach Jerry Robinson discusses the present state of the U.S. economy and shares 40+ stock/ETF charts to help traders and investors find new opportunities.
Table of Contents:
00:11 – Introduction/Important Disclaimer
02:00 – A peek into last Friday's Mastermind Video for our Platinum members
08:15 – S&P 500 index is within striking distance of a new all-time high, courtesy of the Fed
10:14 – This moving average is extremely important for trend traders
13:40 – A word on "buy and hold" investing
17:24 – This powerful moving average strategy often signals higher prices ahead
21:51 – The U.S. dollar is now at key support and may try to temporarily bounce
23:18 – Watch for jagged price action in physical gold as it holds $2000 support
30:53 – Physical silver volatility
32:05 – Physical platinum may be on the verge of a multiyear breakout…
33:30 – Bitcoin has a bigger market cap than AT&T, Coca-Cola, and Intel!
35:08 – Ethereum has been a big crypto winner year-to-date
38:35 – Chainlink is +540% since our buy alert in January!
42:12 – A simple explanation of the buy signal in Profit Trakker
43:43 – Jerry's investable asset allocation for trend trading and for long-term investing
45:03 – Today's daily trading idea is from the Rising Star Watchlist
46:53 – Many stocks/ETFs to watch right now
Become a Gold or Platinum Member now and instantly unlock this private group coaching session!
When you become a member, you will get access to our LIVE Private Group Coaching calls with Jerry Robinson


DISCLAIMER: The services provided in our memberships are intended only to provide education and information. Trading involves risk. Decisions to buy, sell, hold or trade in stocks, futures, securities, and other investments involve risk and are best made based on the advice of qualified financial professionals.