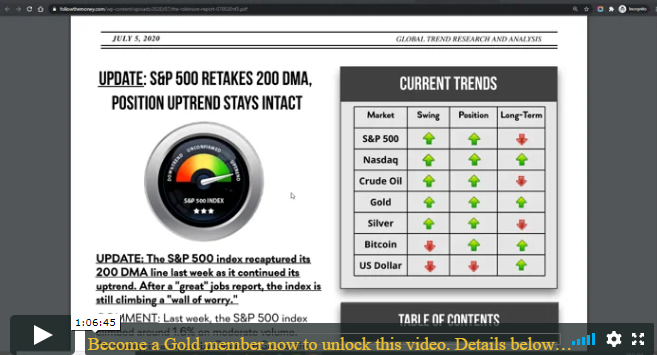 Topics covered on this video coaching call
On today's call, trading coach Jerry Robinson reviews the latest issue of The Robinson Report, shares several stocks/ETFs to watch, and concludes with an update for cryptocurrency investors.
Table of Contents:
00:11 – Introduction/Important Disclaimer
01:06 – A sneak peek at Friday's Mastermind Call for Platinum members
05:31 – An overview of today's agenda
06:33 – Review of the latest issue of The Robinson Report
06:51 – Tech stocks continue to be the place to be, as well as physical gold
10:23 – Don't forget this: "November is the finish line"
20:23 – What to expect from a Trump victory or a Biden victory
25:17 – Several stocks on the Rising Star Watchlist led last week
28:40 – Chinese stocks are outperforming the U.S. and Europe
30:34 – Daily Trading Diary review
36:20 – Q&A
54:00– Powerful Tool: SmartScore Top Ranked Stocks
57:40 – Crytocurrency charting and update
01:04:28 – The four cryptocurrencies we like right now for the long-term
Become a Gold or Platinum Member now and instantly unlock this private group coaching session!
When you become a member, you will get access to our LIVE Private Group Coaching calls with Jerry Robinson


DISCLAIMER: The services provided in the Gold Membership are intended only to provide information. Trading involves risk. Decisions to buy, sell, hold or trade in stocks, futures, securities, and other investments involve risk and are best made based on the advice of qualified financial professionals.